3 CLEANSE OPTIONS FOR HITTING YOUR EATING RESET BUTTON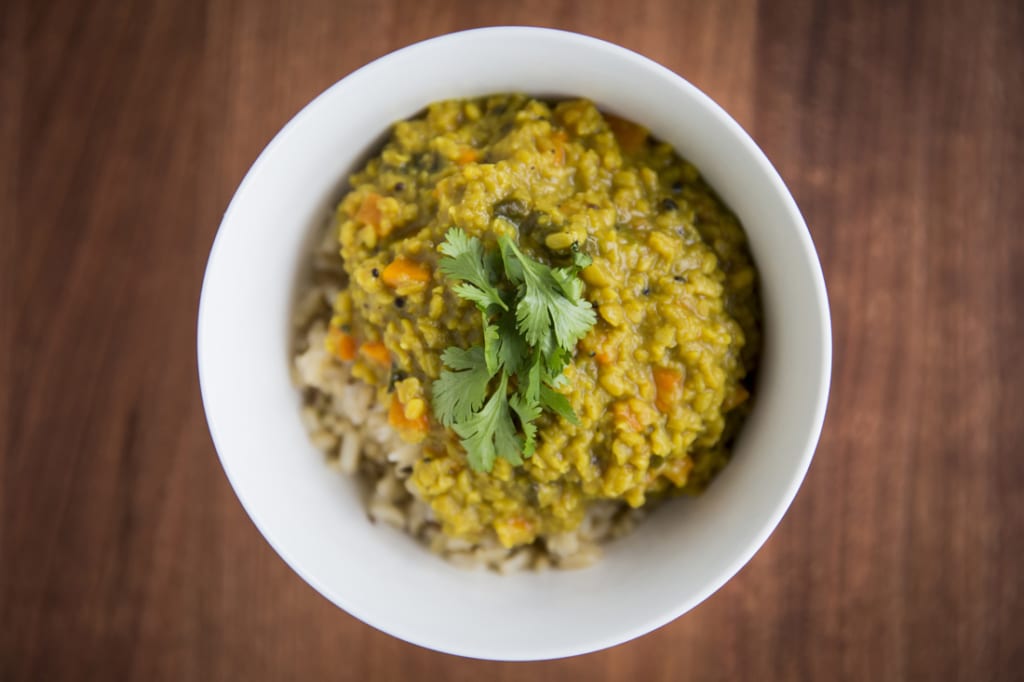 STORY: Amelia Pavlik
From boozy patio brunches to burger-laden barbecues, summer brings a slew of unhealthy temptations that leave many of us needing to hit "reset" on our eating habits. There's a lot of talk out there about how cleanses can jump start that process. So I recently decided to dip my toe in the dietary detox pond. I tried three of the alcohol and caffeine-free options that Buckhead businesses are serving up. (FYI, I did each cleanse for just a day to get a taste of what it entailed versus doing the recommended length.) Here are the results.
Clean Eating Challenge
Clean Eating Challenge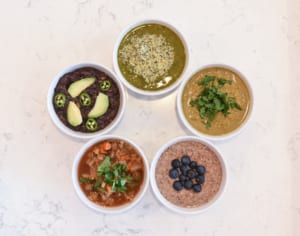 The basics: For cleanse newbies, a day on this challenge begins with a glutenfree starter of Life Porridge or Detox Green Juice, followed by four soups of your choice, including carrot ginger turmeric and hormone- and antibiotic free chicken soup.
The benefits: "This is a nutritious first step for those who aren't ready to give up animal proteins, and want to eat a diet richer in vegetables, antioxidants and anti-inflammatories," says Tammy Stokes, the cafe's owner.
What I liked: The soups are filling, and I didn't have to give up meat for the day.
The nitty gritty: Four days at $39.50 to $41.50 per day.
Cafe West Express
3792 Roswell Road
Atlanta 30342
404.800.5379
cafewestexpress.com
Kitchari Cleanse
Sama
The basics: The day begins with hot tea, followed by two different juices (combinations such as dandelion and green apple, and coconut water and activated charcoal), and then kitchari, a dish made of split mung beans, brown basmati rice and vegetables. The afternoon's menu starts with another tea, followed by two additional juices, kitchari, a final juice and tea.
The benefits: "The legume used in the kitchari is the most easily digested, ensuring that energy is used for detoxing rather than digesting, which is the same idea behind taking the fiber out of the juice," says Sama founder and CEO Shannon Salter Sliger.
What I liked: The variety of the menu is good, and the kitchari filled my belly, ensuring I could make it through my evening workout.
The nitty-gritty: Three days at $55 per day.
Sama
56 East Andrews Drive
Atlanta 30305
404.500.3550
samafoodforbalance.com
Dtox 'Til Dinner
Dtox Juice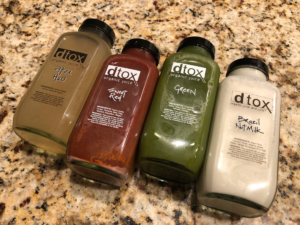 The basics: Another beginner option, a day on this cleanse starts with a bottle of Dtox H2O (lemon, cayenne pepper and alkaline water), followed by two juices and Brazil nut milk. You enjoy a meal of your choice—50 percent raw, all vegetarian and free of meat, sugar and dairy—at either lunch or dinner.
The benefits: "This option floods your body with micro nutrients and rids it of toxins, and the length makes it very versatile," says Kyleigh O'Leary, a holistic health coach who works with Dtox.
What I liked: The Brazil nut milk is delicious and filling, and I was a fan of having a real meal—a salad with avocado and olives— for dinner.
The nitty-gritty: One to five days at $34 per day.
Dtox Juice
3850 Roswell Road
Atlanta 30342
404.812.0819
dtoxjuice.com
---
3 PRE-CLEANSE PIECES OF ADVICE
Before you commit to a cleanse, Julie Taube, a registered dietitian and the owner of Nutrition Ventures in Buckhead, wants you to know the following:
1. A cleanse can help you clean up your eating habits quickly. "Cleanses can provide positive short-term gains such as increased vegetable and fruit consumption and decreased sugar and processed food intake," says Taube.
2. Choose a cleanse you can stick to. "If intense strength and endurance workouts are part of your routine," explains Taube, "a juice cleanse might be unrealistic and unhealthy for you. Instead, you might need a plan that offers a better balance of carbohydrate, protein and fat. Pick an option that doesn't set you up for failure on the first day."
3. You should have an exit strategy. "Know ahead of time how you'll change your daily meals and eating habits," she adds. "Without this plan, transitioning back to real life and the habits that motivated you to cleanse initially can reverse any gains made by your efforts."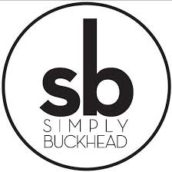 SimplyBuckhead
Simply Buckhead is an upscale lifestyle magazine focused on the best and brightest individuals, businesses and events in Buckhead, Brookhaven, Sandy Springs, Dunwoody and Chamblee. With a commitment to journalistic excellence, the magazine serves as the authority on who to know, what to do and where to go in the community, and its surroundings.