FIVE OF BUCKHEAD'S MOST EYE-POPPING ROOMS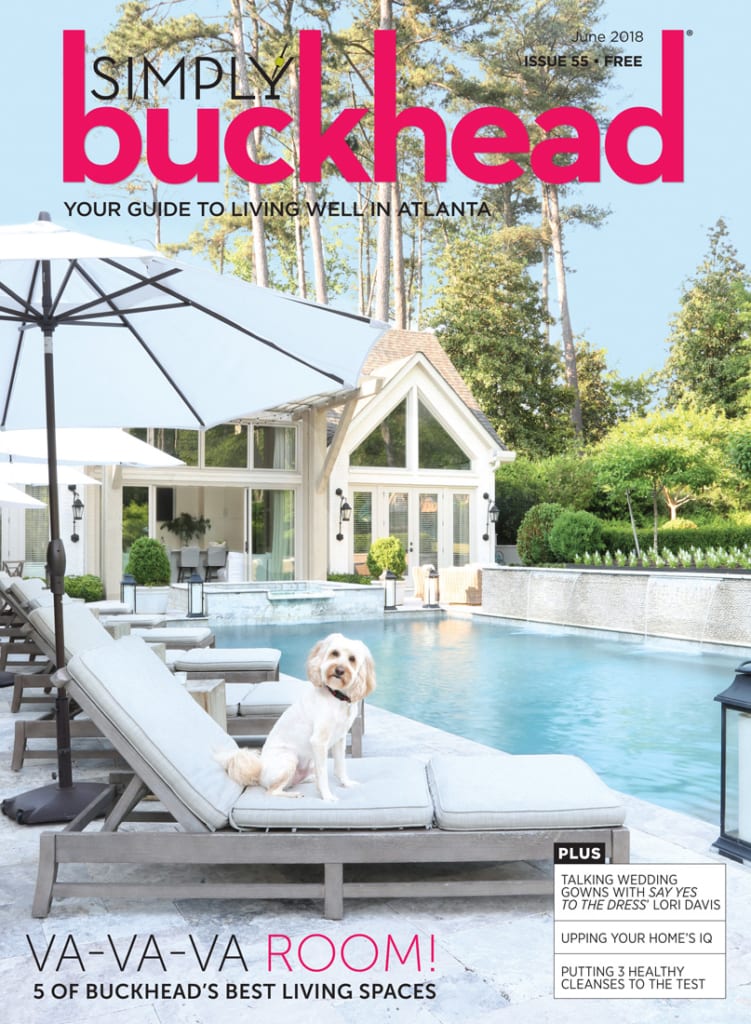 STORY: Giannina Smith Bedford
PHOTOS: Sara Hanna
A room is more than just a room. It's a place where you get ready to face a new day, where you rejuvenate when the day is done, where you gather with family and friends to celebrate, and where you retreat with your other half for a glass of wine once the kids are asleep. They are the places where you build lasting memories. So why not make these spaces extraordinary? That's exactly what these five local residents did. Here, we show off their showstopping spaces.
PINCH-ME POOL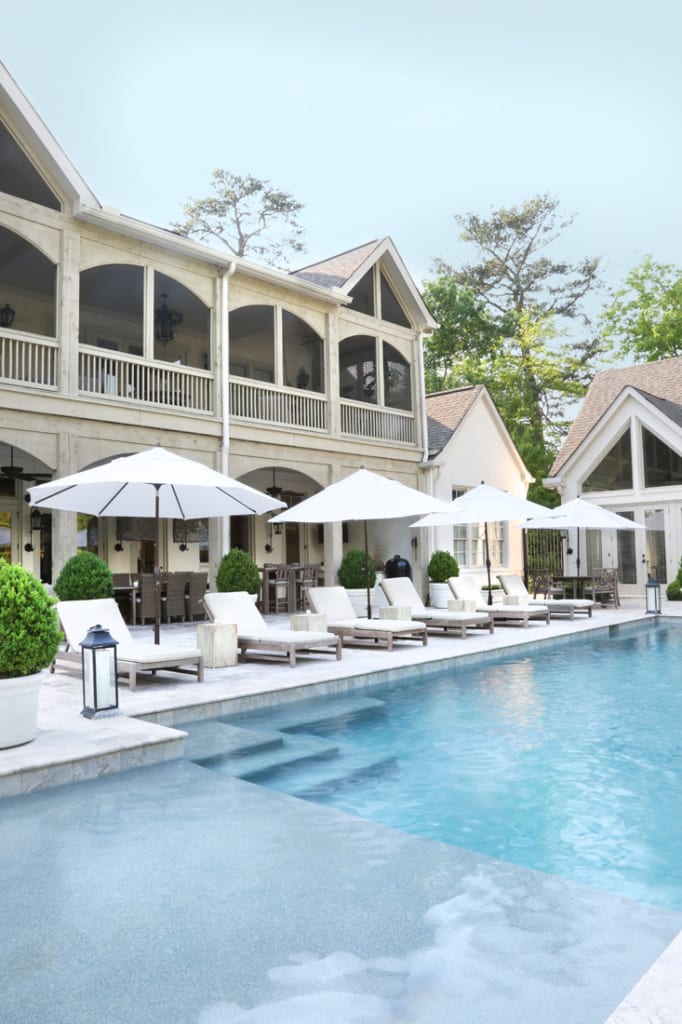 When Suni and Derek Weilbaecher went to Turks and Caicos on their honeymoon in 2012, they stumbled upon the secluded Amanyara resort while walking along the beach. They fell in love with the design of the pool area and wanted to bring it home. In 2013, when they bought their eight-bedroom Buckhead home, they spent the first six months transforming the outdoor area into a dreamy resort-like retreat.
"We wanted to bring that stay vacation literally to our back door, creating a playground for our friends and family to enjoy," says Suni, a makeup artist whose work has appeared in Vanity Fair and Marie Claire. "We specifically bought this house because it was a walk-out, and we wanted a pool that was close to the house."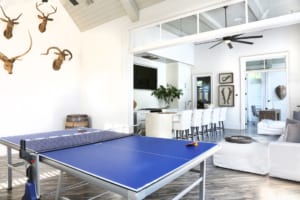 Built by Artisan Pools, the customized swimming pool is surrounded by a hot tub, fire pit and hardscape in silver travertine. It all sits among manicured landscaping and lighting that brings the environment to life when the sun sets. "At night, it's magical to sit in the pool house and see the city lights of Buckhead and hear the sounds of peaceful waterfalls all in the same moment," says Suni.
The couple worked with architect Joseph Na to design a pool house that was a natural extension of the main house. Redwood Custom Homes constructed the 1,100- square-foot structure. Equipped with a full kitchen, sitting area, bathroom, bedroom (used as an office) and extra space large enough for a Ping-Pong table, the pool house is party central. The Weilbaechers worked with Emily Dunn Designs to decorate the space in white and neutrals. Grayish LVP (luxury vinyl plank) flooring balances with the furnishings upholstered in all white Sunbrella fabric. A 75-inch TV is centered above the gas range and the walls are hung with farm-inspired pieces that recall Suni's family horse farm in Charlotte, North Carolina. There is a large black-and-white cow image, faux deer heads and wood barrels from the George Dickel Distillery in Tennessee where Suni's aunt used to work. Framed horse harnesses Suni plucked from her late father's barn also hang on the wall.
"It's a place that inspires my imagination to host many fun holiday and birthday parties to make unforgettable memories with our kids," says Suni.
---
CLOSET QUEEN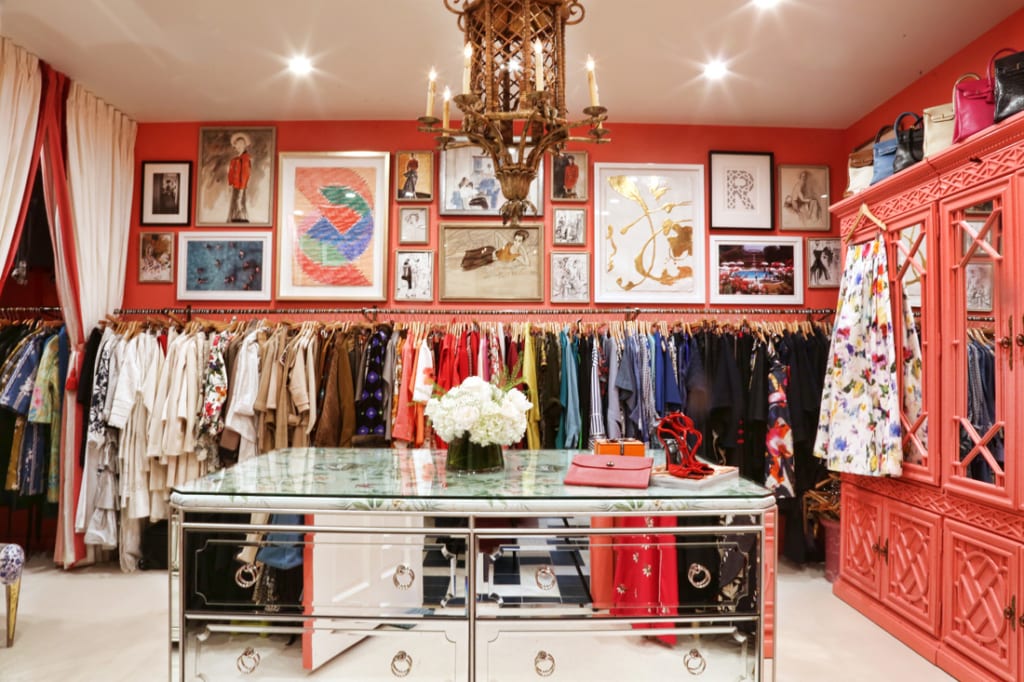 Nothing makes a woman feel more fabulous than a closet fit for royalty. So when Danielle Rollins divorced her husband and rebuilt her life by renovating a 1970s Buckhead home, she created a personalized dressing area that mimics the shopping experience at a high-end store and serves as a place to display some of her favorite pieces of art. Connected to her bedroom through the master bathroom, the closet is painted a lively shade that matches Rollins' favorite Estée Lauder lipstick: Princess Grace Coral.
"I wanted something that was personal and bright, but I really wanted a place that didn't feel like a closet," says Rollins, an author, Veranda contributing editor, founder of Danielle Rollins Interiors and an upcoming home collection, as well as the designer of her own capsule clothing collection. Her armoire is in the same pinkish hue and topped with purses by Céline, Hermès and other top designers. All of her apparel—be it vintage items from Valentino and Oscar de la Renta, basics from J.Crew, edgy pieces from Chloé or items of her own design—is color coordinated and hangs on open racks. "I think it's important for people to be in places that make them feel inspired. Your eye has to see things to generate that sense of creativity," says Rollins. "I like to keep everything grouped by colors because it allows me to dress how I feel."
In the center of Rollins' closet are two mirrored dressers she pushed together to create an island of sorts. The top is a piece of plywood that is covered in padding and a flowered fabric Rollins had left over from an event she hosted that she topped with a custom-cut piece of glass.
Through a pair of pink-and-white gingham curtains is a shoe room where all of her footwear is displayed on open shelving. There's also a small coat hallway that leads to a hidden door opening to an exterior hallway. Everywhere you look is art—contemporary pieces, the works of fashion illustrator René Bouché, images by American photographer Slim Aarons and personal photographs of Rollins pregnant and at parties. The entire space is anchored by a vintage wicker light fixture from Scott Antique Markets that was rewired and painted a brass color.
Rollins' closet is a collection of the items she loves and a perfect prep space for the woman she is today— not just an entrepreneur preparing to launch her eponymous fashion line and second book (slated for fall 2019), but a woman who has taken her life by the reins and is galloping through it joyfully.
---
WINE NOT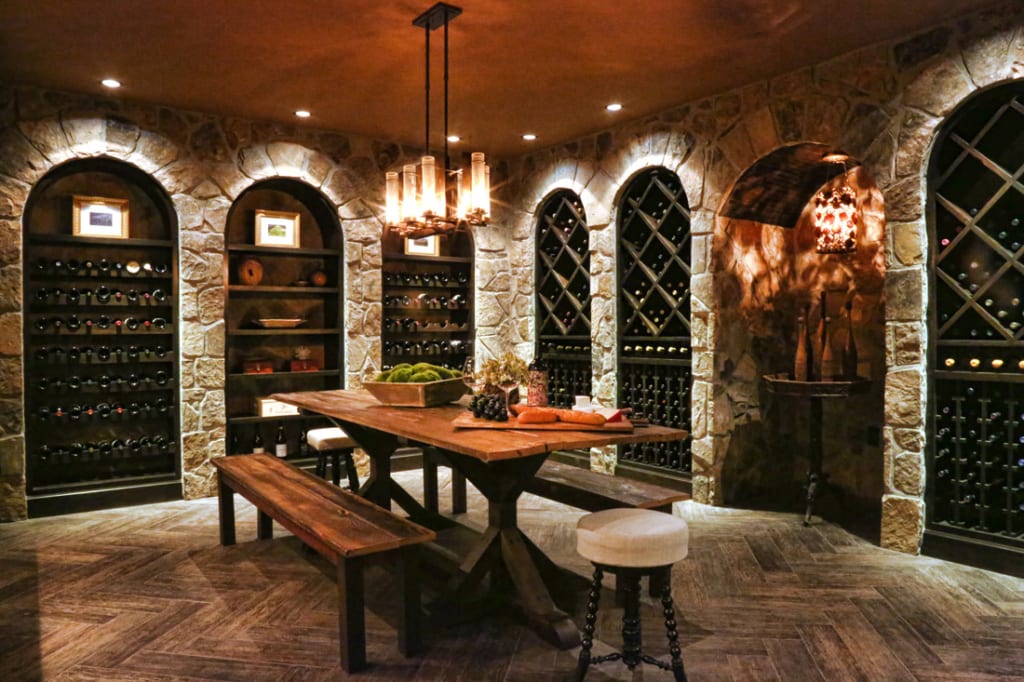 Suzanne and Jeremy Lloyd may not consider themselves oenophiles, but the 704-bottle collection in their 430-square-foot wine cellar begs to differ. When they bought their six-bedroom Brookhaven home in 2016, they called upon the talent of close friend and interior designer Lauren Davenport of Davenport Designs to freshen it up. They painted it an earthy Maryville Brown hue from Benjamin Moore to allow for the stone and architectural details to stand out, and decorated it with masculine leather chairs from Lee Industries with custom Kuba cloth pillows and an acrylic-on-canvas artwork by Melissa Payne Baker. At the center of the room is a reclaimed wood table that Jeremy, who works at Raymond James, built with his friend Ted Kalb. Other unique touches include a wine barrel from The Wine Gorilla, a wine club in Johns Creek.
"It's a great room to host friends for wine tastings and dinner parties as the ambience makes you feel like you're in a private room in a restaurant," says Jeremy.
The cavernous retreat is also a great spot for an after-dinner drink. "We always end up down here if we have a party, and if we go out, we'll invite friends to come back over late-night," says Suzanne. "This past weekend, after the kids were asleep, Jeremy and I came down here and were drinking wine. It was fun."
The basement room has a backup generator to protect the wine collection in case of a power outage. It's also vented for cigars and has a wet bar with a wineglass dishwasher and a large wine fridge. Arched cut-ins in the rock walls hold cigar boxes and racks of vintages the Lloyds purchase locally and receive in the mail from Napa Valley wine clubs. The most impressive bottle is a 2014 Mockingbird Red from Tuck Beckstoffer, although Suzanne admits she prefers "whatever red is uncorked and ready to drink."
Davenport, who happens to be a wine connoisseur herself, also stores some of her and her husband's wine in the Lloyds' basement. "We have a 700-bottle rack and it's full," says Davenport, whose wine acumen comes from living in Washington State for three years. "If we come for dinner, we don't have to bring wine, because we just pick it from the wall."
---
GOING WHOLE HOG IN THE BASEMENT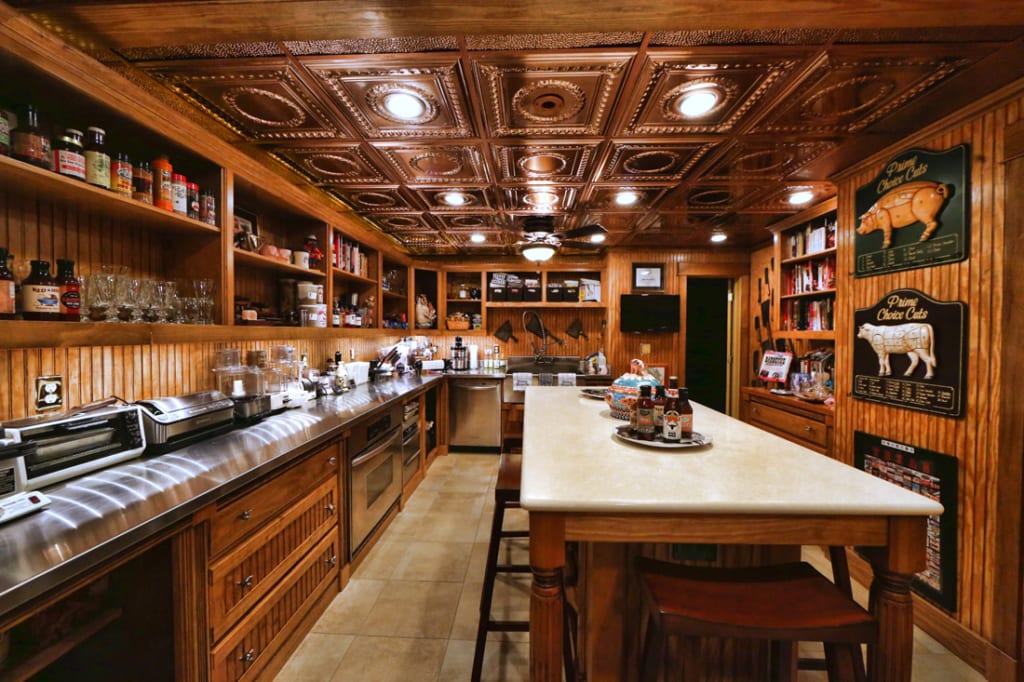 Steve Franklin is a former associate dean at Emory University's Goizueta Business School, chairman of the governing board for The American University in Dubai and a member of the board of regents at the University of Oxford's Harris Manchester College. But when he isn't wearing a coat and tie, Franklin dons an apron and tongs and cooks up a mean smoked brisket.
So profound is Franklin's love of barbecue that he dedicated 300 square feet of his Sandy Springs basement to cooking. The aptly named Hawg Heaven Kitchen is where he and his son, Stephen Franklin Jr., tested many of the recipes used at Franklin Jr.'s Westside restaurant Das BBQ.
Franklin Sr. built the kitchen with a friend over the course of two years, finishing it in 2015. It features a silestone center island surrounded by stainless-steel countertops showcasing various kitchen gadgets—from a juicer and food saver to food processors in all sizes. There's also a dishwasher, microwave, oven and warming drawer for ribs—everything except a stovetop. Instead, Franklin uses a hot plate to prep sauces.
There is a nearly floor-to-ceiling rack of spices below a suspended pink pig that Franklin named Fronita— the "matron of Hawg Heaven Kitchen"—after his favorite cousin. The walls showcase his credentials as a certified barbecue judge, and the decor, both purchased and gifted from friends, is all barbecue themed.
One wall showcases Franklin's collection of more than 20 meat cleavers from the U.S. and England (another 25 or so hang in Das BBQ), and 3 from France hang above the sink. Another wall is devoted to steels used to sharpen knives and a shelf stacked with books all about barbecue, smoking and grilling.
Hawg Heaven Kitchen is a perfect prep area for the action that takes place out on the outdoor patio, where eight smokers and grills are fired by wood or charcoal. It's where Franklin and his wife, Eileen, host parties, gathering guests around a 10-foot Southern Pine table for a feast of finger-lickin' Southern barbecue.
"Hawg Heaven Kitchen is a haven of food, fellowship, family, fun and love," says Franklin.
---
BATHED IN LUXURY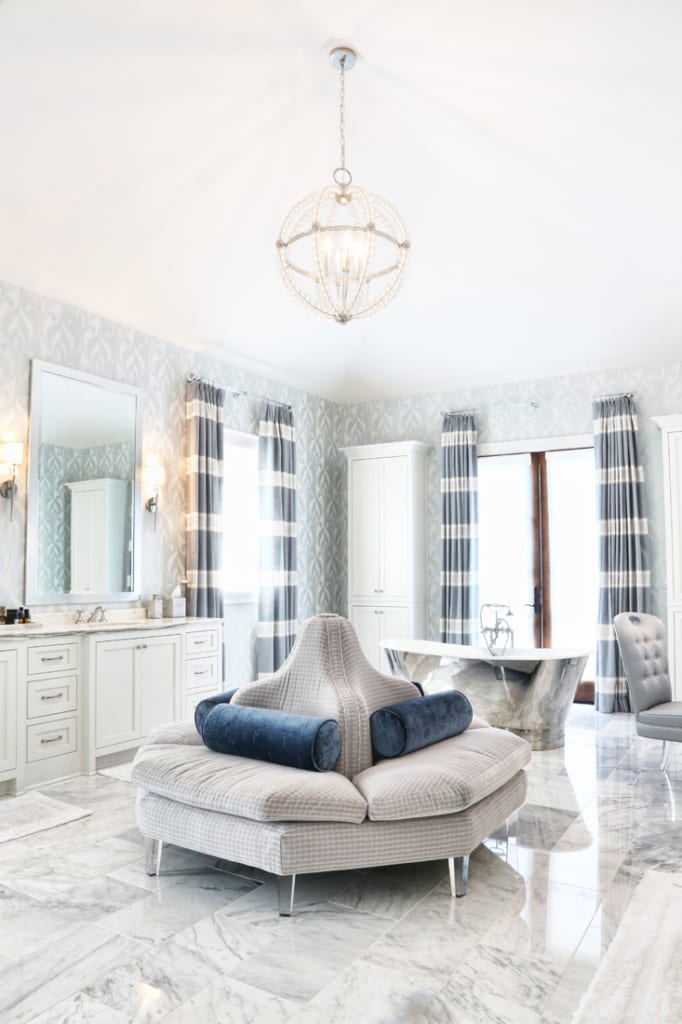 From golf and country clubs to personal homes, interior designer Traci Rhoads is a pro at bringing her clients' design dreams to life. When a busy Buckhead couple enlisted her help to transform their spacious master bathroom into a sanctuary of relaxation, where they could recharge after a full day raising two adolescents, she chose a calming palette of soft blues, gray and white. The 345-square-foot bathroom is just as impressive as a high-end spa with muted blue and white Manuel Canovas wallpaper and marble throughout, from the floors and countertops to the tiles.
The real showstopper, however, is the Windsor Smith settee from Century Furniture that stands in the center of the room on Lucite legs. "The ability to incorporate soft seating within a bath is a true sign of luxury," says Rhoads. There's also a striking mirrored Ann Sacks soaking tub, perfect for those nights when a long, relaxing bath with a tall glass of wine is in order. But if there isn't time for a leisurely bath, the 48-square-foot glass-door shower with multiple showerheads and jets offers more than enough room to stretch out.
When it came to window treatments, Rhoads wanted to give her clients privacy, but keep the feel of the space light and airy, so she paired shimmery Romo curtains with light-filtering shades. "I didn't want to put in shutters or anything permanent, so we used a sheer fabric that still lets in some light."
The abundant sunlight bounces off huge over-the-sink mirrors and an ornate reflecting piece above the makeup table that Rhoads found at an antique store. At the center of the room hangs an orb light fixture from Hudson Valley Lighting.
"The main goal was to create a master bath that was a place of peace and solitude, made even richer with luxurious decor to match," says Rhoads. Mission accomplished.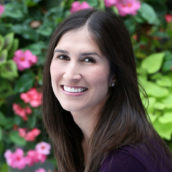 Giannina Bedford
Giannina S. Bedford is multi-faceted writer and editor. Her work covers design, travel, food and business. She's penned Simply Buckhead's home feature since inception and held a variety of editorial roles at the magazine. Her freelance work has appeared in Condé Nast Traveler, USA Today, Virtuoso Life, Hemispheres and TravelandLeisure.com. She also contributes regularly Atlanta Business Chronicle. Fluent in Spanish, Giannina was born in Miami and grew up in Brazil, Chile, Hawaii and Australia. She currently lives in Dunwoody with her two kids and husband.