CHOIR TEACHER JONATHAN PILKINGTON HAS BELTED NOTES FROM GEORGIA TO NEW YORK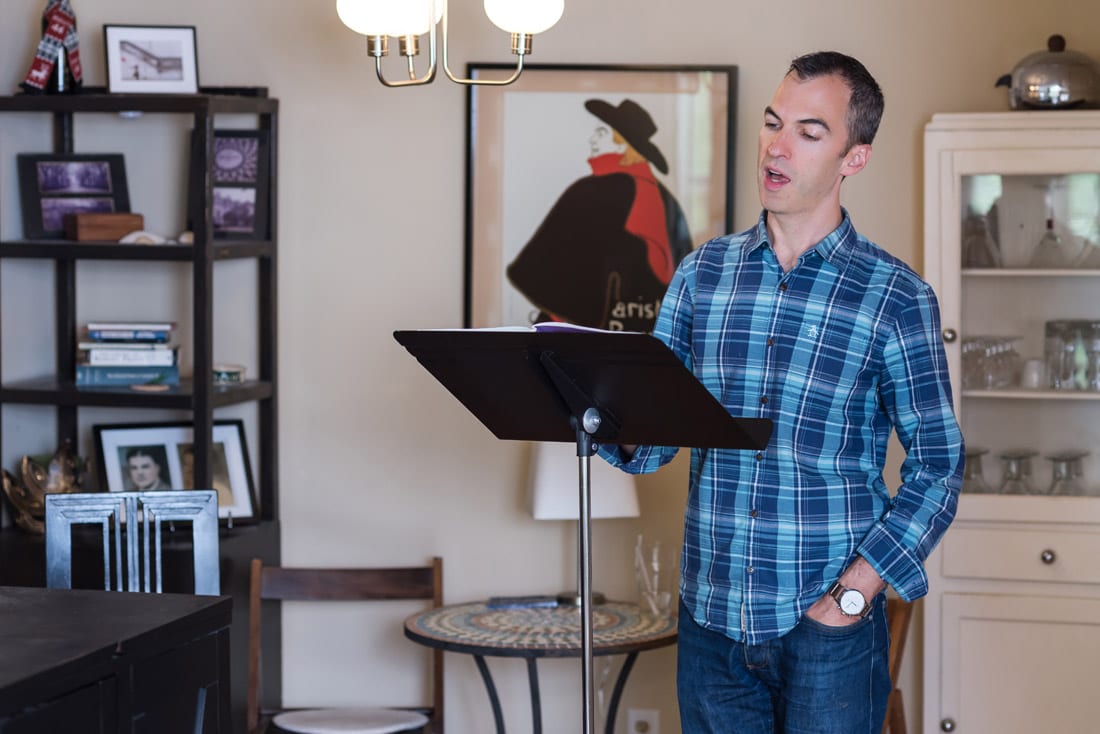 STORY: Muriel Vega
Jonathan Pilkington was born in Georgia on a Wednesday night during church choir rehearsal. While that may seem like a random fact, it marked the beginning of Pilkington's career in music. "Apparently the church choir was waiting for me," he laughs. His father's singing was the soundtrack of his childhood. But it wasn't until high school that he overcame his shyness and joined the school chorus.
Following voice lessons and a bachelor's degree in music education, Pilkington became interested in vocal pedagogy—the study of voice instruction—despite not connecting to teaching at the time. He moved to New Jersey to study voice instruction at Westminster Choir College. Shortly after completing his degree, he saw an opportunity to move to New York City. "It was the right thing to do and figure out what to do next," says Pilkington. "With my choral singing background, I jumped into professional choral gigs, including several with the New York Philharmonic and other major orchestras."
Pilkington performed as a recitalist, an opera singer and an oratorio soloist. One of his most significant accomplishments was performing a solo with the American Symphony Orchestra at Lincoln Center.
"I had a lot of great opportunities to work with some of the best conductors in the world," says Pilkington. "I learned from a lot of singers who were having great careers at the time and about how the classical music business really worked."
After six years in New York, Pilkington came home to Georgia when he received news of his father's cancer diagnosis. That's when he fell back in love with teaching.
"A lot of people think either you're born being able to sing or you're not. I fully believe that anyone can sing or at least get better at it," he says. "Through my education, I've learned that vocal exercises can help people sing better by strengthening the parts of their voice that are weak."
In 2009, he began teaching in Athens at Piedmont College, where he earned his doctorate in voice performance. Earlier this year, he moved to Atlanta to ramp up his performances and has started giving private voice lessons at The Lovett School and United Music Studios. "I'm trained on mostly classical, but I enjoy teaching people how to sing regardless of the style they like," says the Buckhead resident.
As a choir veteran, Pilkington has a few favorites when it comes to the holiday season around Atlanta. He recommends stopping by hotels such as the Ritz-Carlton downtown and The Whitley in Buckhead where he's often part of a caroling quartet starting at Thanksgiving. He's also a big fan of the Atlanta Symphony Orchestra's programming during Christmas time. "I may be biased as I am a staff singer there, but I think the First Presbyterian Church has one of the most beautiful Christmas Eve services in the city," says Pilkington.
To learn more about Jonathan Pilkington's voice lessons and upcoming performance dates, visit jonathanpilkington.net.
Muriel Vega
Atlanta-based tech and culture writer with an undying love for Buford Highway and its multicultural communities.