After 20-plus years in the leather restoration industry, Ryan Embry has designed his own line of leather bags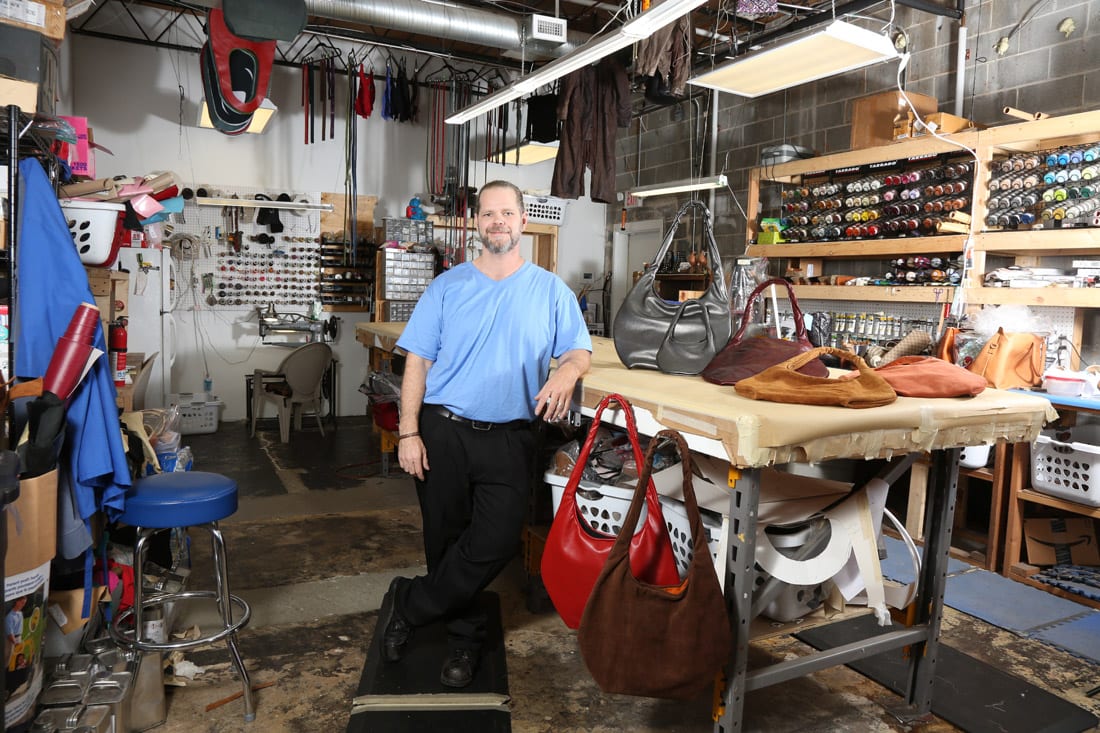 STORY: Muriel Vega
PHOTO: Sara Hanna
Ryan Embry is a third-generation cobbler who has apprenticed the art of leather and how to bring it back to life under his grandfather, father and several uncles. With nearly three decades of expertise in the leather business and seven at his Buckhead shop, Classic Shoe & Leather Service, the Georgia native has done everything from restoration work for museums to repairing purses and shoes to building prototype leather designs.
About three and a half years ago, after a particularly difficult handbag repair job, Embry was inspired by the unique seam of this one repaired bag: Hidden inside was a particular technique that not many knew how to do. He researched it for the next few months, building multiple prototypes and putting them to the test by slamming them against the wall and dragging them along the street.
His research culminated with his first line of hand-stitched, hobo-style bags in materials such as suede and smooth and cracked leather. "I took the years of knowledge that I have and made the bag itself into a very elegant, sleek design."
A few of his first-generation signature bags, which he named the Almond, are still available in his shop. His second line, a combo of a more refined Almond with a matching mini-me bag, is available starting this month. The bags are cut from the same piece of leather for color consistency as it ages and feature hidden seams for durability. Prices start in the $3,500 range for the combo. Here, Embry talks more about his process.
After so many years in the leather repair business, what inspired you to launch your own line of bags?
Oddly enough, it started out as a joke. We were working late one night, and I was taking care of a very particular specialty job. It was one of those in which we had to close a stitch inside the item, which is challenging to do. There aren't very many people who know how to do it. We finished that job, and as kind of a joke, I was like, "I wonder if I could make a whole bag like this." I found out that there's not a single manufacturer or design production company that makes a bag [with an inverted seam] like this. So it then turned from a joke to a challenge.
What are the benefits of an inverted seam for the quality and durability of the bag?
The cool thing about having an inverted seam is that there's no exposed stitching anywhere, and thus it's not subject to the wear and tear, friction and things getting into the stitches, which is one of the ways that bags deteriorate. It's a fantastic design because you can make [a bag] beautiful and durable at the same time.
Tell us about your second-generation line of Almond bags and their new features.
I'm doing a second production right now. It's only 12 high-quality bags, but each one comes with a miniature version of the same bag—same material, cut from the same hide. We're calling it the Mommy and Me Combo. I refined the original design by rounding out the corners and separated the two interior pockets a bit more to provide easier access when getting your items out. This is a side artistic project I decided to tackle because I thought it would be a fun challenge to do, and now, towards the end of completing the project, I realize I have something really special here.
CLASSIC SHOE & LEATHER SERVICE
326 Pharr Road N.E.
Atlanta 30305
404.949.9844
Muriel Vega
Atlanta-based tech and culture writer with an undying love for Buford Highway and its multicultural communities.