Dining in or out, Storico Fresco delivers a taste of Italy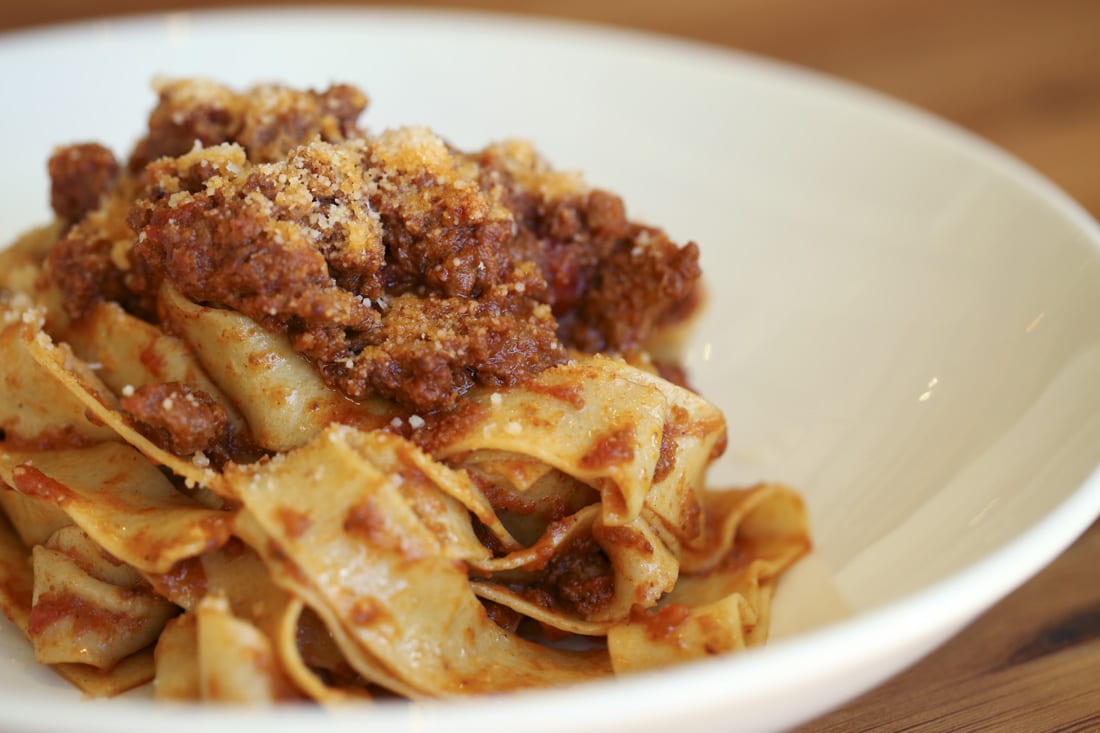 There is much I want to say about Storico Fresco Alimentari. Like a secret admirer, I've been watching it from a distance since it arrived at the Buckhead Exchange in 2016, waiting to see how it would jibe with the neighborhood, how it would deal with some initial mixed reviews, etc. But Storico has, as I hoped and predicted, blossomed into one of the most popular spots in town.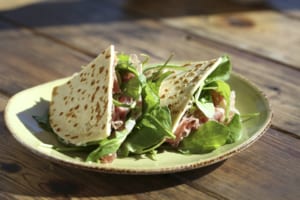 The semi-subterranean restaurant/market— the latter selling an assortment of fabulous pantry and ready-to-eat items—is steeped in the happy aromas of an Italian cellar: cheeses, truffles, cured meats and fresh pasta. Even the joyful fortissimo of conversation in the 126-seat space is reminiscent of that formative dining experience on your first summer abroad. And then there's the menu.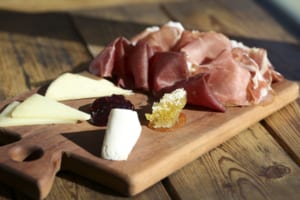 On a recent visit, while dipping warm crostini into Umbrian olive oil, we made our first selections by narrowing in on two classic pasta dishes. The tagliatelle al tartufo was blanketed in thick, perfumy black-truffle shavings and a smidge of truffle paste, with just enough olive oil and Grana Padano cheese to tie it all together. It was all we could do to keep from swooning. The garganelli con funghi was the runner-up in this beauty pageant. Delicate, hand-rolled pasta bathed in a too-mild porcini sauce, it couldn't stand up against the truffle dish, even with the ubiquity of chanterelles. Our dessert course was also an exercise in contrasts. We agreed upon housemade pistachio and chocolate gelato, each sprinkled with chocolate-coated candy bits and surprisingly priced at just $2 (cheaper than a glorious Miscela d'Oro espresso). But while the chocolate was creamy and intense, the pistachio lacked flavor.
Happily, a couple of follow-up lunches were nearly flawless. If there's one takeaway from this review, let it be this: Do not pass up the meat and cheese board. This gluttony-inducing antipasti comes piled with paper-thin slices of prosciutto, bresaola and culatello; generous cuts of semisoft sottocenere, sharp pecorino and earthy robiola cheese; and, for a touch of sweetness, a chunk of gooey, golden honeycomb. The spinach salad that followed was destined to be anti-climactic, but wasn't. The dressing was a bit bland, but the snappy green leaves, fresh pistachios, fennel and dill made for a bright and light next course.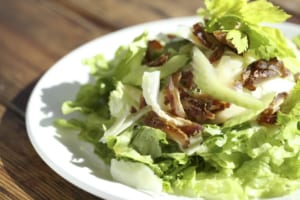 The accompanying bread (from Alon's) that was charred crisp then dipped in peppery olive oil took the tired bread-and-oil cliché to a new and delicious level. How I grieved for my gluten-free dining buddy. Until, that is, the tagliatelle alla Bolognese arrived. This low-gluten pasta, made with 80 percent chickpea flour and sauced with what may be the one of the finest Bolognese ragus this side of the Atlantic, caused audible gasps at our table. Each al dente pasta strand was coated with the perfect balance of silky, meaty sauce and enhanced with a measured toss of Grana Padano.
On another visit, my companion and I wandered in for the late afternoon lunch special: $12 for a half sandwich and side salad. We opted for the datteri salad, a respectable combination of sliced dates, mixed greens, celery and shaved pecorino dressed in a honey-saba vinaigrette. (Saba is a sweet syrup made from cooking down grape must.) The piadina sandwich was, apart from the luxurious prosciutto, just right of acceptable. I practically grew up eating piadina in Emilia-Romagna, Italy, and Storico Fresco's version, with its thin, cracker-like texture, was tasty enough but definitely missing something. (Probably the lard. Sorry y'all; it makes things delicious.)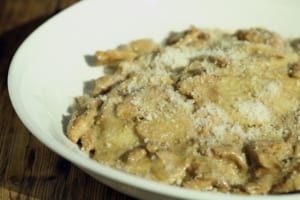 My most recent meal at Storico was possibly the finest I've had since my 2012 arrival in Atlanta, securing this chic trattoria a place in my heart forever. Our first order of business was the rapini, one of several vegetable side dishes available. Roasted with a hint of Calabrian chile, the crisp florets of broccoli rabe were great as is, but with the generous dusting of smoked ricotta, the dish rose to near-Michelin status. For our secondi, the pork shank for two was a natural choice. It was so decadent and full-flavored, I wound up monopolizing the plate, stuffing forkfuls in with my left hand and grabbing errant bits swimming in golden polenta with my right. It wasn't a pretty picture, but you should've tasted it.
Did we have room for dessert? No. Did we order some? Yes. Contenders were the affogato, tiramisu, ricotta pie and tortino. We settled on the latter, a cross between chocolate cake and a brownie with chocolate fondant in the center and vanilla-bean whipped cream on top. Every bite was like the moment in the movie Ratatouille when food critic Anton Ego returns, via the eponymous dish, to the joys and comforts of childhood.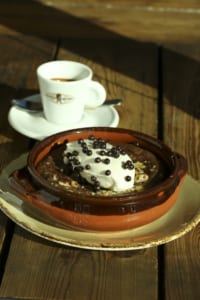 Storico Fresco has a diverse demographic. I've run into people from all over—Buckhead, of course, but also hipster friends from Little Five Points, Decatur parents and kids. (Incidentally, Storico is nothing if not kid-friendly. After all, who better to judge a quality bowl of noodles than noodles' biggest fans?) At each visit, I watched as the affable staff greeted returning customers by name, sometimes with an embrace. Whereas hit-or-miss experiences are practically the norm in restaurants these days, it isn't the case here. What a comfort to know that if you ever miss Italy as deeply as I do, the fantastico Storico Fresco is only a heartbeat away.
STORICO FRESCO ALIMENTARI
3167 Peachtree Road N.E., Atlanta 30305
404.500.2181
storicofresco.com
Prices: Appetizers: $12-$24. Salads and sandwiches: $10-$21. Pastas: $11-$36. Mains: $24-$30. Side dishes and desserts: $6-$7.
Recommended dishes: Meat and cheese board, date salad, garganelli con funghi, tagliatelle alla Bolognese, rapini, pork shank for two, tortino and the Miscela d'Oro espresso.
Bottom line: A can't-go-wrong true Italian bistro with something for the whole family
STORY: Rebecca Cha
PHOTOS: Sara Hanna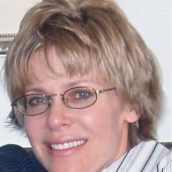 Rebecca Cha
Food, beauty and interiors writer at Simply Buckhead. Linguist, teacher, chef, parent.