For 68 years, people of Buckhead have begun their day at the White House!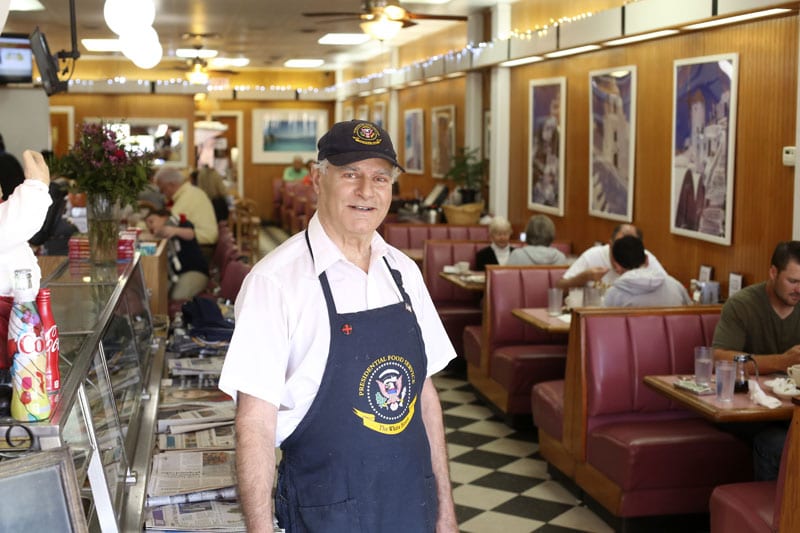 For Demos Galaktiadis, the road to the White House began on the Greek island of Icaria and ended on Peachtree Road. Galaktiadis, a Sandy Springs resident who came to America in 1966 while in his mid-20s, has owned the Buckhead diner known as the White House since 1971. Founded in 1948, White House moved to its current home 43 years ago. Today it is arguably the neighborhood's most venerated breakfast nook.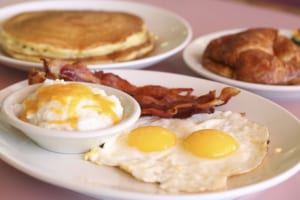 Arrive at this institution on a weekday morning, and you will find Atlanta movers and shakers in starched white shirts and ties huddled over omelets and pancakes. "We get a lot of lawyers," our Eisenhower-era server tells us one morning when we ask about White House's reputation as a power breakfast spot. One time, she says with a conspiratorial wink, Justin Bieber dropped by.
But according to 76-year-old Galaktiadis, who runs the place with the help of his granddaughter, Dylan Galaktiadis, and his co-owner, Vana Dragoumaniotis, no one gets "Hail to the Chief" treatment in this budget-friendly room of pink-vinyl booths, retro wood paneling and Greek travel posters. Not The Biebs. Not Donald Trump or Hillary Clinton. Not even Sam Massell, the former Atlanta mayor who has been a White House supporter since the '70s, when it had to vacate its original location to make way for what is now Charlie Loudermilk Park. "Everybody is welcome, and we treat them exactly the same way," Galaktiadis says in a telephone interview.
The Galaktiadises bought the restaurant from its original owners after working there a few years. (Galaktiadis says the first building was white inside and out, thus the name.) Over time, the cuisine has evolved into a unique combination of home-style Southern and Greek standards. At lunch, you might have moussaka and collards or fried grouper and a Greek salad, finished off with a dish of banana pudding.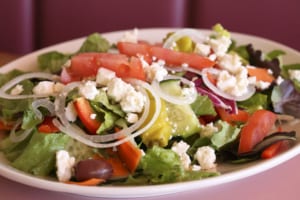 Galaktiadis says that when he and his wife first started cooking at White House in the late '60s, olive oil was rarely used, and many people were unfamiliar with the classic Greek seasonings of garlic, lemon, parsley and oregano. So the couple used fatback or bacon grease to give flavor to the vegetables. "Today, that is out of the question!" Galaktiadis says flatly, referring to the advent of healthy eating.
One day, I enjoyed a nice solo lunch here and was especially smitten by the sweet iced tea, the collards and the simple, fresh-made Greek salad, a beautiful pile of perfectly dressed greens scattered with onions, bell peppers, tomatoes, Greek olives, carrots and feta. I'm looking forward to returning to the lunch counter—maybe for a sandwich, a burger, or more of the generous meat and two  style offerings such as meatloaf, chicken and dumplings or fried chicken livers.
But for now, breakfast is why people vote for the White House. The kids can have pancakes dotted with M&Ms, the adults traditional morning fare of bacon, eggs, pancakes and toast.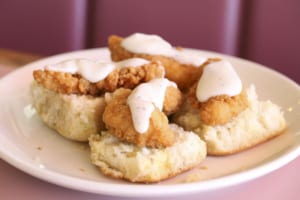 For $10.99, you can get a good sampling of what the kitchen does best by ordering The White House Breakfast: two eggs any way; ham, sausage or bacon; grits; plus two hotcakes or French toast. (For $15.30, you may opt for The Presidential Breakfast that comes with an 8-ounce rib eye instead of the bacon, etc.) Though I requested "over-medium eggs" with my White House breakfast, they were a bit too runny but still good, and my side of bacon was just the thing for crumbling over the pancakes doused with syrup. (It didn't occur to me until later that our server, who was a little flummoxed getting our order to the table, never offered the grits that come with this gut-buster, not that I needed them.) On this same morning, my guest had a biscuit sandwich with turkey sausage, scrambled egg and cheddar cheese, and pronounced it dee-licious.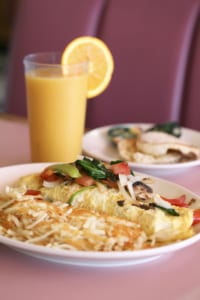 Second time around, I had The Olympic Omelet, stuffed with spinach, tomatoes, onions, mushrooms and peppers and served with a side of tzatziki. Galaktiadis told me later that it's the most popular omelet in the White House, and I see why. That bad boy is no Michael Dukakis. It's very tasty and makes you feel as if you're getting your veggies in. I also liked the side of hash browns, in a greasy Waffle House kind of way, while my friend devoured a giant portion of chicken and biscuits smothered with country gravy. I would endorse the peppery gravy and the fried chicken, too, though it was basically just chicken fingers. Alas, the biscuits were a little gummy.
So let's take a poll. Are there better breakfasts in Atlanta? You bet the Elgin Marbles there are! Atlanta is a brunch lover's paradise, and there are some awfully nice spots serving mortadella benedicts, honeyed ricotta-stuffed French toast and heady cups of coffee.
But none of these trendy joints have the patina of history, the friendly staff or the sense of community that fills White House. Most likely, Galaktiadis, good politician that he is, will say hello as he breezes past your table, and if it's near the end of the lunch shift, your server may ask: "Would you like to try the banana pudding? It's on the house." No sweeter words.
Greek-owned restaurants have long been a part of American culture, in small towns and big cities alike, even in the South. I remember having my first Greek salad at The Plaza Restaurant & Oyster Bar in Thomasville, Georgia., when I was a kid. This was likely in the 1970s, though the restaurant opened in 1916, making it the state's oldest. The oil and vinegar dressing—what, no Thousand Island?— seemed so exotic. My mother popped the salty olives in her mouth and just inhaled that salad. Like the Plaza, the White House is a charming example of what may be a vanishing breed—but not as long as Galaktiadis is in the "oval office."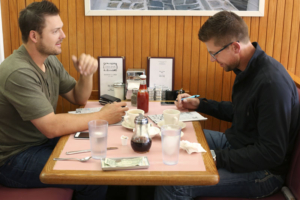 "I look forward to coming to work every day," he says. When he speaks, you know it's not an empty campaign promise. "It's our passion and our joy," he says with obvious affection for the cafe and the community that's provided him a livelihood all these years. It's a way of life.
WHITE HOUSE RESTAURANT
3172 Peachtree Road N.W.,
Atlanta 30305
404.237.7601
whitehousediner.com
Prices: Breakfast, $6.40-$15.30. Lunch, $6.95-$16.70.
Recommended: The Olympic Omelet. The White House Breakfast. Chicken and biscuits with country gravy. Breakfast sandwich with egg, cheese and turkey sausage. Greek salad. Collards. Iced tea.
Bottom line: Good, straightforward breakfast and Southern grub, with an occasional Greek twist.
STORY: Wendell Brock
PHOTOS: Sara Hanna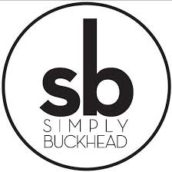 SimplyBuckhead
Simply Buckhead is an upscale lifestyle magazine focused on the best and brightest individuals, businesses and events in Buckhead, Brookhaven, Sandy Springs, Dunwoody and Chamblee. With a commitment to journalistic excellence, the magazine serves as the authority on who to know, what to do and where to go in the community, and its surroundings.