A former Buckhead gallery owner has found her next act in the art of mustard.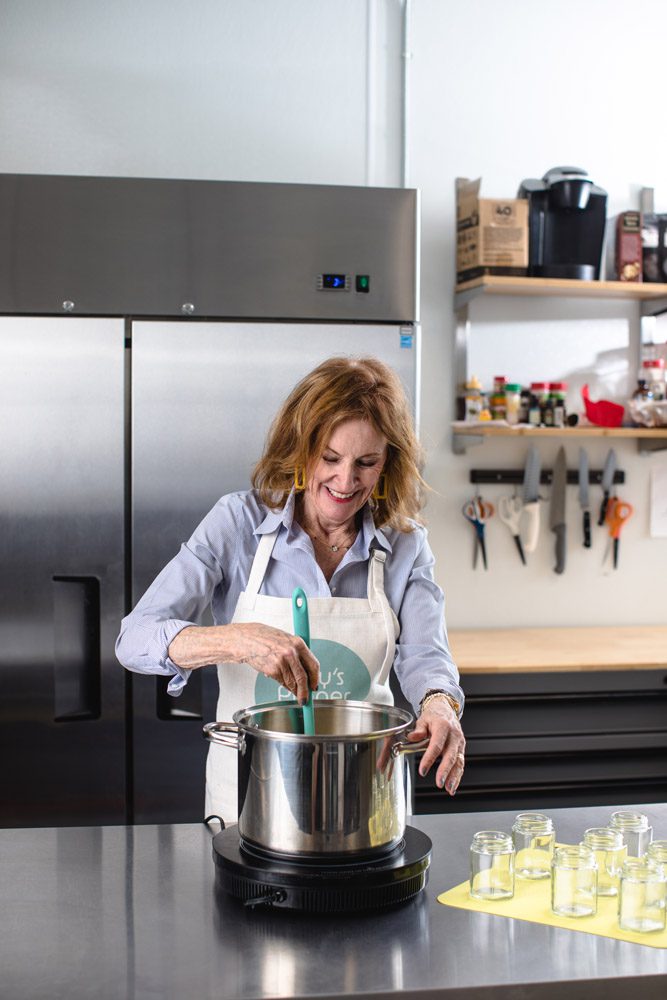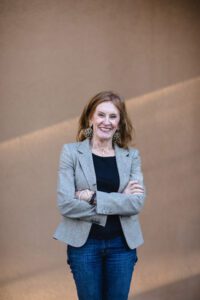 I love mustard. For years, everywhere I went, I would buy different kinds. About 10 years ago, I decided to try and make my own mustard one day, taking one I liked and adding ingredients. I eventually came up with a recipe that brought together mustard and Champagne, and it was unlike anything I had ever tasted before. I started giving it to neighbors at Christmas, and I realized how much they enjoyed it when I began getting the empty jars in my mailbox with notes saying, "More, please."
At the time, I was the owner of the Anne Irwin Fine Art Gallery on Miami Circle. I started the business out of my home when my kids were little; it was my fourth entrepreneurial pursuit. I'd done everything from selling comic books out of my red wagon to making jewelry in college and starting my own graphic design business. I was always very intuitive about the art world and seemed to have an eye for selecting art that other people liked too. But at the end of 2019, after 30 years, I was ready to sell the business to my fabulous gallery director, Emily West. Then the pandemic hit the following March.
I was bored and felt so isolated. I couldn't sit around reading books all day, and I started wondering if I could take this mustard to market. I was so naïve. I thought I could make the mustard in my kitchen, find a cool label and start selling it right away. But there is so much more work to it than that. I had to get licenses, take chemistry and food science courses through the University of Georgia, find an industrial kitchen and much more. It felt like everything was completely out of my wheelhouse, and it was such a challenge. More than once I thought that I was going to stop, but I took it one step at a time. I was too far along to give it up. It took me nearly two years to get everything in place so I could get my labels and start selling my Champagne mustard, which I named Lilly's Proper.
I officially started selling my small-batch mustard in September 2022. I now work out of High Cotton Kitchen, a privately owned, industrial community kitchen in Buckhead, and I have an assistant who helps me. There are so many things I have to do to get the recipe right in the amount I'm producing, like making sure the product doesn't get too cool before we put the lid on to create the vacuum seal. And I couldn't do it by myself. In fact, I've found my way into this incredible food community, and the people are wonderful. They are so willing to help and share information, and it's just amazing.
Similar to the art world, I've discovered that the food world has its own culture. Art has its own language, and so does food. It's taken me a long time to figure out how to speak the language, but I'm learning. My granddaughter, Darby, helped me set up an Instagram account for Lilly's Proper, and I have someone who helps me with that content now as well. And I actually sold out over Christmas—nearly 600 jars. I didn't think it would happen this fast, so I'm trying to figure out where I go from here.
I'm just amazed at how many people love my mustard, which is almost like a sauce. I've heard from people who tell me how they use it, from mixing it into hummus to using it in a salad dressing. I love that. For me, art provided a way for people to congregate, learn and grow. Art changes your home, and I always wanted to sell art that was peaceful, interesting and energetic. I feel the same way about food: It allows you to gather at the table with family and good friends. Just like art is an experience, food is an experience. I'm enjoying being in this food community, and I'm really at the beginning of this adventure. I'm just taking it one step at a time.
@lillysproper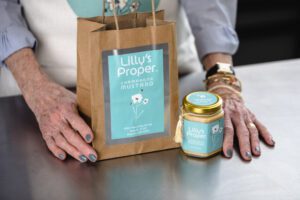 PICK UP A JAR OF LILLY'S PROPER

Lilly's Proper Champagne Mustard is sold at local area shops and boutiques:
ERIKA READE • @erikareadeltd
BELLA CUCINA • @shopbellacucina
OLI+VE • @oliandev
SPLASH OF OLIVE • @splashofolive
TIMPSON CREEK GALLERY • @timpsoncreekgallery
PHOTOS: Erik Meadows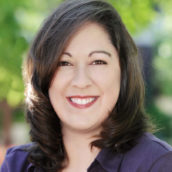 Amy Meadows
15 Minutes With columnist at Simply Buckhead. Freelance feature writer, children's book author and President of Green Meadows Communications, LLC.