Susan and David Nethero turned disaster into dazzle at their Brookhaven home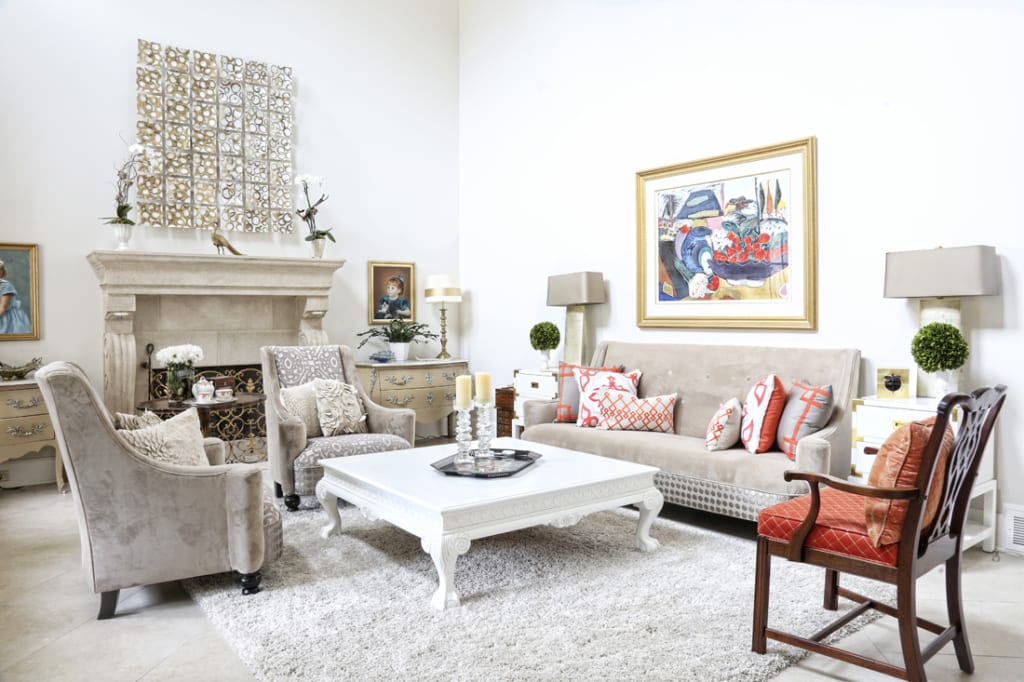 Sometimes, a curse can become a blessing. At least that's the case in the home of Susan and David Nethero, which had to be completely gutted after two pipes burst in their master bedroom during a 2014 winter freeze. The couple was vacationing in Aruba when the incident occurred, and the leak went undetected for 36 hours.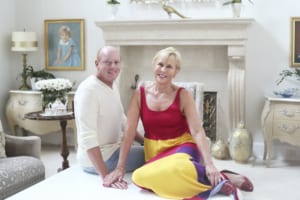 "One of the neighbors saw water coming out of the carport and the front door," says Sarah Burke, Susan's sister and an interior designer with Burke & Associates. "When I walked in, the ceiling was bowing. The first thing I did was get a broom and start popping holes in the ceiling to let the water release."
The Netheros had spent the last few years upgrading the interior of the historic Brookhaven home, which they purchased in 2010. They had just finished remodeling the kitchen when disaster struck, and they had to start over from square one. "We stripped everything down, gutted it to the studs. There wasn't one piece of drywall in the house to speak of," says Sarah.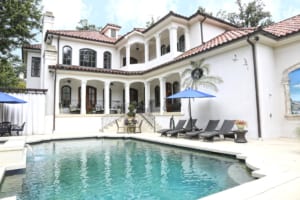 Luckily, the Netheros know a thing or two about building something from the ground up. Susan is the founder of the bra-fit company Intimacy, which she sold to Belgian lingerie manufacturer Van de Velde, now Rigby & Peller, in 2012. Today, she and her husband are managing directors of New York-based Golden Seeds, an early-stage investment firm focused on funding women in business. Sarah, who used to design Intimacy stores, quickly got to work putting the Netheros' home back together in a record six months.
During the renovation, the couple seized the opportunity to make some additional changes, such as replacing all of the floors with a mixture of hardwoods and tile, adding built-ins for storage and making the home more "green" and low maintenance through LED light fixtures. "What was great about it in the end was that every surface was touched and updated and cleaned up," says Susan of the 6,572-square-foot abode. "It was almost like building our own house."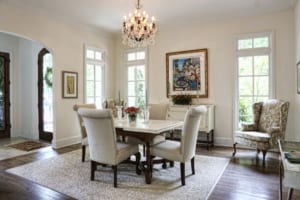 Once past the house's stucco, Tuscan-style exterior, visitors enter a sunlit foyer that opens to an elegant formal living room done in ivory and gold, with custom furnishings, porcelain tile floors and a fireplace flanked by portraits of the Netheros' daughters, Emily and Julia, which were painted by Susan's mother. From the living room, there is a view into the country-inspired kitchen, with its off-white cabinets and two-toned granite and Silestone island. The cooktop faces out so Susan can make dinner while socializing with guests. "She hated cooking into the wall, and here she can be a part of the conversation," says Sarah.
Adjacent to the kitchen is a casual dining nook with a built-in fireplace and a family room with a display of pink Depression glass that once belonged to Susan's mother. "She had quite a collection, and I love pink. Sarah had to convince me not to paint everything in the house pink," says Susan, laughing.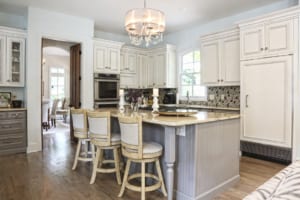 All of the home's living areas open through large French doors to an outdoor terrace where the Netheros sit with a drink almost every evening they're in town, looking out over their saltwater pool, hot tub and pristinely landscaped backyard. Down by the pool deck, a mural of a beach scene painted by artist Shea Vickery recalls some of the Netheros' favorite island locales, including Turks and Caicos.
"When it's just the two of us, we take advantage of sitting outdoors," says Susan. For formal gatherings, the party moves into the mostly white dining room, where the painted wood table, once belonging to Susan's grandmother, expands to twice its size. A punch of color comes from the Bracha Guy artwork that Susan picked up at Buckhead's Wentworth Gallery. The dining room's glimmering chandelier, which has followed the Netheros through three homes, is one of many located throughout the house that reflects Susan's penchant for a little sparkle. "I like glitz and a little glam," she says, "so Sarah's always looking to see how she can add a little shine in here, which is why you see some metals. I love metallics."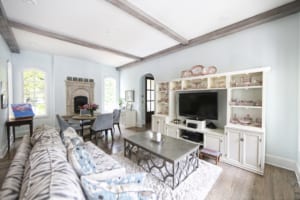 Susan's love of fun flair is also noted in the upstairs master bedroom, where a stenciled wall in soft teals and pale chartreuse—which took Sarah a week to paint—complements the Kevin O'Brien Studio velvet bedding. From the ceiling, which is painted to look like barnwood, hangs another opulent chandelier that ties together the room's whimsically chic decor.
The playful design continues in the expansive master bathroom meets walkin closet that was created by knocking down three walls. A koi watercolor from China, a bench upholstered in koi fabric and a fish mural by Shea Vickery set a lively tone, while the bamboo cabinetry, back-painted glass countertops and mirrored closet doors create a spalike ambiance.
The aforementioned rooms are the ones most used by the Netheros, but their home also includes an office and three guestrooms. One guestroom is tailored to their twin 2-year-old grandsons with a blanket handstitched by Susan's mother and framed needlepoints that Susan and Sarah crafted in adolescence. When they have guests or grandkids visiting, the Netheros often use the basement level, which features another guestroom, a playroom/gym and a pool table surrounded by framed fashion prints, some by David's illustrator/designer mother and others Susan picked up on trips to Paris.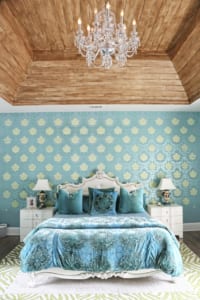 The Netheros travel often, both for work and pleasure, but when they're home, they have an ideal place to relax, entertain and catch up with family and friends. The flood of 2014 may have set them back a few years, but today they feel blessed to have an abode that is perfect for what Susan calls the "third chapter of their lives."
6 TIPS FOR DEALING WITH A FLOOD IN YOUR HOME
1. First of all, buy flood insurance!
2. Stay calm and remove valuables such as art, antiques and family heirlooms as quickly as possible.
3. Do your research for replacement values. Get quotes; don't rely solely on your insurance company to put a price on furniture or finishes.
4. Think positively; you're getting a renovation with the insurance money.
5. Hire a good designer/construction manager and contractor to protect your investment. It will save time and money, and you get to design to your likes and lifestyle. Contractors have books that quote the real value for all of the work needed to be done.
6. You'll have to fight to protect your investments. Be prepared and enjoy the challenge.
STORY: Giannina Smith Bedford
PHOTOS: Sara Hanna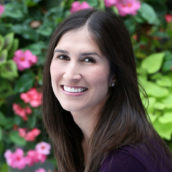 Giannina Bedford
Giannina S. Bedford is multi-faceted writer and editor. Her work covers design, travel, food and business. She's penned Simply Buckhead's home feature since inception and held a variety of editorial roles at the magazine. Her freelance work has appeared in Condé Nast Traveler, USA Today, Virtuoso Life, Hemispheres and TravelandLeisure.com. She also contributes regularly Atlanta Business Chronicle. Fluent in Spanish, Giannina was born in Miami and grew up in Brazil, Chile, Hawaii and Australia. She currently lives in Dunwoody with her two kids and husband.