EVERYTHING YOU NEED TO KNOW ABOUT YOUR NAILS RIGHT NOW
Ever walk into a nail salon and question if you should really stay based on its state of affairs? Or wonder what you can do about dry, brittle nails besides applying hand lotion? Are you looking for a fun new color to try this fall? Here, we've covered the gamut of what you should know to keep your nails looking great and healthy this season.
NAIL SALON NO-NOS
"It's important to find a healthy nail salon because a nail infection is more than just unsightly," warns Krystal Wright, assistant director, esthetician and nail technician at Natural Body Spa and Shop Brookhaven. "Infections can lead to a more serious diagnosis. And nail funguses can be spread easily to loved ones and can be difficult to get rid of." Wright says that when choosing a nail salon, ask yourself the following questions about its sanitation practices: Is your nail tech licensed by the state of Georgia? Is he or she wearing gloves? Is he or she working in an organized, well-lit environment? Are products all labeled and in their proper places? Are metal nail tools being sterilized in an autoclave that can be heated to 270 degrees? Are disposable tools like nail and foot files and buffers being used on multiple clients? "This is a huge infection-causing practice," warns Wright. "Look, ask and confirm. After all, these are your nails."
TOP TECHNIQUES
Color removal: When removing any long-lasting nail color, such as gel nails, make sure to use the proper removal method—that means no peeling them off! "Our nails grow as microscopic layers. This will damage the nail plate," explains Wright. Cuticle cutting: Don't cut your cuticles; only trim the hanging and dead skin around the cuticle and nail. "When you cut the cuticle, you are 'breaking' your seal and exposing the area to a host of germs," says Wright. In fact, cuticle cutting at a salon is actually illegal in Georgia. "A nail technician is not a surgeon and should not be cutting at live skin," she adds. Nail filing: Nails should be shaped with a fine-grit file and never seesawed back and forth. "When shaping, always file from the corner to the center in one direction," says Wright. "For the best growth pattern, file with the natural shape of the nail."
WHAT'S HOT
Colors: "Cool-toned nudes, grays with a hint of blue and the classic deep berry are all trending for fall/winter 2017," says Mercedes Smith, a nail tech and esthetician at Natural Body. She loves OPI's new Check Out the Old Geysirs, a beautiful gray-blue shade. Shapes: "Round and long oval shaped nails have been trending for some time now and show no signs of going away," says Smith. "These shapes are the perfect way to elongate the finger, giving it a delicate look." Art: "Nail art like accent nails, geometric shapes and glitter are very popular right now," notes Smith. "It's the perfect way to showcase your edginess."
AT-HOME SECRET
Apply cuticle oil to nails before bed. "Not only does it help to promote healthy and strong nails, cuticle oil is also perfect for keeping split nails, hangnails and dehydrated cuticles at bay," Wright advises. At Natural Body locations, you can customize your own oil from a selection of essentials at its Blending Bar.
NATURAL BODY SPA AND SHOP BROOKHAVEN
1432 Dresden Drive
Atlanta 30319
404.816.8801
naturalbody.com
STORY: Karina Antenucci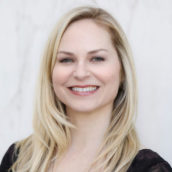 Karina Antenucci
Managing Editor and Wellness Columnist at Simply Buckhead. Blogger at Badass + Healthy.