Emerging talents bring beauty to Buckhead walls and galleries.
They are driven to create because of the art gene woven into their DNA. It pushes them to work without sleep, without food and sometimes, without steady paychecks. After all, they are professional artists. Their work is in galleries, homes, shows and murals in Buckhead and beyond. They sketch and paint, pushing for perfection until their hands ache. Their talent adds to the ambiance of our fast-paced city. Their pieces trigger memories, create buzz and occasional eye rolls. But they get people talking about art.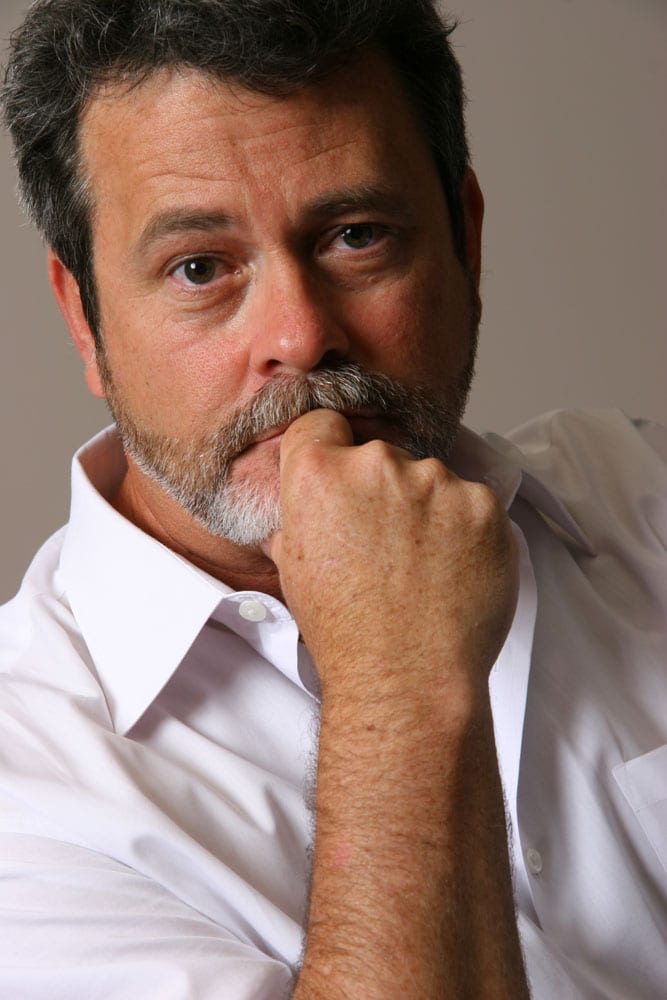 Landscape Lover Shares Vacation Memories
Landscape painter Doug Foltz captures a sense of place on canvas, unleashing memories of childhood adventures and family vacations that connect his work with his audience.
His careful strokes and subdued tones give his work a sense of calm and beauty much like the scenic rivers, beachfronts and woodlands he portrays. His work is carried by Buckhead's Huff Harrington Fine Art and in galleries in Boston and Florida.
"I am inspired by nature," Foltz says. "Nature shows me things I don't get to see elsewhere. It makes me feel things I wouldn't feel anywhere else."
His acclaimed series Coming Home, which has served as the basis of his work for several years, depicts skies filled with voluminous clouds and low landscapes that seem to extend for miles. A collector in Oslo, Norway, commissioned one of the pieces in the series.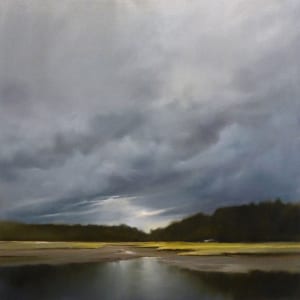 In addition to landscapes, Foltz also paints images of birds and other wildlife. He has been selling art for 15 years, and also works in photography. Foltz is not motivated by money to paint. He has bachelor's degrees in architecture and environmental design from Auburn University. He works as a design and visual communications consultant. Painting, says Foltz, is one of his other "full-time" jobs. "Painting is something that I have to do," he says.
When I learned that I had artistic talent: "I always loved to draw. I had a father who painted as a hobby."
If I couldn't paint anymore, I'd work in: Visual communications, architectural consulting and in the nonprofit sector supporting arts.
How creating art makes me feel: "Fortunate and sometimes tired, anxious, proud and really pissed off when I think I have gone two strokes too far."
See my work: dougfoltz.com
---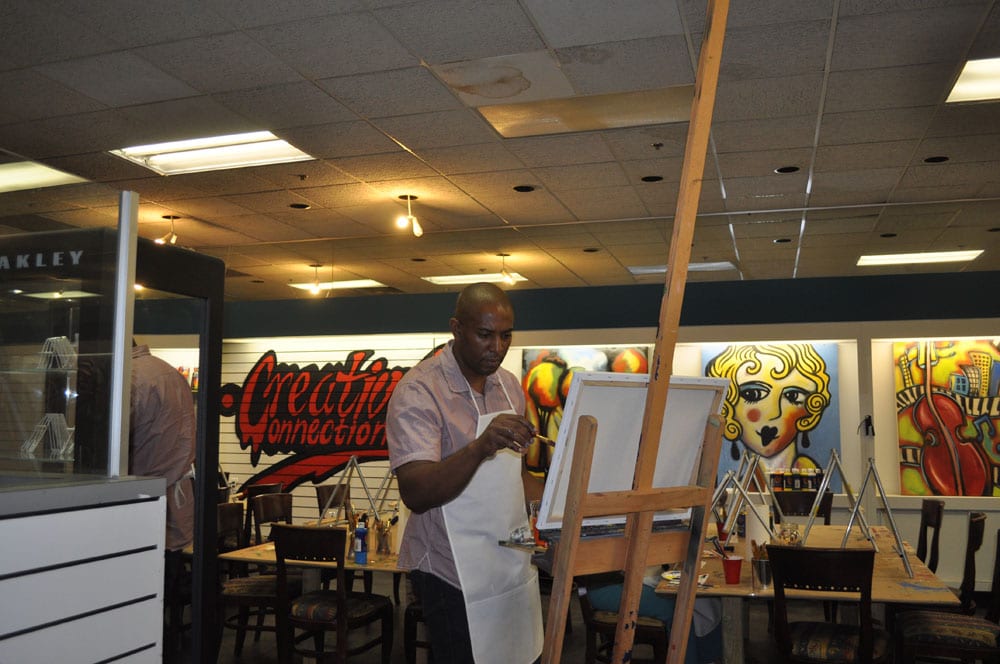 Masterful Muralist Stops Traffic
Corey Barksdale bleeds emotion onto canvas, turning his intense feelings about music, politics, history and love into mesmerizing works of art. His musings in acrylic and in aerosol reflect the American experience and his journey as a black man.
A professional artist for 15 years, Barksdale's acclaimed work adorns Buckhead and Midtown businesses, and hangs in metro Atlanta art galleries and in private home collections. Large-scale murals are his specialty. One of his jazz-inspired pieces was on display at the High Museum during the WonderRoot Art Performance.
His mural Atlanta Reflections, part of Atlanta's BeltLine, can be spotted on a 30-foot wall inside the Hurt Building downtown. A mural inspired by the love story in Gone with the Wind is inside Buckhead Atlanta's L'Occitane en Provence on Buckhead Avenue. Another Barksdale mural provides a backdrop to the cityscape of Decatur, stopping passers-by on Ponce de Leon.
"A lot of the time I am drawing something from actual experience, but I put my own twist on whatever it is," Barksdale says. "I like to use my imagination and see where it takes me."
Barksdale runs and teaches classes at Decatur art school Creative Art Connections. A recent Barksdale exhibition of what he calls "larger than life" portraits of black American heroes was on display in the Marietta Art Museum. Among them was an eclectic portrait of Harriet Tubman.
"I wanted to pay tribute to her because she was a key figure in African-American history," he says.
When I learned that I had artistic talent: "My art teacher would give us homework and every time I would come in with my homework he thought that someone else did it—like my older brother or my mother. Finally, he realized I could paint when I demonstrated it for an assignment in class."
If I couldn't paint anymore, I'd work in: Advertising.
How creating art makes me feel: "Painting gives me a sense of euphoria."
See my work: coreybarksdale.com
---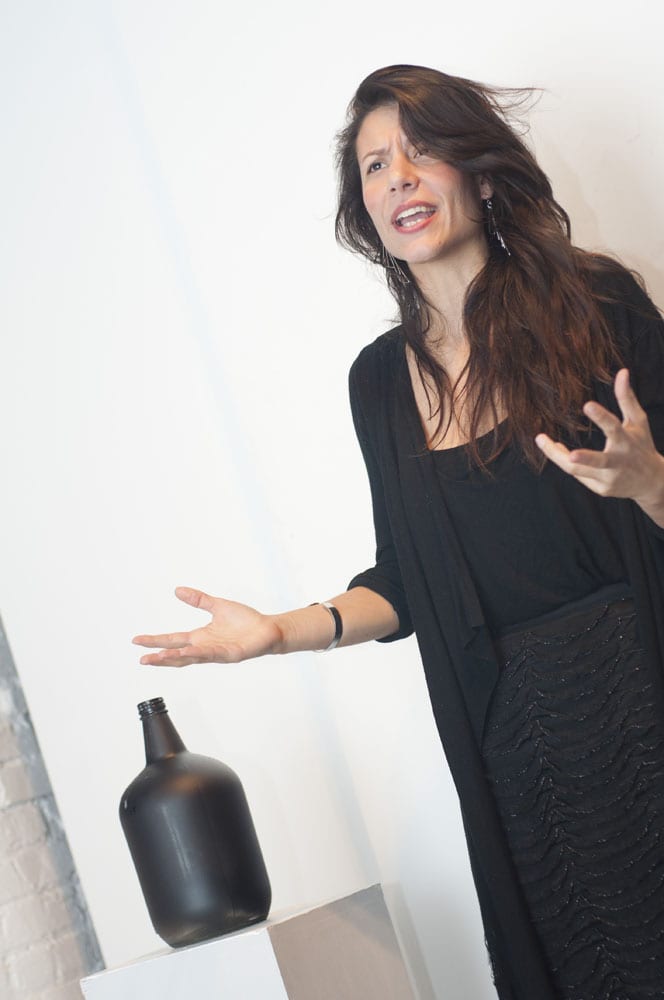 Mixed Media Maven Tackles Tough Issues
Jessica Caldas is a storyteller with a paintbrush, a sewing machine and a vivid imagination. Her interactive art with an edge addresses uncomfortable topics and invites strangers to experience intimate moments in her life and that of her subjects.
"A lot of my work deals with issues through people's stories," says Caldas, a finalist for the Buckhead-based Forward Arts Foundation's 2014 Emerging Artist Award. "I want people to have hard conversations about domestic violence, sexism, racism, classism— issues that people don't necessarily want to talk about."
Caldas' latest work Lore celebrates the bond she has with her family. She reupholstered Lay-Z-Boy recliners with printed images and family photos and equipped them with speakers and sound for the installation that was featured as part of the Atlanta Film Festival's Sound and Vision exhibit at Goat Farm Arts Center. People can put on headphones and listen to stories told by Caldas' aunt, grandmother and father about growing up in Puerto Rico and moving to the States.
"I'm a print maker and I'm also an installation artist—that means I can paint, sculpt or draw," she says. "I look for the perfect medium to best narrate an experience. I don't always have the money to do what I want but I do have the freedom to do almost anything I want. What ideally I want to do is to create art. It is a very good job.''
Caldas has featured her art at Buckhead's Swan Coach House and at Atlanta's Beep Beep Gallery, among other venues. She was among 11 artists selected for the prestigious 2014 Walthall Fellowship, which provides resources, networking and a gallery exhibit for emerging artists. Caldas has also held residencies at Atlanta Printmakers Studio and Mint Gallery.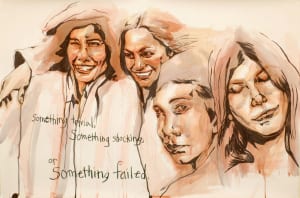 When I learned that I had artistic talent: "I was one of those kids who drew all the time. For 'Show and Tell' students would bring in pets that they had. I drew this really good picture of the pet that I wished I had. It was a Dalmatian, and everyone loved it. Later, my Grady High School art teacher John Brandhorst became a mentor for me."
If I couldn't paint anymore, I'd work in: Advocacy for victims of domestic violence.
How creating art makes me feel: "I keep feeling that I can't get any happier."
See my work: jessicacaldas.com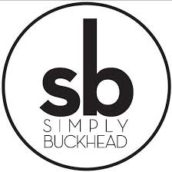 SimplyBuckhead
Simply Buckhead is an upscale lifestyle magazine focused on the best and brightest individuals, businesses and events in Buckhead, Brookhaven, Sandy Springs, Dunwoody and Chamblee. With a commitment to journalistic excellence, the magazine serves as the authority on who to know, what to do and where to go in the community, and its surroundings.