A sampling of great eats in and around Buckhead.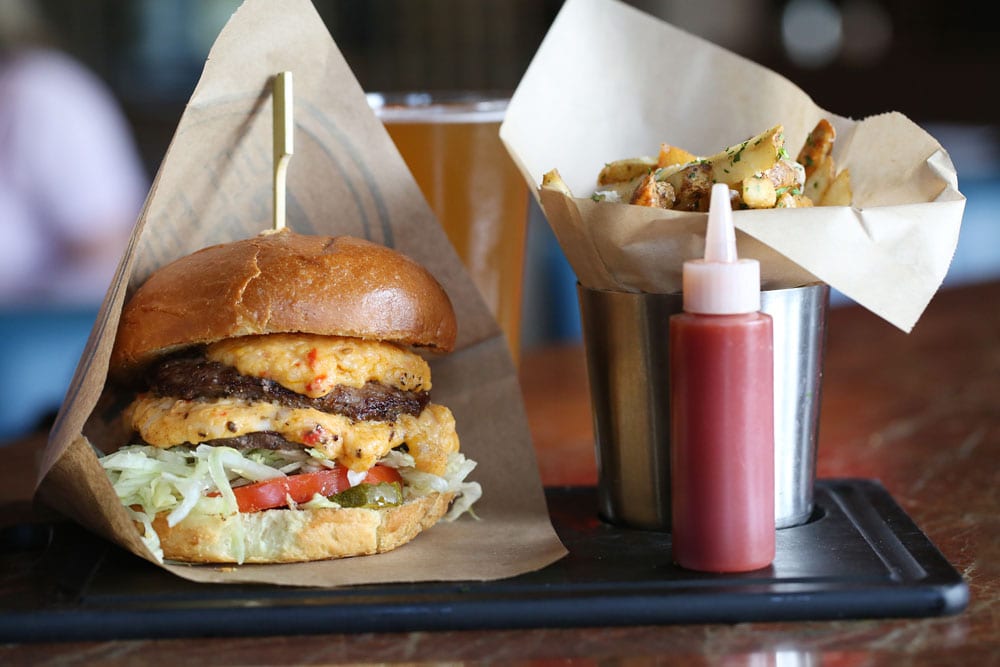 BHOJANIC
After two meals at this North Indian restaurant, I've come to admire the flavorful, long-simmered, aromatic home cooking. The Samosa Chat was a wonderful smash-up of potato-andpea samosas topped with tamarind and mint chutneys and cool yogurt. As for the entrées, I really loved the intensely flavored goat curry and wanted to sop up every drop of the gravy with rice. This second location of Archna Becker's beloved Decatur restaurant is an appealing minimalist space, and it's easy to get in and out and have a solid and affordable meal. We are delighted that it's finally here.
Tapas and appetizers: $4-$9
Entrées and thalis: $12-$18
bhojanic.com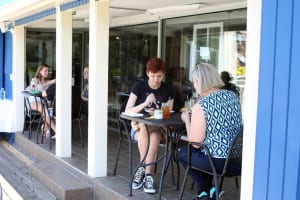 BUTTERMILK KITCHEN
Chef Suzanne Vizethann offers thoughtfully handcrafted food in a room as pure and simple as its namesake drink. Southern classics are the foundation of this Roswell Road breakfast-and-lunch spot, and you can't go wrong with the Brunswick stew, chicken salad, pimento cheese, or the fried chicken biscuit with pepper jelly and pickles. Vizethann's love of sweet confections really shines at weekend brunch, when folks line up in front of the inviting bright-blue cottage for the likes of toasted blueberry coffeecake and poppy-seed pancakes with strawberries and lemon curd.
Salads and sandwiches: $8.25-$11.50
Breakfast dishes: $8-$13
buttermilkkitchen.com
CAFÉ SUNFLOWER
In a town that's burger-crazed and churrascaria-packed, chef-owners Lin and Edward Sun's casual, mid-priced kitchen is an anomaly: a veggie haunt that samples freely from world cuisine with mainstream diners in mind. Here, patrons take delight in consistently delicious salads and soups; soy-based replicas of everyday grub like burgers and ravioli; and a stellar lineup of original dishes. The food is freshly prepared, beautifully presented and accessible to both hardcore vegans and omnivores.
Lunch entrées: $9-$12
Dinner entrées: $12-$18
cafesunflower.com
DEL FRISCO'S GRILLE
While the Texas-based chain is known for superb steaks, fusion appetizers and flatbreads, we think the burgers are sensational. In particular, the Pimento Cheese Burger, an uptown riff on the Big Mac, is a tower of juicy deliciousness: two patties with lettuce, tomato and pickle; plus housemade "sloppy sauce" (it's like a smooth Thousand Island); plus two generous smears of pimento cheese, which slides down the stack and seals in all that juicy goodness. Del Frisco's gets special points for packaging: The burger sits coyly in a partly open paper wrapper, while the fries are in a little paper cone on the side. A cold frothy draft beer is the clincher.
Appetizers: $7-$16.50
Sandwiches & flatbreads: $12.50-$18
Steaks: $29.50-$39.50
delfriscosgrille.com/atlanta
FOGO DE CHÃO
You don't have to brave the pampas of South America or the wilds of Africa to witness the most primitive form of cooking—and eating—on the planet. Every day of the week, deep in the heart of Buckhead, hunks of meat sizzle over an open fire, and grown men smack their lips and engage in gluttony as a kind of participatory sport. At this Brazilian churrascaria, you can sip caipirinhas and nibble cheese bread; graze from a beautiful, bottomless salad bar; then indulge in an endless parade of meats, carved straight onto your plate by servers in gaucho drag. It's all quite delicious, though the place can get Vegas crazy at times, so just be prepared for a mob.
The full experience: $51.50 (dinner); $32.50 (lunch)
Salad bar only: $24.50 (dinner); $22.50 (lunch)
fogodechao.com
HAL'S "THE STEAKHOUSE"
Looking on the outside like a highend strip joint topped with a Bourbon Street balcony, Hal's has built its cachet around its loyal clientele, old-school style, impeccable service and terrific food. Owner Hal Nowak is a New Orleans native, and in his eponymous enterprise—with its shrimp rémoulade, oysters bordelaise and booze-soaked bread pudding—he has created Atlanta's answer to Galatoire's. This may be your grandparents' favorite restaurant, but in an age where everything old is new again, it also boasts a youthful clientele that appreciates its straightforward food, strong drinks and speakeasy atmosphere.
Appetizers and salads: $9-$24
Entrées and steaks: $24-$50
hals.net
JALISCO
After nearly three decades, Jalisco remains a giddy, guilty pleasure trip through a tunnel of cheese. This Tex-Mex institution at Peachtree Battle is better than an El Paso taco kit, but not exactly a showcase of the sophisticated techniques and ingredients of the Mexican larder. Without apology, Jalisco is what it is, a place with consistently good, standard- issue burritos, enchiladas, fajitas and even a "Hamburguesa Mexicana." (It's topped with nacho cheese.) This is not a place where the kitchen thrives on change and creativity. For the most part, the menu is the same as it has been since Jalisco opened in 1978.
Lunch specials: $5-$9
Entrées: $9-$13
404.233.9244
NEWK'S EATERY
This Mississippi-based chain has popped up in the Atlanta market, and though it looks like a fast-food joint, it tastes like homemade. Salads—from shrimp rémoulade salad to a delicious steak-and-blue-cheese version to old fashioned chicken salad are a standout. At this casual, family friendly, crowdpleasing spot you can also get sandwiches, pizzas and mac-and-cheese but, refreshingly, no burgers! We are pretty crazy about the sausage and pepperoni pie, with its thin crust and warm and gooey toppings. And who can resist a crispy rice treat with chocolate and peanut butter? Not us.
Salads, sandwiches and pizzas: $7-$11
newks.com
PIG-N-CHIK
Co-owner Jim Graddy tells me he learned the art of the pit on his granddaddy's pig farm in Manchester, Ga. Graddy remembers cooking whole hogs all night long over hot coals, and when I tear into his pulled-pork sandwich—a delicious pile of pink, smoke-tinged meat between two thick slabs of white bread—I believe him. Graddy has proudly transported his family's traditions to his casual Southern 'cue counter. Man, is the food good. The fresh tasting coleslaw (with just a little mayo) and excellent new potato salad are just the things to cut the richness of the succulent pork. Some other tasty go withs are fried okra, long-cooked collards, mac and cheese and Brunswick stew. I'm sated. I'm sauce-splashed. I need a moist towelette and a nap.
Entrées: $8-$24
pignchik.net
TAKA SUSHI AND PASSION
Chef Taka Moriuchi learned from perhaps the most famously finicky and cult inspiring Japanese chef Atlanta has ever known: Sotohiro Kosugi, owner of Buckhead's legendary (but now shuttered) Soto Japanese Restaurant. Today, Moriuchi holds court at his own Pharr Road sushi bar, where his impeccably fresh fish and hot and cold appetizers compare to the best Japanese food in town. The only difference: His prices won't shipwreck your budget. Among our faves, the UPS roll is a delicious nod to the Atlanta based Big Brown fleet, and the black cod and okra tempura are packages you'll be happy to see arrive at your table.
Appetizers: $6-$20
Nigiri: $2.50-$11
Sushi rolls: $4.50-$19.50
takasushiatlanta.com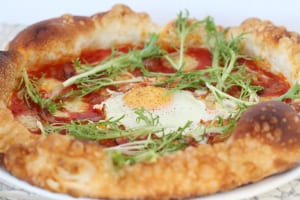 THIRTEEN PIES
This modern gourmet-pizza parlor in the posh Buckhead Atlanta development is a welcome addition to this pie-struck town. The room is beautiful, the cocktails memorable, the small plates and housemade pastas stuffed with fresh, vibrant, Mediterranean flavors. But what really shines are the pizzas—thin, crisp, and small enough so that each bite of mushroom or lamb sausage counts. The Iberian, with fennel salami, "old" manchego, smoked provolone, yellow tomatoes and other Spanish ingredients, is a perennial crowd-pleaser, while the Spotted Trotter Guanciale & Farm Egg is a deliciously rustic, sunny-side-up breakfast riff: bacon-and-egg pizza, if you will.
Salads and small plates: $9-$12
Pastas and pie: $13-$16
thirteenpies.com
BY: Wendell Brock PHOTOS: Sara Hanna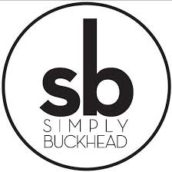 SimplyBuckhead
Simply Buckhead is an upscale lifestyle magazine focused on the best and brightest individuals, businesses and events in Buckhead, Brookhaven, Sandy Springs, Dunwoody and Chamblee. With a commitment to journalistic excellence, the magazine serves as the authority on who to know, what to do and where to go in the community, and its surroundings.