HOW SOME LOCAL OFFICES ARE GOING TO THE DOGS AND CATS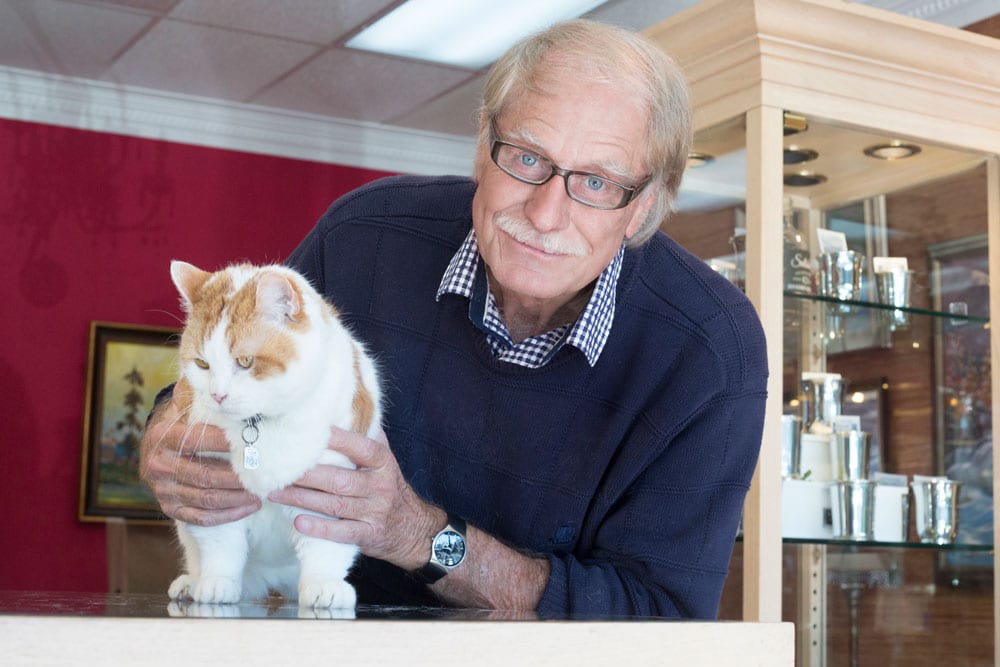 ZuZu has such a bright and happy spirit," says Rhonda Hazen, the owner of the luxury home goods shop House of Hazen in Buckhead. "She's as much a part of the House of Hazen as I am." You might think Hazen is referring to a trusted employee, but in actuality, she's talking about her pint-size Pomeranian, ZuZu, whom she takes to work with her on a regular basis. The 2-year-old pup, who's named for the character in her husband's favorite movie, It's a Wonderful Life, has become the store's official mascot. "She greets everyone," says Hazen. "Customers come in and they want to take a photograph of ZuZu, either with them or by herself. And she will pose when I tell her to."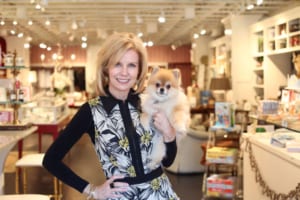 Adds Hazen, "I wanted to make the shop feel as if you are coming into my home, and ZuZu is part of my life. She's really become a signature part of the shop." ZuZu is even known to get into a little mischief from time to time: This past Christmas, she was spotted sporting a little glitter on her nose, a sure sign she'd been sniffing around in places she wasn't supposed to.
Hazen isn't the only one in town whose co-worker has fur and four legs. Karin P. Koser, the owner of KPKinteractive, takes her large Kuvasz mix dog, Shiloh, to her Brookhaven office on a daily basis. By having Shiloh at work, Koser can take her for walks in the neighborhood. "That's good for keeping us both in shape," she says. But Shiloh can be a bit of a Houdini and occasionally has run off before the leash gets put on. Koser recalls Shiloh once returning from an escape after having rolled in "something nasty smelling," adding that she got her into a bathtub and "scrubbed her clean right in the middle of the workday."
John Franciscus, a master engraver at LJ Lewis Silver Co. in Sandy Springs, has been bringing his 11-year-old cat, Joey, to his studio inside the shop since 2008. "He gets out of the car in the parking lot and walks with me into the store," says Franciscus, who found Joey as a kitten in a grocery store parking lot in 2007. "He's really like a dog. Customers bring their kids by to say hello to him."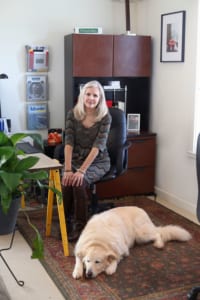 Joey can usually be found sleeping in a flowerpot or in a display case, but if he's in a playful mood, he'll play with tissue paper. Once, in his early years at the studio, Joey managed to get out and was missing for several hours before Franciscus found him next door at the pharmacy, sleeping on a shelf among the medications.
All three pet owners say their four legged friends bring joy not just to them throughout the day, but to the customers who come in. "How can you not love a happy little puppy greeting you?" says Hazen. "That sets people in a happy frame of mind."
TIPS FOR BRINGING FIDO TO WORK WITH YOU
1. Clear it with your co-workers. Be mindful of colleagues with allergies or who are afraid of animals.
2. Make sure the space is safe for your pet. Do a quick check for exposed electrical cords, poisonous plants or other hazards.
3. Have a backup plan in case your pet doesn't enjoy hanging out at the office or gets overwhelmed as the day progresses. The last thing you want to do is stress them out.
STORY: Lisa R. Schoolcraft
PHOTOS: Sara Hanna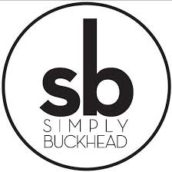 SimplyBuckhead
Simply Buckhead is an upscale lifestyle magazine focused on the best and brightest individuals, businesses and events in Buckhead, Brookhaven, Sandy Springs, Dunwoody and Chamblee. With a commitment to journalistic excellence, the magazine serves as the authority on who to know, what to do and where to go in the community, and its surroundings.