Not sure what to take on your outdoor feast? We put together the ultimate picnic roundup, from gear to grub.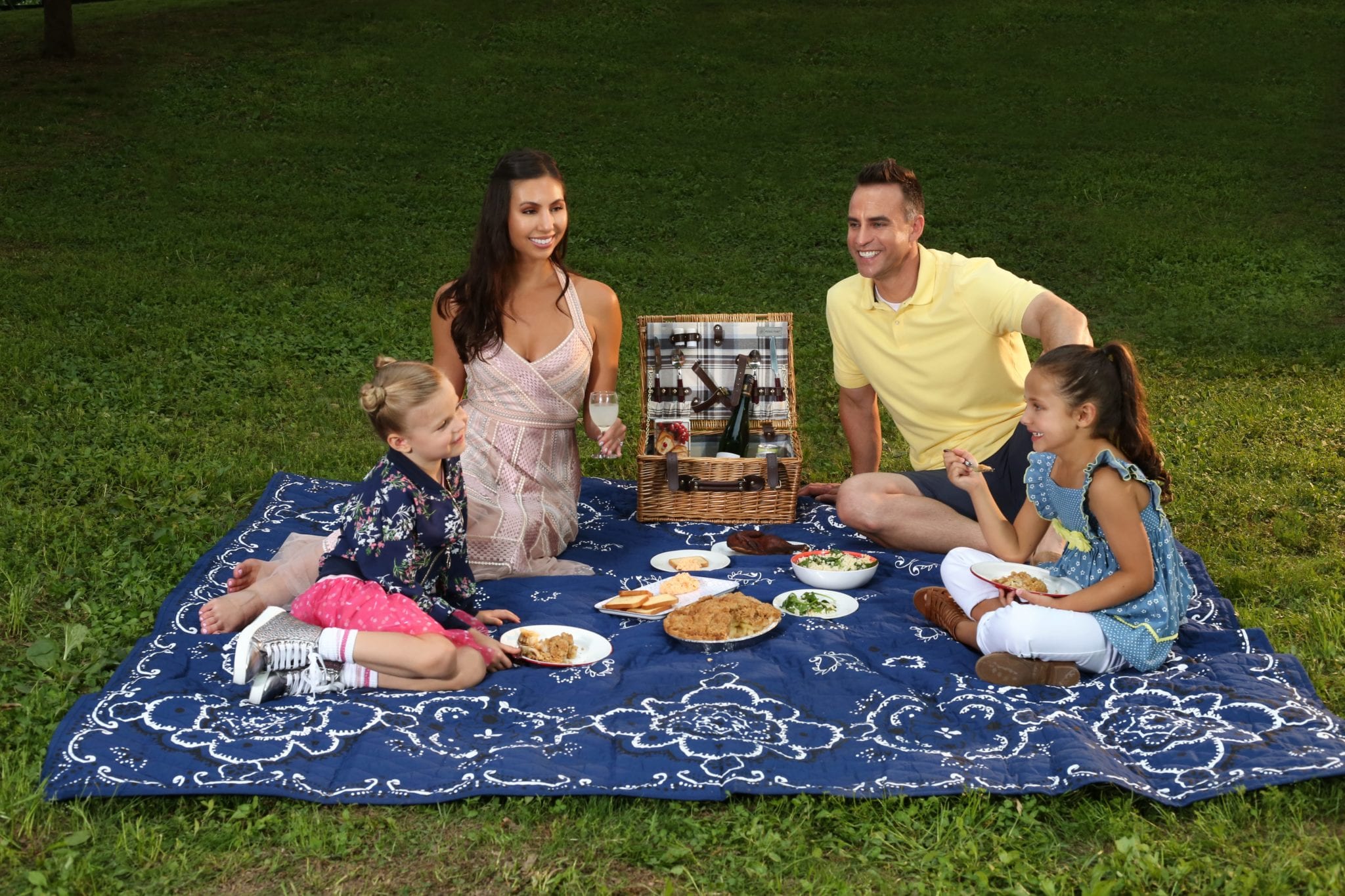 STORY: Karina Antenucci
1. Picnic Time Bristol Picnic Basket ($126)
Just grab this cute woven wicker basket and go. It's loaded with all of the accessories you need for a picnic for two, including plates, forks, knives and spoons, as well as salt and pepper shakers, a corkscrew and shatter-resistant wineglasses, each neatly secured with straps so there's no jostling. The plaid interior sets the picnic tone, and there's room inside for food and other extras.
Macy's
3393 Peachtree Rd. N.E.
Atlanta 30326
404.231.2800
macys.com
2. Draper James Cookout 80" Square Picnic Bandana Blanket ($60)
Meet the quintessential picnic blanket. Designed in Reese Witherspoon's lifestyle brand Draper James' exclusive bandana pattern, this 100-percent pure cotton percale throw brings on the country charm in rich blue with black and white flourishes. The 80-inch square is spacious enough so you can really kick back and relax on it, and spread out your wares. Bonus: It's machine washable, so you can easily remove any dirt stains or spills once the party is over.
Crate & Barrel
3400 Around Lenox Rd.
Atlanta 30326
404.239.0008
crateandbarrel.com
3. 2015 Von Hovel Riesling Kabinett ($18.99)
Pop the cork on the perfect pairing for almost any alfresco meal with this beautiful summer white hailing from the Von Hovel Estate along Germany's Saar River. "Rich, ripe and blooming with zesty, clean acidity, this wine is the living embodiment of the slate soils of the Saar Valley itself," says Jeff Leiker, wine consultant at Tower Beer, Wine & Spirits in Buckhead. The vintage is very well priced for an estate wine, he adds. Double cheers to that.
Tower Beer, Wine & Spirits
2161 Piedmont Rd. N.E.
Atlanta 30324
404.881.0902
towerwinespirits.com
4. Trader Joe's Lemon Elderflower Soda (case of 4, $3.49)
A fun twist on traditional lemonade, this sweet-tart sparkling beverage is sure to make a splash at your outdoor outing. Flavored with real, cold-pressed lemon juice (not concentrate!) and the subtle essence of elderflower, it is bright and refreshing. Drink it straight from the can or use it as a cocktail mixer. Calorie-conscious? Don't sweat it—this sipper quenches your thirst with just 70 calories, which gives you an excuse to have that extra piece of pie.
Trader Joe's
3183 Peachtree Rd.
Atlanta 30305
404.842.0907
traderjoes.com
5. King Barbecue Smoked Whole Chicken ($15)
Brought to you by chefs Shaun Doty, Lance Gummere and Anthony Rivers of Bantam & Biddy, Chick-a-Biddy and The Federal, King Barbecue's whole chicken is legit. Using a unique blend of white oak and Georgia hickory, the juicy bird is smoked for 45 to 55 minutes and served with your choice of four barbecue sauces. Whether you pick the Alabama sauce with a mayonnaise and vinegar base or the South Carolina mustard sauce that blends yellow mustard, dark brown sugar, King's signature brisket rub, honey and a few secret ingredients, you can't go wrong. Just don't forget the Wet-Naps.
King Barbecue
308 Pharr Rd.
Atlanta 30305
678.761.1833
kingbarbecueatl.com
6. Storico Fresco Alimentari e Ristorante Lemon Couscous Salad ($5)
Storico Fresco has a wide range of yummy to-go dish options, but our favorite is the lemon couscous with toasted pine nuts and spinach in a housemade lemon vinaigrette. Inspired by the food traditions of Old World Italy, this fresh, healthy and vegetarian-friendly side is light and satisfying, and pairs well with just about anything.
Storico Fresco Alimentari e Ristorante
3167 Peachtree Rd. N.E.
Atlanta 30305
404.500.2181
storicofresco.com
7. Savi Provisions Pimento Cheese Dip ($5.99)
Pimento cheese is one of the South's most cherished food staples, although if you ask a group of Southerners how they make it, you may discover that each recipe differs a little from the next. The traditional, housemade version from the Savi Provisions gourmet market blends pimentos, cream cheese, cheddar cheese, onion, garlic, parsley, salt, pepper and lemon juice. Find this savory, creamy cheese spread in the prepared food section and serve it as a dip for cut vegetables or as a spread for crackers.
Delish! Savi Provisions
308 Pharr Rd.
Atlanta 30305
678.973.0473
1388 Dresden Dr. N.E.
Atlanta 30319
404.869.1818
saviprovisions.com
8. Buttermilk Sky Pie Shop Granny's Apple Pie (4-inch $4.75, 9-inch $28)
What summer picnic would be complete without an all- American apple pie? Good news: You neither have to spend time baking one from scratch nor pick up a bland store-bought version. Buttermilk Sky Pie Shop has you covered with its out of- this-world homemade apple confection, boasting Granny Smith apples, a flaky crust and a cinnamony apple crumble topper. It's no surprise it tastes like grandma made it in her own kitchen, because the recipe was passed down by the grandmother of Buttermilk Sky's owner. We recommend serving up each slice with a dollop of whipped cream.
Buttermilk Sky Pie Shop
4600 Roswell Rd.
Sandy Springs 30342
404.975.3822
buttermilkskypie.com
SHOOT ASSISTANT: Lisa Dolny
MODELS: Kylie Sabaugh, Sharon Stufken, Ryan Donovan, Myla Snyder, courtesy of Salt Agency
HAIR AND MAKEUP: Nyssa Green and assistant Margo Johnson, The Green Room Agency
STYLING: Jules Salinas
WARDROBE: Courtesy of Macy's
PICNIC ITEMS: Courtesy of Buttermilk Sky Pie Shop, King Barbecue, Macy's, Savi Provisions, Storico Fresco
WARDROBE: Daughter on left: Dress, Epic Threads ($36); jacket, Belle du Jour ($50); sneakers, Michael Kors ($59).
Daughter on right: Denim top, Kids Headquarters ($38); white jeans, Epic Threads ($36); shoes, Sugar ($30).
Mom: Dress, BCBG ($419); earrings, Charter Club ($20.50).
Dad: White undershirt, Tasso Elba ($29.50); yellow polo shirt, Club Room ($39.50); shorts, his own; shoes, Donald Pliner ($135).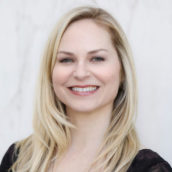 Karina Antenucci
Managing Editor and Wellness Columnist at Simply Buckhead. Blogger at Badass + Healthy.