Empty nesters John and Nancy Mullins put the finishing touches on a charming Garden Hills bungalow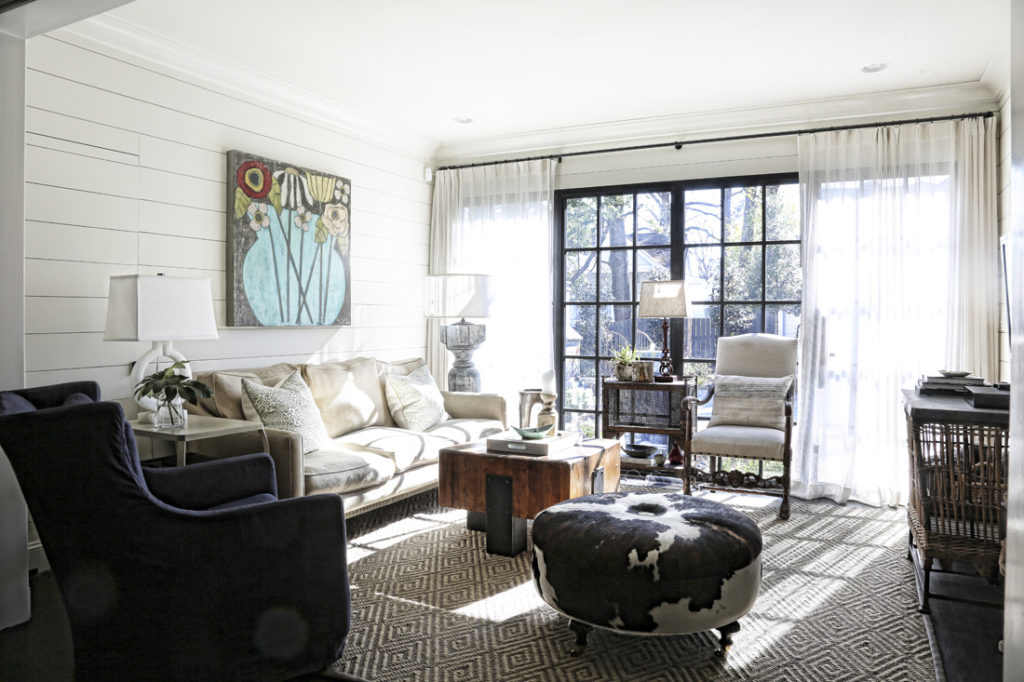 After nearly two decades in the suburbs, John and Nancy Mullins were ready for city life. John, a banker with SunTrust in Midtown, was also ready for a shorter commute. So, after their daughter graduated from high school and their son married in 2014, they put their spacious Alpharetta home on the market, sold it to the first person who saw it and went on a mission to find their ideal intown abode.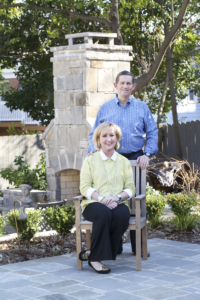 "[Alpharetta] was a great place to raise the kids," Nancy says. "But John's commute was 1 ¼ hours one way on Ga. 400, which we decided was too long."
An interior designer with her own namesake firm, Nancy was open to a home that needed a little TLC, but she didn't want a complete fixer upper. After some looking around, Beacham & Company realtor Janey Lowe eventually led them to the brick Garden Hills abode that would become their home for their next stage of life.
"This home fit the bill. Some work had been done, and we didn't want to go in and gut the place and then try to start from scratch," Nancy says. "We just wanted a couple of projects."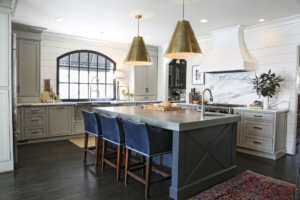 The previous owners had already updated the kitchen and family room, so all Nancy and John did to personalize those rooms was repaint and change light fixtures, including two large gold pendants above the concrete topped kitchen island. Nancy also added a French plaster hood above the kitchen's FiveStar range for a little old-world flair. Today, the gourmet cook-worthy kitchen is an eye-catching mix of traditional and industrial chic elements, including a large concrete laundry sink, Calacatta Gold marble countertops and backsplash with white shiplap walls.
"I love the backsplash being the same as the countertop. It just makes for a quieter kitchen," Nancy says of the space that also features a butler's pantry with matching marble counters and a walk-in pantry.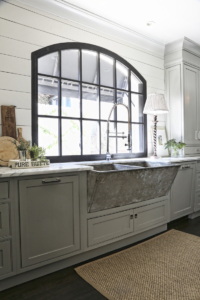 The kitchen opens up to the welcoming family room—converted from a bedroom by the previous owners—where shiplap walls run into nearly floor-to-ceiling windows that bring in the outside. This is where the Mullinses admit to spending most of their time and where Nancy showcases her discerning eye for décor. She mixes antique elements such as the French laundry cart and locker picked up at Scott Antique Markets, with statement- making pieces like the custom cowhide ottoman. The seating area is centered around a wood coffee table that was once the meat butcher block in a general store owned by John's dad in his hometown of Pine Mountain, Georgia. Although the Mullinses say they had to downsize for the move intown, the majority of the furniture decorating their current home consists of items they've had for years.
"We haven't really bought much new; we've filled in with lamps and things to freshen it up," Nancy says. "This coffee table we've had ever since we got married. I'm real big on being able to prop your feet up on the coffee table."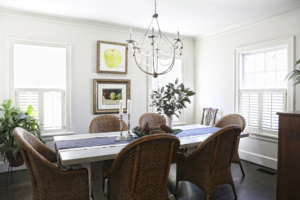 Although the kitchen and family room didn't require too much heavy lifting, the Mullinses' ambitious plans to transform their unfinished attic space into accommodations for visitors did. After Nancy designed a new layout for the upstairs space—two spacious bedrooms each with a full bathroom—and made all the material selections, Renew Properties LLC went to work to make her vision a reality. Now when guests come to stay, they have their choice of two fabulously plush bedrooms with 8-foot ceilings and spacious, marble clad bathrooms, each decorated in Nancy's signature transition- meets-classic style. In her "daughter's room," a headboard and mirror from Scott's, travel photographs of Morocco and Capri taken while studying abroad, shiplap walls, barn doors and charming details, such as the antique-style bathroom knobs from Anthropologie, create a vintage setting that begs for lounging with a good book.
"Our contractor understood my love of texture and a casual transition style mixed with the classic," Nancy says. "The house is totally livable on the first floor when it is just the two of us, but when we have guests, they have room." In addition to the interior revamps, John and Nancy dedicated a lot of their efforts outdoors. They tore down and rebuilt the detached garage with a storage space on the left side for trash cans and other outdoor tools. One of the biggest exterior overhauls, however, was the landscaping of the front and back yards, including the creation of an outdoor patio and fireplace ideal for entertaining. Decorated with a teak table and chairs from AuthenTeak and black patio furniture from Lowe's, the backyard patio is where the Mullinses love to hang out during months of good weather.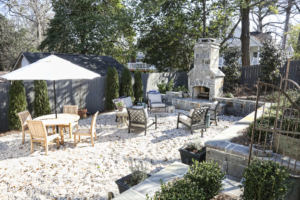 Just when you thought these homeowners might take a break from renovations, they have more big plans up their sleeves. This spring, again with the help of Renew Properties, they are diving head first into the reconfiguration of the main-level master bedroom by combining two bedrooms and two bathrooms to create a laundry room, powder room, master bedroom, master bath and master closet.
Once complete, the residence will go from being four bedrooms and four baths to three bedrooms and three and a half baths to perfectly fit with the Mullinses' empty-nester needs.
"The contractors are really excited about it because I've really worked hard on that floor plan. They said they were amazed and that it's going to be good," Nancy says.
John and Nancy are relishing their new life as city slickers and love being in close proximity to Buckhead's restaurants and shopping. They may not be raising kids anymore, but their new home is sure to be a place where their grown children and grandchildren will want to visit for many years to come.
STORY: Giannina Smith Bedford
PHOTOS: Sara Hanna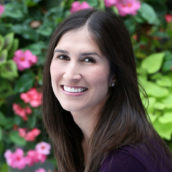 Giannina Bedford
Giannina S. Bedford is multi-faceted writer and editor. Her work covers design, travel, food and business. She's penned Simply Buckhead's home feature since inception and held a variety of editorial roles at the magazine. Her freelance work has appeared in Condé Nast Traveler, USA Today, Virtuoso Life, Hemispheres and TravelandLeisure.com. She also contributes regularly Atlanta Business Chronicle. Fluent in Spanish, Giannina was born in Miami and grew up in Brazil, Chile, Hawaii and Australia. She currently lives in Dunwoody with her two kids and husband.