BE KIND AND UNWIND AT POSTINO WINECAFE!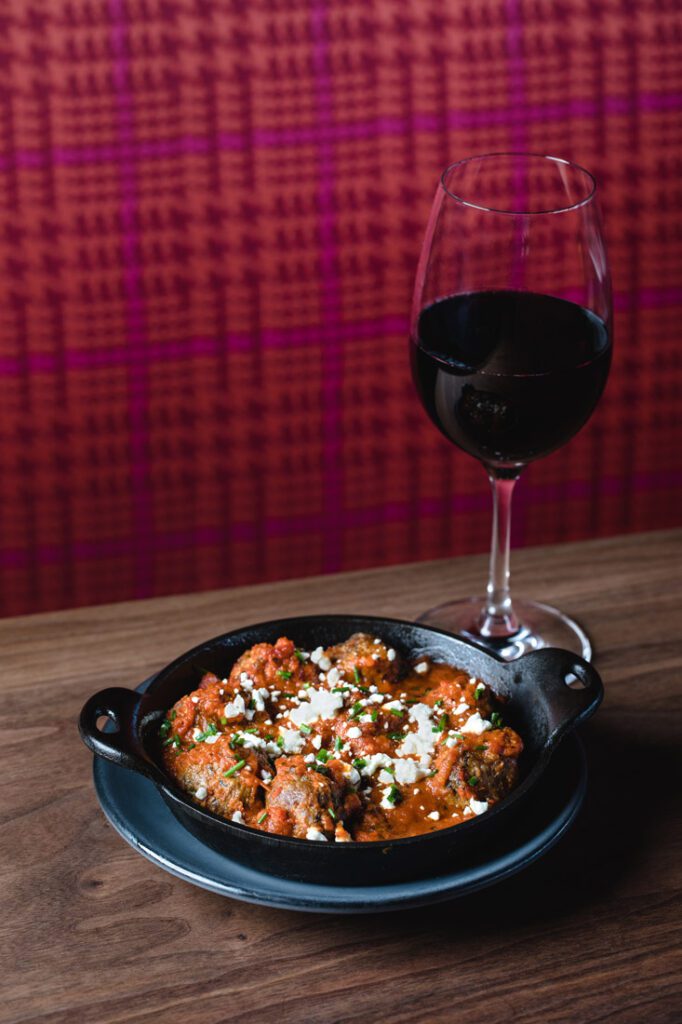 Though there's no shortage of wine and tapas options in Atlanta, Postino Buckhead embraces its quirkiness with charm that makes it a standout. Visit once and odds are you'll return.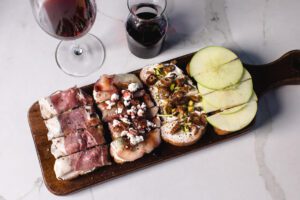 Postino is a casual restaurant born in Arizona with current locations in its home state plus California, Colorado, Texas and Georgia. The place doesn't feel like a chain, though, since each location touts its unique qualities. For example, one wall at the Buckhead location is plastered with VHS tapes, a nod to the building's former status as a Blockbuster. (The West Midtown location has a wall of retro matchbox cars since the space was once a Ford dealership.)
Buckhead's decor mixes nostalgia and modernity.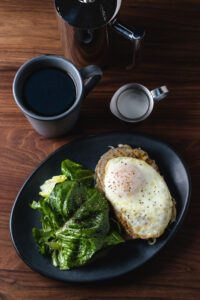 Bottles of wine are on display, as are retro suitcases, cameras, lunchboxes, books and other collectibles. Geometric designs give windowless walls pattern and color. Big windows invite the outdoors in—literally when opened to allow for bar seating on the patio as well as in the dining room. Staff members don't wear uniforms; they dress to express their individuality.
Personality bursts even on to-go containers that are emblazoned with words to make you smile and/ or awaken an earworm, nodding to eclectic musical tastes from Devo and Hank Williams to Lionel Richie while reminding us that "drinking wine at lunch is not a crime."
The wink-wink fun doesn't detract from the fact that Postino takes food and drink seriously. The curated wine list may be the headliner, but all roles are well played. Balance is a consistent theme. Kitchen techniques are solid, and ingredients are prepared to perfection. Menus present fresh combinations. Whether you crave a few nibbles and wine, a sharable feast with cocktails, a sandwich and beer, sweet or savory treats with lemonade, it's all here among the "Snacky Things," build-your-own bruschetta boards, soup, salads, paninis and desserts. While no traditional dinner entrées are offered, select multiple dishes to fill up.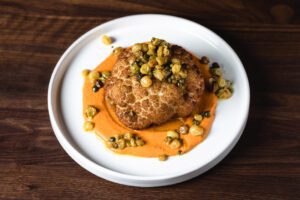 Don't miss the OMG grilled cheese. Four triangles of grilled bread ooze with gruyère, whipped brie, goat cheese, white cheddar and smoked bacon. Dip a wedge into the creamy tomato soup served alongside before each bite and, yes, OMG. The classic match rises above expectations with its dreamy creamy, herby, toasty, salty flavor combo.
Meatballs and goat cheese offer melt-in-your-mouth comfort tangy earthiness. Crispy cauliflower pairs roasted veg with sweet sultanas, salty capers and savory romesco sauce with surprising sophistication. Sweet potato wedges get a welcome zing from chile tahini and chives.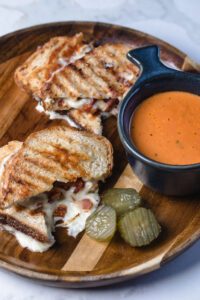 Bruschetta is a menu standout. Choose any four among 12 bread-topping combinations, including brie, apple and fig spread; prosciutto di Parma, fig and mascarpone; ricotta, dates and pistachio; smoked salmon and pesto. Each combination stands in the expertly honed zone of well-balanced flavors.
Choose ciabatta, focaccia or gluten-free bread for any panini. The "nine iron" layers smoked bacon, roasted chicken, fresh shredded mozzarella, mixed green, tomato and dijonnaise. "Chicken and mozzarella" adds arugula, red onion and spicy, sun-dried tomato aioli. Both are satisfying winners.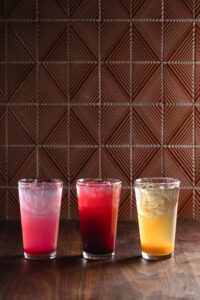 Weekend brunch presents the mains plus brunch menus, both with savory and sweet options. Comforting alba toast is piled with fluffy scrambled eggs, prosciutto di Parma and Parmigiano Reggiano. Panettone French toast plays up the bread's almond and citrus flavors with its accompanying sauce, spread and garnish. Croque Madame tops grilled bread with ham, gruyère, bèchamel and little gem greens with a fried egg; served with side salad, it straddles breakfast and lunch. Cast iron sticky bread drizzles pull-apart, bite-size pillows with decadent cinnamon-sugar syrup that doesn't stick to your teeth. Chocolate bouchon dessert tantalizes and soothes with warm chocolate lava cake and frozen vanilla ice cream. All play well with a hot pot of French press coffee.
Tap beers emphasize Georgia brews with additional picks from coast to coast; more domestic plus international options are offered in cans and bottles. Wines are available by the glass or bottle, all from global regions known for quality, consistency and affordability. House-made lemonades are scene stealers, with scrumptious concoctions such as apricot palmer (black tea, lemonade, apricot), blackberry smash (green tea, lemonade, blackberry) and prickly pear lemonade—all such liquid yum I can't pick a favorite.
Love bargains? Happy Hour offers glasses of wine and pitchers of beer for $6 every day until 5 p.m. Every Monday and Tuesday after 8 p.m. a bottle of wine and bruschetta board are $25. When looking to tune into a relaxed vibe and cast of good flavors, make it a Postino night.
Postino Buckhead
678.608.1955
postinowinecafe.com
@postinowinecafe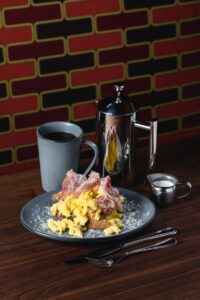 Prices: Snacks, $8-17; bruschetta & boards, $17-19; paninis, $14.50-15; soups & salads, $7 -13.50; sweets, $8; kids' food, $6; brunch, $9.75-15.50; wine, $10-14/glass, $36-52/bottle.
Recommended: OMG grilled cheese, meatballs and goat cheese, nine iron panini, bruschetta board, chocolate bouchon, cast iron sticky bread, alba toast, house-made lemonades.
Bottom line: Postino is a casual cafe that serves highquality bites and sips in a quirky, welcoming environment.
STORY: Hope S. Philbrick
PHOTOS: Erik Meadows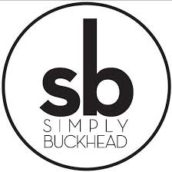 SimplyBuckhead
Simply Buckhead is an upscale lifestyle magazine focused on the best and brightest individuals, businesses and events in Buckhead, Brookhaven, Sandy Springs, Dunwoody and Chamblee. With a commitment to journalistic excellence, the magazine serves as the authority on who to know, what to do and where to go in the community, and its surroundings.