A retired couple's Brookhaven residence delivers their personalized version of home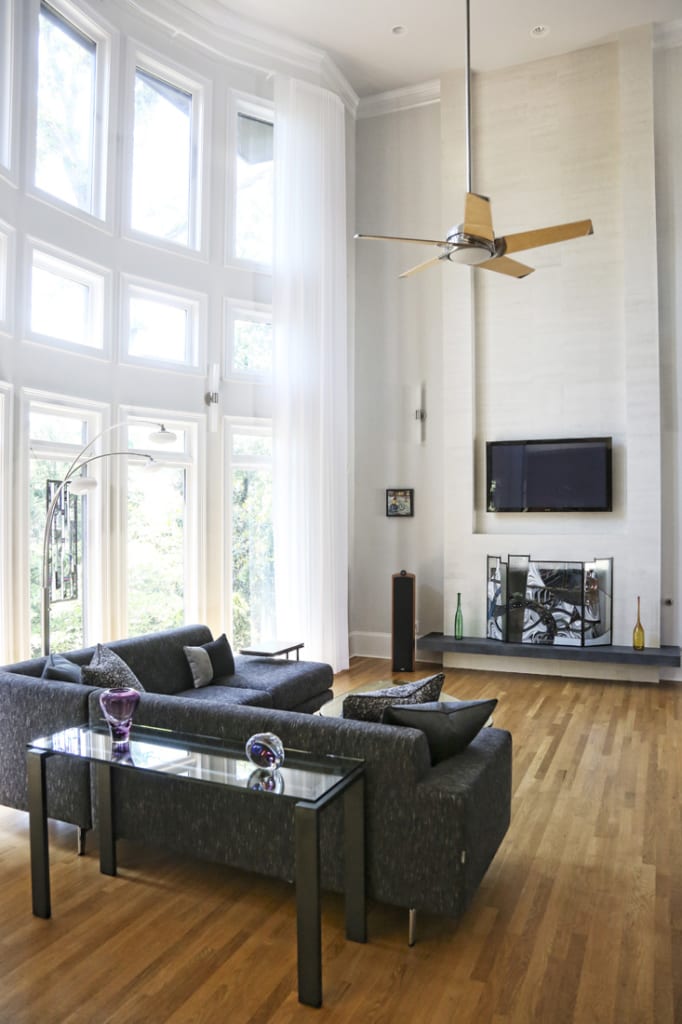 A home is a canvas used to showcase the personality, stage of life and interests of its dwellers. Sometimes, however, the finished product doesn't exactly work.
Since moving to Atlanta in 1985, Diane and Chuck Criscillis had always lived in single-family homes. In 2006, they decided to change things up and move to a condo in downtown Decatur. "We were in the condo for about a year. We found out pretty quickly we weren't ready for that environment," says Diane. "We loved Decatur, but we just prefer a single-family home."
So the couple, both now retired CPAs, went on a house hunt, searching for a residence with a clean, unadorned interior where they could create a home that was really them. After four months of looking, they settled on a three-bedroom, three-bathroom abode in north Brookhaven. "We liked the open, airy feel of it," says Diane. "We liked that it was a low-maintenance exterior—very little to take care of. It skewed a little more contemporary, which we like."
In 2007, the Criscillises moved in, but aside from taking out a sand trap and putting green in the small backyard and adding landscaping, they didn't make any big changes right away. In 2009, they hired general contractor Hammer- Smith to redo the living room fireplace, transforming the wood-framed feature into a sleek, porcelain-tiled hearth flanked by two columns that run up the length of the two-story wall.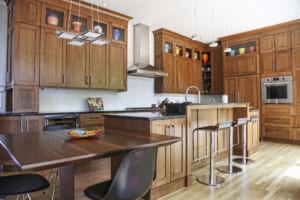 The renovation bug bit in earnest in 2016. This time, the couple was ready for a major overhaul: a kitchen redo and an update of the master bathroom. After speaking with three different firms, the couple tasked Dunwoody based MOSAIC Group Architects and Remodelers with leading the charge. "Even though it was going to be a major renovation that was going to take a fair amount of time, we were going to try our best to stay in the house while it was underway," says Diane. "Once we decided on our plan, [MOSAIC] was very methodical and analytical and organized about the process."
Demolition began in May 2016, and by August the project was complete. The kitchen footprint remained nearly unchanged, but all of the maple cabinets were replaced with cherrywood and the existing granite counters with a "Manhattan Night" polished 3-centimeter granite from Walker Zanger. The door to the outdoor deck was converted to a window and two windows next to it became French doors. The location of all the appliances was rearranged, including the reversal of the cooktop with the sink, which is now in the island. The homeowners were able to use the Miele dishwasher and Sub-Zero beverage cooler they recently purchased and upgraded the other appliances to a Wolf oven and cooktop, Sub-Zero refrigerator and BEST range hood.
An island with a rounded counter section on the end took up a lot of space, so it was removed and a standard rectangular island was installed to allow room for a breakfast table. The Criscillises' kitchen now features a ton of countertop space and more storage than they know what to do with. "Initially, MOSAIC went back to the drawing board on the kitchen when we really weren't sure we were getting enough storage, and we ended up with enough for the entire neighborhood," Diane chuckles.
Off the kitchen, the outdoor deck was rebuilt. Stairs were added to access the lower yard, and a charming pergola was erected atop a welcoming seating area.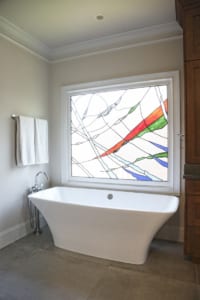 The other major overhaul took place in the upstairs master bathroom, where everything was modernized. MOSAIC replaced a triangular Jacuzzi tub with an art deco-inspired Victoria + Albert Ravello tub from Buckhead's Pirch, which gave easier access to the large walkin closet. Backed by a stained-glass window custom-made by Jennifer's Glassworks, the tub is a scenic place to sit for a soak. It faces a showstopping abstract painting by Cumming-based artist Marilyn Sparks that the couple picked up at the Trinity School Spotlight on Art show, one of their favorite places to purchase art. Another bathroom highlight is the oversized walk-in shower with two shower heads, a handheld hose and a Walker Zanger quartzite bench that breaks through the glass enclosure for an artsy detail. The entire sophisticated, spa-like space features heated tile floors, taking the luxury component up a notch.
The master bathroom is incredibly spacious despite the 2 feet borrowed from it to expand the adjacent laundry room, which also received new cabinets, countertops and sink. The upstairs guest bathroom's facelift included new tilework and a glass enclosure for the tub, new tile floors from Porcelanosa, granite countertops and the same cherrywood cabinets from the kitchen and master bath.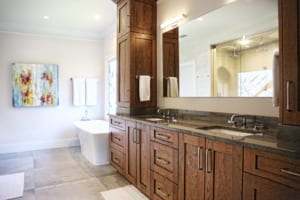 Some other minor projects included replacing the shiny, oil-based finish on the wood floors with a more natural wood look; replacing the upstairs carpet; expanding the downstairs coat closet by removing a built-in in the adjacent powder room; removing old speakers from the ceiling; and repainting all the walls.
Today, the Criscillises' home is everything they wanted. They don't apologize for using every room within its 2,818 square feet, including the two extra bedrooms, which aren't used as typical guestrooms. One is Chuck's "hobby room," where he plays guitar and does jigsaw puzzles, and the other is Diane's exercise room. "In every other home we've had, we've always had rooms that we didn't use." Chuck says. "This time we said we'd use the two extra bedrooms for our own purposes. To heck with someone thinking it's weird not to have a bed in a bedroom."
Regardless of the room, the home's minimalist backdrop comes alive with decor that speaks to the homeowners' tastes. There are modern furnishings from brands such as House of Denmark, colorful custom rugs from Cantoni and varied artworks by local artists and some purchased during their travels.
From its clean lines to its statement making decor, the Criscillises' home has fulfilled its destiny to serve as a canvas for the persona of its residents. The stint in the Decatur condo may not have worked out, but their current residence is truly a place they feel at home.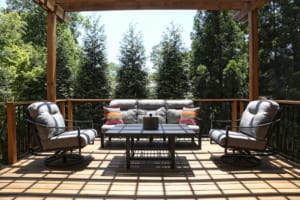 CHUCK AND DIANE'S TOP FIVE TIPS WHEN SELECTING A REMODELING FIRM:
1. Know what you want to accomplish and be prepared to explain that to your designer/remodeler.
2. Choose a firm that is really listening to and responding appropriately to your objectives.
3. Interview at least three firms! The Criscillises noted significant differences in the approaches among the trio of firms they interviewed.
4. Check their references.
5. Carefully read and understand your contracts before signing.
STORY: Giannina Smith Bedford
PHOTOS: Sara Hanna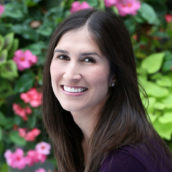 Giannina Bedford
Giannina S. Bedford is multi-faceted writer and editor. Her work covers design, travel, food and business. She's penned Simply Buckhead's home feature since inception and held a variety of editorial roles at the magazine. Her freelance work has appeared in Condé Nast Traveler, USA Today, Virtuoso Life, Hemispheres and TravelandLeisure.com. She also contributes regularly Atlanta Business Chronicle. Fluent in Spanish, Giannina was born in Miami and grew up in Brazil, Chile, Hawaii and Australia. She currently lives in Dunwoody with her two kids and husband.