Find a new vacation base in Dolly Parton's hometown of Sevierville, Tennessee.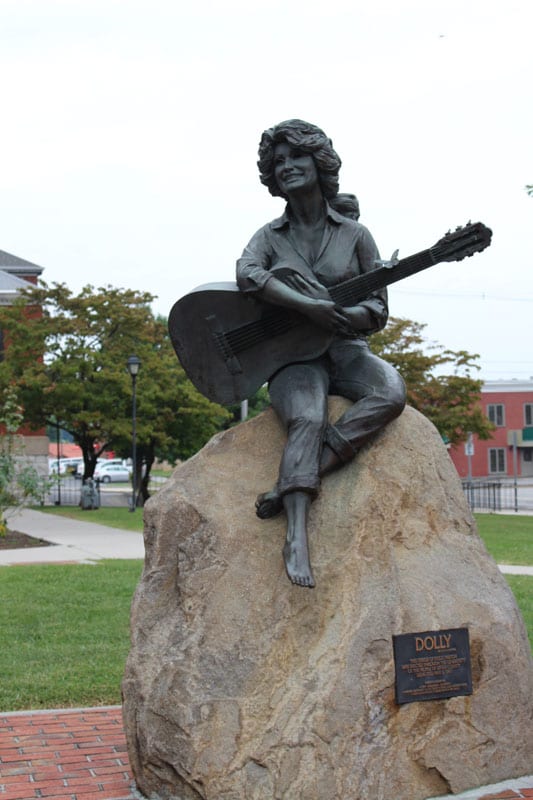 Sevierville, Tennessee, is the type of sleepy town that has likely slipped beneath your radar. Despite being the hometown of country music legend Dolly Parton and bordering the Great Smoky Mountains National Park, this outdoorsy town (7 miles north of Pigeon Forge) has managed to keep its quaint character.
After a three-and-a-half-hour drive from Buckhead, I began my visit with a breakfast at Flapjack's Pancake Cabin. Housed in a log cabin, the restaurant serves king-sized country breakfasts. After eating my weight in fluffy buttermilk pancakes with eggs and a side of bacon, I traveled into town and scoped out two historic, romantic spots: the Harrisburg Covered Bridge and the Blowing Cave Mill. Both are gorgeous settings for photography or a quiet picnic.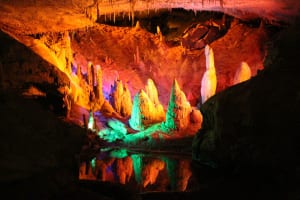 I love learning about food and drink, especially when the lesson is in a beautiful place, so I was dazzled to learn about moonshiners and Eastern Woodland Indians at Forbidden Caverns, a living cave in Sevierville. The easy hour/hour-and-a-half-long guide-led walking tour in the cavernous underworld was the type of jaunt anyone can enjoy and handle with ease, regardless of age or fitness level. The cave was once used as a shelter by the Eastern Woodland Indians and as a moonshiner's hideaway from the 1920s until early 1943. Today, the guide will take you through, pointing out various formations (many of which are still growing) and water sources, while filling you in on the history.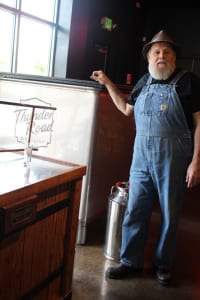 All of you moonshine lovers would do well to fit in a side trip to nearby Thunder Road Distillery in Kodak, Tennessee, 20 minutes north of Sevierville. Named after the movie Thunder Road, the store is full of film memorabilia as well as racks and racks of moonshines, whiskeys and more. While you're there, do the free spirits tasting so you can sample before you buy (the light, floral gin was my favorite).
Mid-afternoon, I got the scoop on canned vegetable giant Bush's in the nearby town of Chestnut Hill. The family-owned company got its start in the area in 1908 and still has a giant canning operation and museum there. Go through the house museum and the Bush's Visitor Center first and learn about the company's humble beginnings (and discover your body weight in beans!). After, grab lunch at Bush's Family Cafe. The restaurant serves basic country fare with multiple canned baked bean variations making appearances across the menu. (I had a pimento cheese sandwich on white bread with a side of Bush's Grillin' Beans.) The pinto bean pecan pie was particularly interesting; it kept the texture of the beans, but took on the flavors of vanilla fudge—not my thing, but worth a try.
As a native of Pensacola, Florida (home of the National Naval Aviation Museum, the world's largest of its kind), it takes a lot for such a place to impress me. Though small, the Tennessee Museum of Aviation certainly grabbed my attention, particularly when it came to the breadth of planes on display in the hangar, including war crafts from World War II and the Vietnam War, such as P-47 Thunderbolts.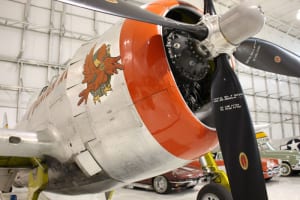 If you have time to eat at only one restaurant in Sevierville, go to the Applewood Farmhouse Restaurant, and order something unhealthy and delicious. The restaurant is popular, so expect a packed house. Otherwise, it's an incredible bargain: Your entrée price of around $15 includes a salad, main course, a soup and dessert. I went for the meatloaf and received a huge portion made just like my mama's and glazed with a thin layer of ketchup. I opted for the savory broccoli cheddar soup to start, then a side salad drizzled with apple vinaigrette before finishing it all off with a behemoth slice of chocolate cake. All you drinkers beware: There's no liquor at the restaurant, so if you prefer a nightcap, walk next door to the Apple Barn Winery, and do a wine tasting or order a glass.
After dinner, I made the half-mile drive from the restaurant to Appleview River Resort where I stayed for the weekend. My room could have easily slept a family of six, and I found myself plotting future group trips with my husband and our friends. The resort boasts varying room sizes with affordable price tags (the 3-bedroom, 2-bathroom condo I stayed in had a two-night minimum and is listed at $205 a night and up).
Breakfast the next day took me to mom-and-pop eatery Courthouse Donuts. The year-old operation in downtown Sevierville serves up a number of breakfast dishes as well as homemade donuts that you can dress up with the glaze and toppings of your choice (don't underestimate the power of the classic glazed).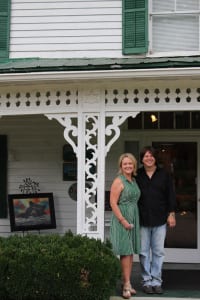 I spent the afternoon in the company of Carroll McMahan, special projects facilitator of the Sevierville Chamber of Commerce, who led a historic walking tour through downtown. (You can set up a walk of your own by contacting the Chamber prior to your trip.) After hearing about John Sevier, Revolutionary War hero and the town's namesake, and visiting a famed statue of Dolly Parton, I made one last stop on the way out of town at the Robert A. Tino Gallery. Inside, you'll find prints and paintings of hundreds of mountain scenes, black bears and quiet Tennessee settings that Tino has captured in watercolors and oils. I came away with a beautiful keepsake for my weekend away: a print of a country home and a lawn ablaze with fireflies.
As I pulled out of the gallery and onto U.S. 441, I was completely charmed by my weekend. With its lush natural surroundings, slower pace, and wide open spaces, I've always felt that Tennessee is a place where I can breathe. Charming Sevierville only enhanced that belief. Next time I'm visiting Dollywood and the Smokies, I know where I'll be setting up camp.  STORY: Kelly Skinner
IF YOU GO…
Flapjack's Pancake Cabin
1016 Parkway
Sevierville 37862
865.774.5374
flapjackspancakes.com
Forbidden Caverns
455 Blowing Cave Road
Sevierville 37876
865.453.5972
forbiddencavern.com
Bush's Beans Visitor Center
3901 US-411
Dandridge 37725
865.509.3077
bushbeans.com
Tennessee Museum of Aviation
135 Air Museum Way
Sevierville 37862
865.908.0171
tnairmuseum.com
Applewood Farmhouse Restaurant
240 Apple Valley Road
Sevierville 37862
865.428.1222
applewoodfarmhouserestaurant.com
Appleview River Resort
460 Lonesome Valley Road
Sevierville 37862
865.286.5503
appleviewresort.com
Courthouse Donuts
160 Court Ave.
Sevierville 37862
865.286.9073
courthousedonuts.com
Thunder Road Distillery
3605 Outdoor Sportsman Place
Kodak 37764
865.401.2573
thunderroaddistillery.com
Robert A. Tino Gallery
812 Old Douglas Dam Road
Sevierville 37876
robertatinogallery.com
SimplyBuckhead
Simply Buckhead is an upscale lifestyle magazine focused on the best and brightest individuals, businesses and events in Buckhead, Brookhaven, Sandy Springs, Dunwoody and Chamblee. With a commitment to journalistic excellence, the magazine serves as the authority on who to know, what to do and where to go in the community, and its surroundings.