MEXICO'S SPIRITED SIDE REVEALED IN JALISCO ADVENTURE.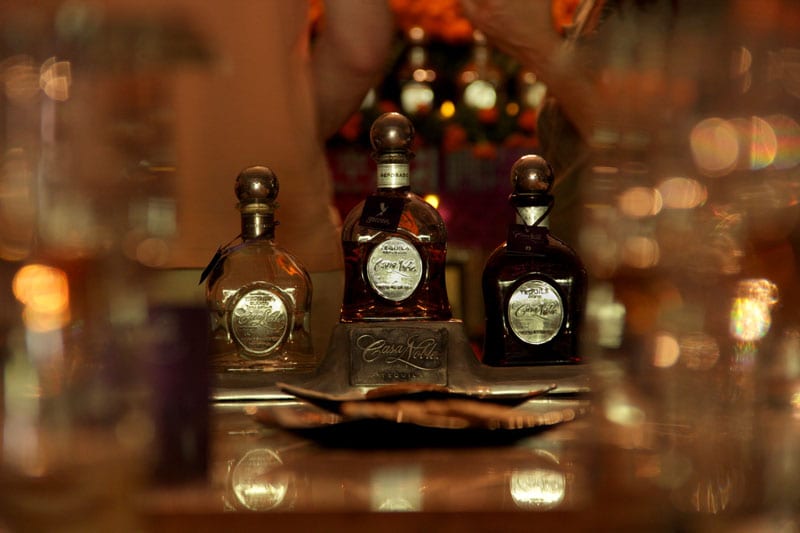 Situated near the diagonal center of Mexico, Guadalajara feels more isolated and authentic than the country's oft-visited coastal resort towns. At its heart is a clutch of opulent Baroque churches and buildings: a postcard-perfect scene energized by college kids and a central market where bowls of steaming birria (goat stew) and bottles of beer can be had on the cheap. And don't forget the mariachi music and tequila, both of which originate in Guadalajara's home state of Jalisco.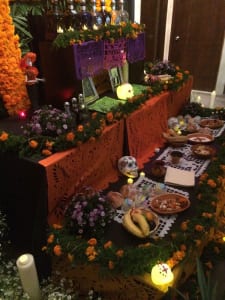 All this makes for a highly potent sensual experience, which is only exacerbated during the annual Oct. 31 to Nov. 2 festival known as Día de los Muertos (Day of the Dead), when revelers of all ages don elaborate Gothic costumes and scary makeup and take to the streets for music, dance and promenading. To arrive here during this spooky fright fest is to encounter the season's famous ofrendas. Everywhere you look, in homes, cemeteries, and storefronts, these elaborately detailed shrines are laid out in memory of dearly departed familia—and decorated with flickering candles, bouquets of bright-orange marigolds, photographs, religious icons, favorite foods, maybe even a shot of tequila or mezcal.
Last year, I had the double good fortune of visiting Guadalajara and nearby Tequila (yes, it's a town) during Day of the Dead, first as a guest of Casa Noble, a distinguished tequila maker that traces its history back to the 1700s; then as a weekend tourist enjoying the sights and flavors of central Guadalajara. Though this wasn't my first trip to the region, it was my first glimpse of both a tequila distillery and Mexico's macabre spectacle of ancestral remembrance. Taken together, it was deliciously intoxicating. A few highlights:
TEQUILA SUNRISE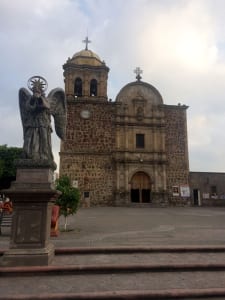 Aficionados of the blue-agave distillate should consider a visit to the town of Santiago de Tequila, about 35 miles northwest of Guadalajara. Here you might enjoy a breakfast of chilaquiles in an outdoor café beside the town's 18th century church; take in the National Museum of Tequila (I found it nicely designed and informative); and journey to the countryside for a visit to a distillery or two. tequilasource.com/museumoftequila.htm
CASA NOBLE
Some say this small-batch boutique tequila is the world's smoothest. I would not demur. A seventh generation family business, Casa Noble is housed on a beautiful property just outside Tequila that includes a chapel, a museum, and a classic stucco hacienda where barrels are aged and tastings poured. If you happen here around the Day of the Dead, you may find an ofrenda dedicated to the family of Jose "Pepe" Hermosillo, who created Casa Noble in the mid-1990s and recently sold it to New York-based Constellation Brands. Hermosillo still runs the distillery, and the care he puts in it is evident.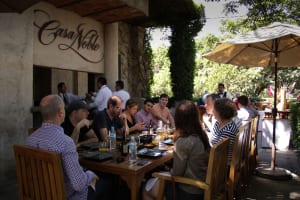 He grows the blue agave at an estate about two hours away, in a process that is U.S.D.A.-certified organic. (Hermosillo believes U.S. certification carries more weight than Mexican.) Agave piñas are harvested and trimmed by jimadors who have been with the family for generations (I even got a turn with the machete), then baked in stone ovens for 36 to 38 hours, yielding a sweet, slightly smoky flesh that tastes a bit like a sweet potato. Casa Noble produces a silver tequila; a golden Reposado, which is aged 364 days in French white oak barrels; and a coppery Anejo, which is aged at least two years. If you want a full-dunk experience, the distillery maintains four guest villas, under a canopy of mango trees and just a stone's throw from a grove of agaves. Really, who wants to drive back to Guadalajara? casanoble.com
PAGING ANNE RICE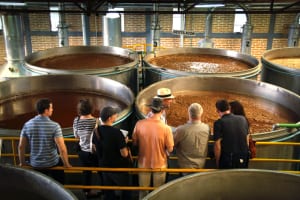 Back in Guadalajara (we had a bus driver), we capped our odyssey with a late-night tour of El Panteón de Belén, reputedly the city's oldest cemetery (1848) and the repository of wealthy families, Egyptian-inspired monuments and a good many ghost and vampire stories. (Check out the tomb of the child Nachito. Legend has it that he was afraid to be alone in the dark; thus his grave is covered with a mass of toys, left by visitors to keep him company.) If your spine is tingling after such an episode, perhaps you could use a shot of tequila, a drink that is never in short supply in this part of the continent. 684 Belén Street, Downtown Guadalajara.
STORY: Wendell Brock
IF YOU GO…
Accommodations
Quinta Real Guadalajara
A quick taxi ride from downtown, this hotel has beautiful outdoor gardens and commodious rooms decorated with Old World chic. quintareal.com/guadalajara
Guadalajara restaurants
Hueso
The name means "bone," and you'll understand why when you see the visually stunning, whitewashed room, which is full of light and decorated with fossils. Chef Alfonso Cadena's cuisine, which can be had as a tasting menu or à la carte, and might include anything from bone marrow to fruit tart with chocolate mole and beets, is heavenly. huesorestaurant.com
La Tequila Cocina Mexicana
Beautiful Day of the Dead altars and an astounding lineup of more than 200 tequilas. latequila.com
Where to buy tequila
Buho
Take a taxi to the nearby town of Tlaquepaque, known for its handicrafts, cafés and street life. At Buho, which specializes in tequila, you can taste and buy virtually any brand you are looking for. I came home with a bottle of super-smooth organic Galindo Blanco. tequilaselbuho.com
Tower Beer, Wine & Spirits
In Atlanta, you can find all three Casa Noble expressions at the Piedmont location of this favorite liquor store. towerwinespirits.com
SimplyBuckhead
Simply Buckhead is an upscale lifestyle magazine focused on the best and brightest individuals, businesses and events in Buckhead, Brookhaven, Sandy Springs, Dunwoody and Chamblee. With a commitment to journalistic excellence, the magazine serves as the authority on who to know, what to do and where to go in the community, and its surroundings.