Anis Café & Bistro's French-inspired patio dining provides a Buckhead oasis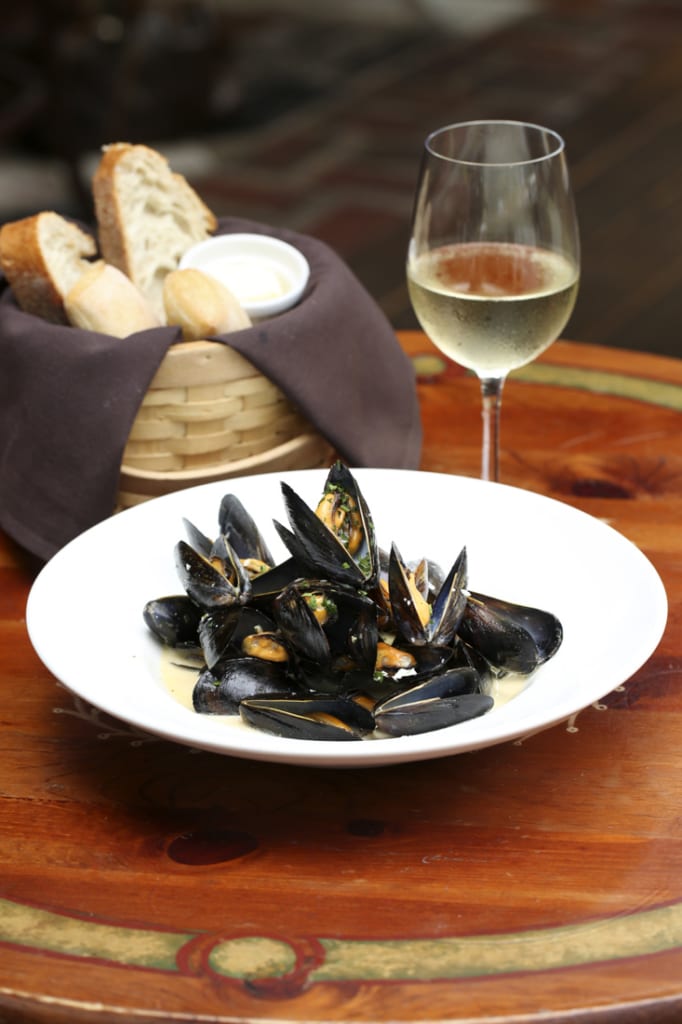 On a recent Friday at 3 p.m., I called Anis Café & Bistro and was surprised to procure a same-day 7 p.m. reservation. Despite the bottleneck at the door upon arrival, my companion and I received a gracious welcome and were escorted promptly to the cozy patio.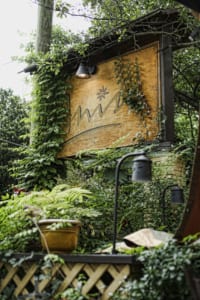 For the first 15 minutes, we basked in the attention of our solicitous server, but the patio filled up quickly, and suddenly our waiter was slammed. Thankfully, a few sips of one of the well-curated wines by the glass was all we needed to keep the sense of chaos at bay.
Over a glass of chilled Sancerre (2015 Domaine Hubert Brochard) and a mellow cabernet (2014 Josh Cellars North Coast), we nibbled on saucisses Merguez grillées. The grilled sausage, a mainstay of North African cuisine, was spot-on flavor-wise— distinctly muttony, spiced with red chiles and reminiscent of many fine meals in Morocco. The coquilles St. Jacques arrived perfectly seared on a bed of sautéed portobello, shiitake and oyster mushrooms. It was oh so yummy, but it took all of our combined taste buds to discern a trace of the advertised black truffle honey.
The main dishes had some major high points but some minor low ones as well. Take, for example, the boeuf au poivre—fillet of beef, lyonnaise potatoes and portobellos in a cognac peppercorn sauce. It was bestowed with high praise by our waiter, yet it arrived cold in a cream-free sauce that lacked much authentic flavor. The fillet was, however, cooked à point (to perfection) and was absolutely delicious when it made its way back to our table after a quick reheat. The poulet rôti—thyme-roasted free-range chicken, Yukon Gold potato purée and haricots verts—was the quintessential bistro trio, with the standout being the succulent, impeccably seasoned chicken.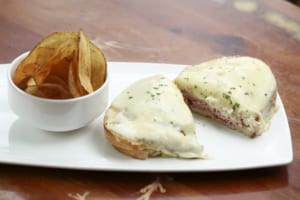 House-made classic French desserts, including crème caramel, crème brûlée and profiteroles, waited to entice us after the mains. We tried the chocolate chocolatechip ice cream and found it refreshing and creamy, but the pièce de résistance was the chocolate mousse—ethereal, deep-cocoa perfection. My spoon never had it so good. Nothing brings out Buckhead luncheoneers like sunny, 80-degree weather, and on a follow-up weekday visit, I watched as the terrace quickly filled to capacity just as it had on our impromptu Friday night. A single, crisp orange tulip dotted each table, and the tiny white lights strung across the ceiling infused the space with a festive energy. At Anis, the lively chatter among the patrons is occasionally of the French variety. The place is a veritable Provençal escape.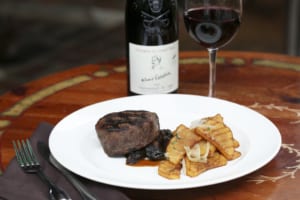 Lunch began with a bowl of summery fennel and artichoke soup accompanied by a basket of warm pain au levain (mild sourdough French bread). The soup was rich and creamy and had a depth of herbal flavor. Next up was a deconstructed salade niçoise consisting of seared rare tuna, black-olive tapenade, blanched haricots verts, roasted red peppers and pretty lettuce leaves. I am always so impressed when small-scale restaurants pull off quality salads full of tender, fragile greens.
In fact, all of the salads here proved to be equally cared for, each dressed judiciously with one of Anis' many homemade vinaigrettes. When my waiter brought a croque monsieur—the classic pan-sautéed ham-and-Gruyère sandwich topped with béchamel—it was so luscious, so thick with gooey cheese and so packed with tender, salty Black Forest ham, I nearly forgot that I'd actually ordered a croque saumon (with salmon). C'est la vie.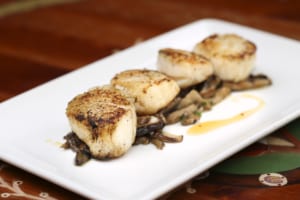 My final visit took place on a warm Sunday evening with my 7-year-old in tow, and the vibe was entirely different than on previous visits. As I sipped a crisp white Bordeaux (2015 Château La Gravière, Entre-Deux-Mers), we watched as diners came and went at a relaxed Sunday-supper pace. A simple, satisfying plate of truite meunière—pan-roasted trout with wilted spinach, marinated artichokes, capers and lemon butter—was masterfully executed, as was the salade d'Arnaud, a perfect palate cleanser of crisp Boston lettuce leaves and sweet, pungent cherry tomatoes.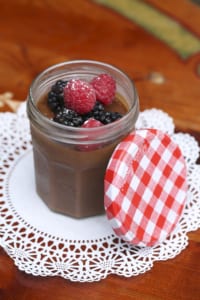 Entrées complete, we debated over whether there was room for a few spoonfuls of quivery, sweet crème caramel. The answer? Mais oui. As my daughter savored every bite, I gazed to my left, where a white-haired gentleman in crisp monogrammed cuffs lifted his glass and smiled lovingly at his slight, bejeweled wife. To my right, a family of six laughed, gently teasing one another, each dressed in Kentucky Derby attire. Deep Southern accents floated from one end of the patio to the other. The sun faded, the white lights popped on overhead, and in that instant, it occurred to me that Anis Café & Bistro is very much the restaurant equivalent of a successful long-term romance: Better to ignore the things you don't like and focus on the things you do. For the good here is plenty good enough to keep you coming back for more year after year.
ANIS CAFÉ & BISTRO
2974 Grandview Avenue N.E.,
Atlanta 30305
404.233.9889
anisbistro.com
Prices: Brunch $6-$17. Appetizers/salads: $8-$18. Sandwiches and mains: $12-$35. Desserts: $8-$9.
Recommended dishes: Saucisses Merguez grillées, coquilles St. Jacques, salade d'Arnaud, croque monsieur, truite meunière, poulet rôti.
Bottom line: A family-friendly Garden Hills gem offering quintessential French bistro fare and casual patio dining.
STORY: Rebecca Cha
PHOTOS: Sara Hanna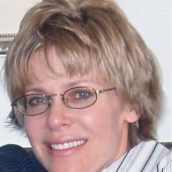 Rebecca Cha
Food, beauty and interiors writer at Simply Buckhead. Linguist, teacher, chef, parent.