A 1940S BUCKHEAD BUNGALOW BLENDS MODERN TOUCHES WITH HISTORIC CHARACTER.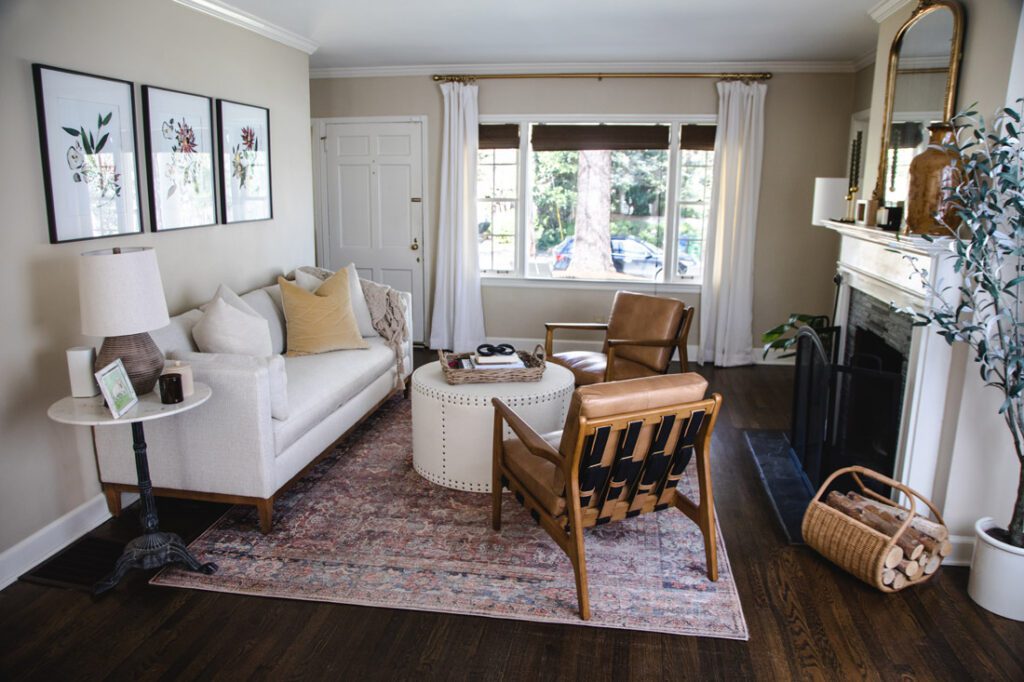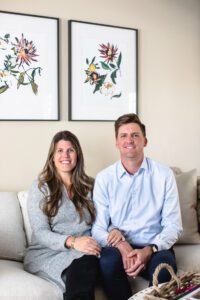 Kerry and Ian Phillips rented in Virginia-Highland for a year before purchasing their first home in January 2021. The three-bedroom, two-bath Buckhead abode was a short commute from their jobs: Kerry works in industrial real estate and Ian in investment banking. Built in 1949, the 1,750-square-foot residence had undergone several refreshes during its lifetime, but the couple had a few more minor upgrades in mind. Their goal: to add furnishings and fixtures that reflected a charming traditional-meets-modern style. Enter Andi Morse of Morse Design whom Kerry discovered on Instagram.
"With this being the first home my husband and I were buying, we knew we'd need some professional help designing," Kerry says. "All of the furniture at our old place was hand-me-downs."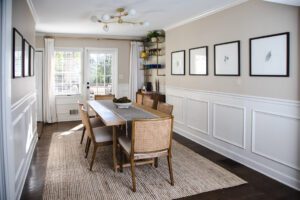 With a very active Pinterest page, Kerry already had a "look" in mind. For each space, Morse provided two design options. The couple also selected industrially chic light fixtures from Rejuvenation to update all the spaces.
"I got the California-in-the-South vibe they were going for very quickly," Morse says. "They were amazing clients. When clients like and trust you, it's huge, and the results are wonderful."
In the living room, a white sofa by Robin Bruce Rowe presides across two leather and wood Silas Lounge Chairs by Four Hands, their frames held together by parachute strapping made of canvas, leather and metal buckles. In the center, a nail-studded drum ottoman from Lee Industries anchors the conversation area where the backdrop is a fireplace and mantle topped with a vintage-inspired gold mirror from Anthropologie. The room is also adorned with framed flower art from Etsy and throw pillows from Brookhaven's Redefined Home Boutique. Kerry also picked up value furnishings, such as the side table and lamp, from World Market.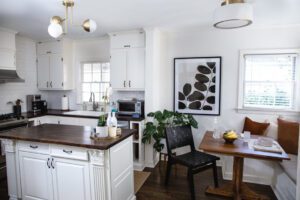 "I wanted the [primary] furnishings in the house to be nice, but Andi suggested finding some less expensive side pieces," Kerry says.
The nearby den is the more casual and cozier place to lounge. Painted in a moody blue-gray (Benjamin Moore French Beret), the room houses furnishings from Article— some of the only pieces the Phillips brought from their previous home— and new additions such as a chair from Dovetail and Loloi rug.
"We utilize the den the most when we are watching movies," Kerry says. "The living room is most utilized when we have dinner parties or friends over for a few cocktails."
The living spaces flow into the dining room where a Four Hands table and rattan-back chairs are poised for more entertaining. Framed fern art from Etsy embellishes one wall while an eye-catching set of brass shelves from Four Hands, styled by Kerry with drinkware, dresses up the other. Below the shelves, a modern rattan and wood cabinet from Dovetail stores entertaining tools such as platters and dinnerware.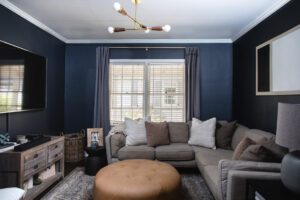 "I love the dining room's original wainscoting and the way that Andi styled it for us. We love to host our friends over for dinner and game nights," Kerry says. "In the spring and summer when it's nice outside, it's easy to open the doors to the porch."
Around the corner, the kitchen with butcher block countertops was left mostly untouched, minus the upgraded lights, reupholstered bench and new throw pillows in the breakfast area. The eat-in also features what could easily become a family heirloom.
"My husband's uncle made it for us, and my in-laws drove it all the way from North Carolina," Kerry says. "It's hard to find a small pedestal table so we figured it had to be custom, and he offered to make it for us."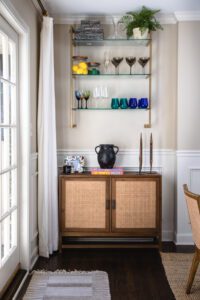 Inside the couple's primary bedroom, a neutral palette dominates with some muted colors from the Jaipur Living rug. Morse sourced the linen upholstered bed with strap detailing and sleek side tables from Four Hands and the plush sherpa bench with antiqued brass legs from Dovetail.
Kerry also hand selected some items: A standing mirror from Article and bamboo shelf picked up at an antique store that showcases books and her collection of wide-brimmed hats. The room is further personalized with framed wedding photos.
"I was going for clean lines with lots of warmth," Morse says. "I wanted the type of room that made you want to curl up under the covers."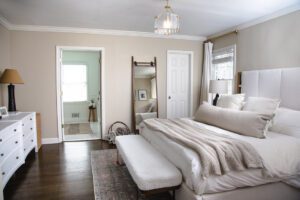 While most of the upgrades were paint and decor, the primary bathroom got more of a facelift. It was already updated with marble floors and countertops, but the Phillips opted to remove the tub and install a walk-in shower.
"It was a tiny shower, and the bathtub height was high, so it was hard to get in," Kerry says.
Morse also updated the bathroom with lighting and mirrors from Rejuvenation.
The backyard was also a project. The Phillips put down zoysia grass and added a new fence to keep their pooch, Ivy, safe. The couple will soon add another family member to their brood—a son due to arrive next month. They are currently working on transforming Ian's former office into a nursery.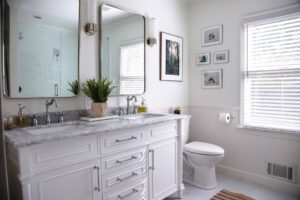 "We are taking this time to enjoy how far we have come with our home and are not in any rush to make any additional upgrades," Kerry says. "The next project will be upgrading the kitchen with a new stove, smaller island and new cabinetry."
For the time being, the Phillips' are nesting and hosting friends and family who often comment on the home's successful combination of new and old, from the original flooring in the guest bathroom to the telephone nook in the hallway.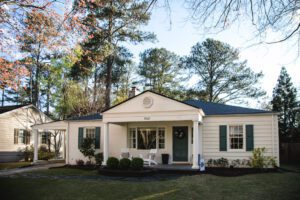 "It's our first home that we have purchased, so it will always hold a special place for us," Kerry says. "We love the charm it brings, but it feels like a new home with our decor and custom lighting."
Designer Andi Morse's tips for modernizing an older home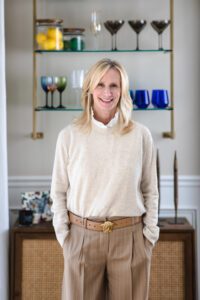 1. Installing new lighting and recessed lighting can be a game changer in an older home. Many older homes don't have enough light to begin with since they were built years ago. Adding can lights will bring a room to life as well as creating a fun center light to the room.
2. It's amazing what a fresh coat of paint can do to an older home. Painting the walls a neutral color and incorporating some color into one or two rooms are great ways to freshen up an older home quickly.
3. Keeping some of the quirks in an older home gives the place character and charm. Don't be quick to get rid of them. Most likely there is a way to keep those elements with a few changes to bring them into the current century.
4. Bathrooms and kitchens in older homes typically need updating. Whether they are complete guts or mild remodels, these are the areas that seem to need the most work. Seek out contractor and designer opinions to find the best ways to get what you want and still keep the character and nostalgia of the existing home.
5. Furnish your older home with transitional pieces. Furniture has a lot to do with the look and feel of a space. Incorporating more modern pieces combined with tradition is a great combination for an older home.
PHOTOS: Erik Meadows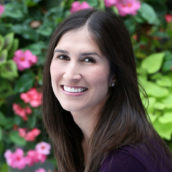 Giannina Bedford
Giannina S. Bedford is multi-faceted writer and editor. Her work covers design, travel, food and business. She's penned Simply Buckhead's home feature since inception and held a variety of editorial roles at the magazine. Her freelance work has appeared in Condé Nast Traveler, USA Today, Virtuoso Life, Hemispheres and TravelandLeisure.com. She also contributes regularly Atlanta Business Chronicle. Fluent in Spanish, Giannina was born in Miami and grew up in Brazil, Chile, Hawaii and Australia. She currently lives in Dunwoody with her two kids and husband.