The world has changed, but Pricci remains primo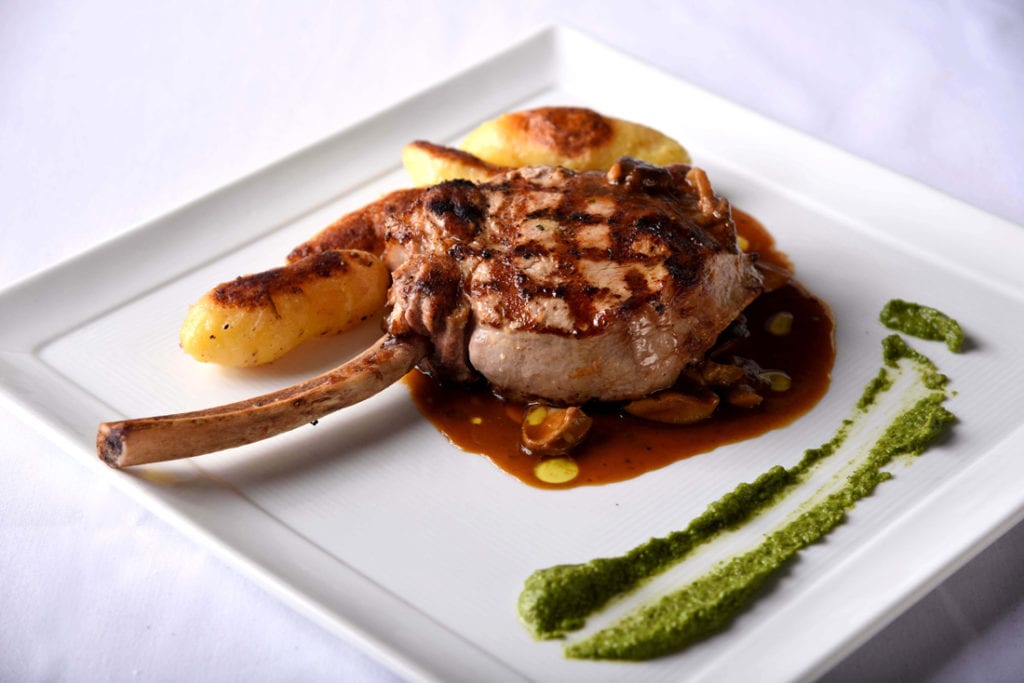 Dining at an elegant restaurant after months of self-quarantine is a surreal experience. A netherworld must be bridged between the time spent living in one's head (or online) and the real world that's still very much inhabited by real people. Pricci, my first foray out in this odd new "normal," proves a most delicious terrestrial crossover.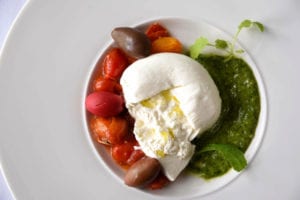 Pricci is the Italian jewel in Buckhead Life Restaurant Group's crown. It has occupied the same Pharr Road space since 1991, and as one pulls up to the valet, there's a sense of stepping back in time to a golden era when swank and sophistication were the rule rather than the exception. A sign on the door reads, "Proper attire required," setting the bar high and sending the message that a certain reciprocity should be expected: You do your part, and we'll do ours.
It was pouring rain when we arrived for a recent dinner, and the valet escorted us inside beneath a Texas-size umbrella. The dining room decor is late '80s elegance with a touch of disco, and the adjacent bar glows with shimmering brass accents, quilted white wall panels and multi-colored Erté-esque fixtures. Crisp white tablecloths—a timeless touch— adorn every table. Our server arrived promptly, delivering a basket of hot, herb-flecked focaccia and tangy sourdough perfect for nibbling while reviewing the primarily Italian wine list. Selection was made easier because it was a Tuesday, and on Tuesdays and Thursdays, it's 50% off all bottles. We chose a 2018 Solais Vermentino di Sardegna. This crisp white poured fresh and fruity, offering up a nose of familiar apple-pear aromas.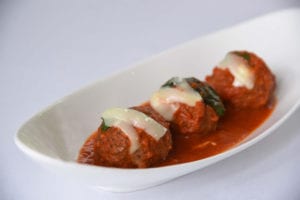 We couldn't have made a better choice for our menu selections, beginning with polpettine—veal and parmesan meatballs mixed with proprietary spices and served in a dulcet pomodoro sauce. Melty mozzarella and basil leaves made this comfort food appetizer profoundly satisfying on a rainy night in Georgia. Next up was burrata Pugliese, a glistening white orb of cream-filled mozzarella, drizzled with snappy green oil and accompanied by seasoned cherry tomatoes. Composition- and flavorwise, this dish hit all the right notes. Likewise, the PEI mussels that arrived steaming, fragrant with Italian aromatics. Their poppy red cipollini- tomato-garlic brodo was ideal for dipping the accompanying char-grilled sourdough.
Top-notch appetizers are a tough act to follow, but Pricci's pastas are up to the challenge. First was the ravioli di brasato, a half dozen yolky, al dente disks filled with red wine-braised short rib set atop a pool of meaty jus. It was a mere memory in five minutes. Cacio e pepe barely lasted much longer. A warm bowl of thick spaghetti tossed with toasted black pepper and creamy white pecorino sauce was passed back and forth across the table until nothing remained, save for just enough sauce to be mopped up with a bit of focaccia.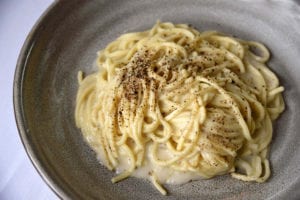 There was a birthday in our midst, and soon enough, tiramisu arrived with candles and a cheerful song. Coffee-soaked sponge cake layered with brandied mascarpone and topped with Dutch cocoa is anyone's idea of a fond farewell or a happy celebration.
A follow-up visit found us bar-side sipping a 2018 Villa Chiopris Friuli Grave, a flinty, lightweight sauvignon blanc the color of Normandy butter with a bouquet of apples and cut grass. It was the yin to our salads' yang. A shared Caesar—lightly dressed romaine adorned with parmigiano crisp and fresh white anchovy—was preferred over the insalata misticanza, a varicolored house salad featuring the usual suspects: cucumbers, tomatoes, radish et al, dressed with balsamic vinaigrette.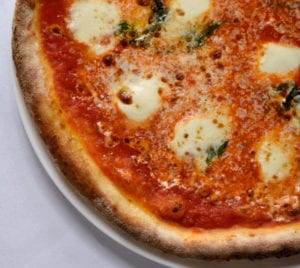 One ingredient that deserves special mention is the mixed greens from Ashland Farm, a local purveyor of gorgeous microgreens and an upscale horse riding facility in Covington.
Pizza was next on our agenda, and from our vantage point at the bar, we witnessed dozens of gorgeous specimens fly by before ultimately selecting the sausage and soppressata. Fennel spiced sausage, Italian dry salami and pesto atop a chewy, yeasty crust the perfect-for-two pie, proved thoroughly enjoyable.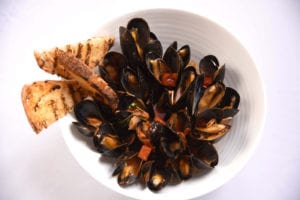 For an entree, we were sold on the 16-ounce center cut veal chop. It arrived tomahawk style, presented by not one but two servers, one to gingerly place the steak knives and the other to ever so carefully set the sizzling behemoth before us like a gastronomic gift of the Magi. With its seared golden brown crust and blushing pink center, the chop was succulent and juicy, and the accompanying pan-fried fingerlings and mushrooms in a balsamic jus perfectly complemented the main attraction.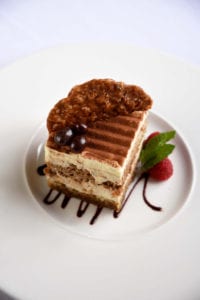 Desserts anyone? Pricci is known for its superlative tiramisu, but there are other winners. The chocolate mousse bombe, gelati and various specialty tarts await those who crave a traditional end to the meal.
This year has been a long one by anyone's standards, but rest assured: Whether or not you're a pro at this new normal, Pricci's best virtues—fine food plus an indomitable spirit of hope and service—will help make the transition easier, turning all who enter into lifelong loyalists, whatever may come.
Prices: appetizers and salads: $8 – $26; pizza and pasta: $17 – $27; entrees: $24 – $46; desserts: $6 – $15.
Recommended: veal parmesan meatballs, PEI mussels, burrata Pugliese, short rib ravioli, cacio e pepe pasta, margherita pizza, sausage and soppressata pizza, center cut veal chop, tiramisu.
Bottom line: A consistently elegant experience highlighted by a classically trained staff and often exceptional regional Italian fare.
PRICCI
500 Pharr Road, Atlanta 30305
404.237.2941
PHOTOS: Joann Vitelli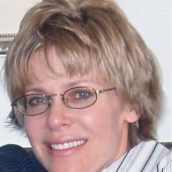 Rebecca Cha
Food, beauty and interiors writer at Simply Buckhead. Linguist, teacher, chef, parent.