Textile artist Trish Andersen creates colorful large-scale pieces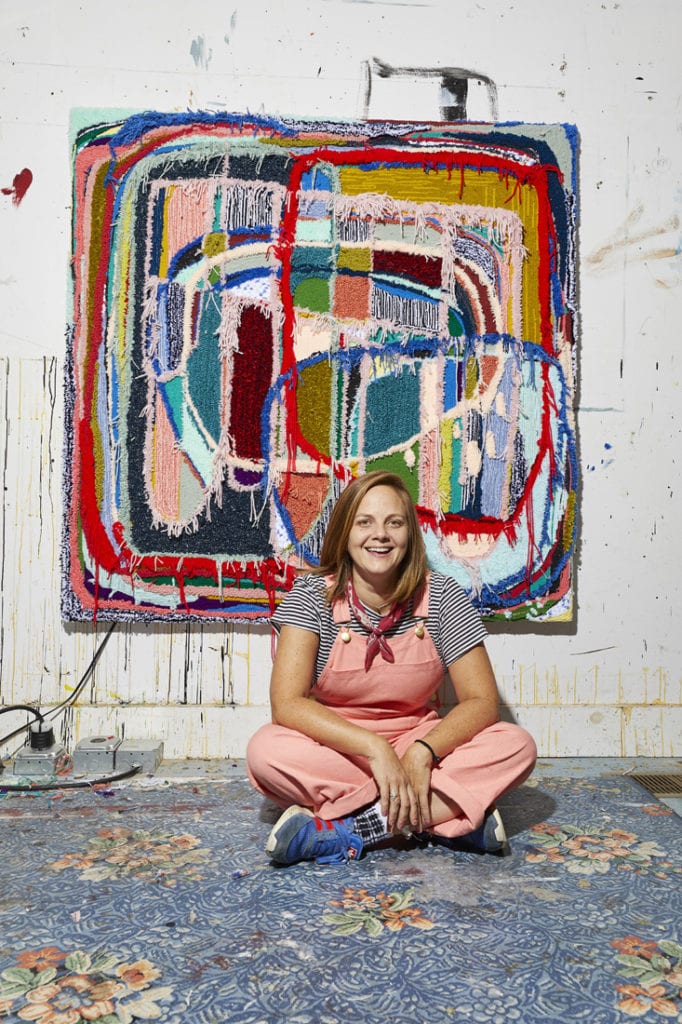 Carpet is in Trish Andersen's blood. "Growing up in Dalton [the "carpet capital of the world"], your whole world is surrounded by carpet in some way. If your family's not working in carpet, they're working in something that has to do with carpet," she says.
Her grandfather sold Latex, a product used to seal carpeting, and that brought him to Dalton where he opened the Andersen Company, which Trish's father later ran with his brothers.
"Of course, I was one of these kids that if my mom and dad wanted me to do something, I was going to do the exact opposite," she says. "I was not going to have anything to do with carpet at all."
Fate, however, had other plans. After graduating from SCAD Savannah in 2005 with a BFA in fibers, Andersen moved to New York to create window displays for Anthropologie on Fifth Avenue. "That experience really taught me to think and work big, and to work quickly. Because I worked with a ton of different fibers and textiles, I became interested in all kinds of different materials," she says.
Soon enough, customers were asking Andersen to recreate her displays in their homes or for their events. She left Anthropologie, partnered with another SCAD grad and opened Domestic Construction, a design and display company. Eight years later, Andersen found herself back in the world of fine art. "I wanted something that was slow and could last that wasn't going to get thrown away at the end of the night," she says.
Fast-forward to 2016 when a friend sent Andersen a viral video of women hand-tufting rugs. "They were using a tool that I had never seen before, even growing up in the world of carpet. It's called a single needle tufting gun. They weren't even sold in the U.S. at the time," she says. Andersen got her hands on one from China, along with the materials to get started. "I cried the first stitch I did. I just love it so much."
Now back in Savannah with her fiancé, Andersen is a full-time textile artist, creating large-scale fiber art using various tufting guns. "I describe it as I would drawing or painting. I load the gun up with whatever color I'm using, and then I apply it to my piece." Working one color at a time, Andersen builds kaleidoscopic pieces that range from geometric abstracts to cityscapes. "I have several guns that all do different things. One has a multi-function, so it can do cut pile and loop pile."
Like her carpet-working ancestors, Andersen uses various carpet techniques to give her work texture and dimension. "I can control the depth of how deep the pile is. I can make really long shag, or I can make short Berber. Each piece has a sculptural element as well." Even more challenging: All of this is done from the back of the piece. Andersen, like traditional tufters, works back to front.
Andersen's pieces, which can be as large as 6.5-by-24 feet, can take several days to complete. "The finishing and the prepping take as long as the tufting does," she explains. As a result of the time and the scale, she is often working on one piece at a time. Her works are represented at Buckhead's Spalding Nix Fine Art.
Anderson is also focused on her recently launched rug and mat line that is available to purchase from her website. The first collection features three mats that are digitally printed with her textile and tufting work in three different designs and five colorways. Her more traditional-style rugs will launch in 2021.
SPALDING NIX FINE ART
425 Peachtree Hills Ave. N.E., Suite 30-A
Atlanta 30305
404.841.7777
spaldingnixfineart.com
trishandersenstudio.com
photo: Colin Douglas Gray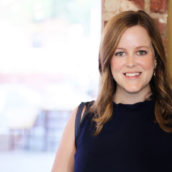 Nicole Letts
Wellness columnist at Simply Buckhead and dog columnist at Atlanta Pet Life. Lifestyle writer specializing in women's interests, travel, people and interiors.