GIVING THE GIFT OF TIME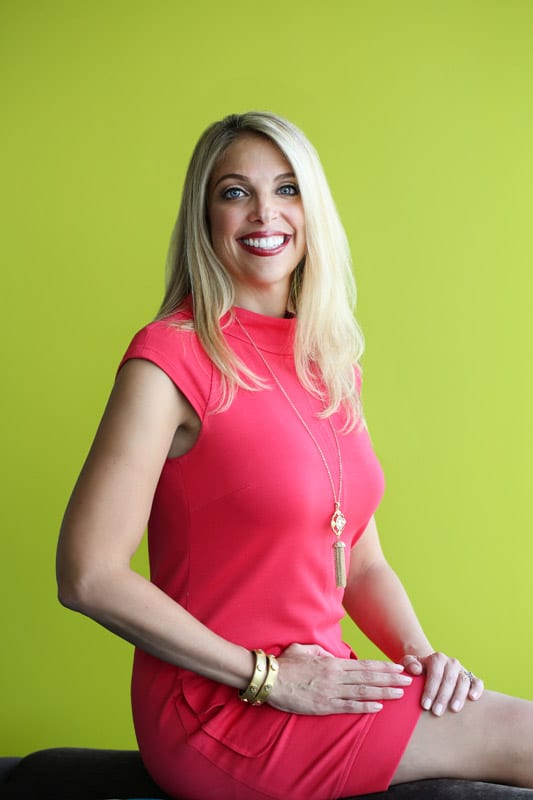 As the president of Buckhead powerhouse sports marketing agency Melt, where services include everything from branded social media campaigns to experiential marketing events for fans of college hoops, Brookhaven resident Michelle Grech's workdays are carried out to an imaginary soundtrack of roaring crowds and bone rattling buzzers. And while the high-profile job is a dream come true for the lifelong fan of sports, her biggest thrill comes from work she does on the sidelines—giving back to her community.
When she's not brainstorming campaign concepts and managing her 60-strong team, Grech, who's also mom to a creative and curious 10-yearold daughter, Mackenzie, supports a number of charitable organizations through mentorship, marketing services, fundraising and advising. Among them are Wellspring, which helps women escape sex trafficking; WISE (Women in Sports and Events), which facilitates networking opportunities for female professionals in her industry; the Showcase Group, which provides leadership and support to area youth at high risk for a life of crime; and the American Diabetes Association, a cause close to the heart of her business partner, Vince Thompson, whom the organization named a Father of the Year nominee earlier this year. And while she'd love to devote time to limitless causes, Grech is grateful to be in a position that allows her to support those to which she feels most connected.
"A lot of what I've been able to do in the community connects to Melt and my career," Grech says. "Vince and I have the good fortune of being an independently owned agency, so we get to support causes that really tug at our heartstrings."
One organization whose mission resonates with Grech on a more personal level is the Arthritis Foundation. At 28, Grech was diagnosed with rheumatoid arthritis (RA), and she now uses her seat on the Foundation's board to promote awareness of the disease and champion early detection.
"When I was diagnosed with RA, I had this picture in my head of a fully debilitating disease that strikes our grandparents' generation," she says. "But having had mine diagnosed at an early age and having been able to manage it, I don't have the intense symptoms that others have who didn't have early detection."
As a business leader, Grech is passionate about fostering a culture of giving back at Melt and hopes her staff will continue to pay it forward. "To be involved in things that are so important and that affect so many people, and to do things that are meaningful when you get out of bed every day, that's a big part of our business," she says. "It's so important to walk the walk." Spoken like a true champion.
FIND OUT MORE:
American Diabetes Association diabetes.org
Arthritis Foundation arthritis.org
Melt meltatl.com
Showcase Group Atlanta showcasegroup.org
Wellspring Living wellspringliving.org
Women in Sports and Events (WISE) wiseworks.org
STORY: Lindsay Lambert Day
PHOTOS: Sara Hanna
SimplyBuckhead
Simply Buckhead is an upscale lifestyle magazine focused on the best and brightest individuals, businesses and events in Buckhead, Brookhaven, Sandy Springs, Dunwoody and Chamblee. With a commitment to journalistic excellence, the magazine serves as the authority on who to know, what to do and where to go in the community, and its surroundings.