A sampling of great eats in and around Buckhead!
THE ALDEN
Chamblee's popularity as a residential and dining destination seems to be on the rise, and Chef Jared Hucks is here to make sure diners eat like royalty. Winning starters include a homemade bread plate with prosciutto butter and cheddar pimento cheese, silky sweet potato bisque and sashimi quality seared scallops. For mains, go with the cold smoked salmon, Moroccanspiced shrimp and grits or the hickory smoked Brasstown coulotte steak. Desserts are deliciously unique. If you've got belly room to spare, be sure to witness the chef's gastrotheatrics with the banana bread pudding service. Our favorite was the lunar chocolate, which the chef calls his "dessert moonscape."
Smaller dishes: $11-$21
Larger dishes: $23- $45
Desserts: $9-$15
Chef's tasting menu: seven courses/$95
BUTTERMILK KITCHEN
Chef Suzanne Vizethann offers thoughtfully handcrafted food in a room as pure and simple as its namesake drink. Southern classics are the foundation of this Roswell Road breakfast-and-lunch spot, and you can't go wrong with the Brunswick stew, chicken salad, pimento cheese or the fried chicken biscuit with pepper jelly and pickles. Vizethann's love of sweet confections really shines at weekend brunch, when folks line up in front of the inviting bright-blue cottage for the likes of toasted blueberry coffee cake and poppy-seed pancakes with strawberries and lemon curd.
Breakfast dishes: $8-$13
Salads and sandwiches: $8.25-$11.50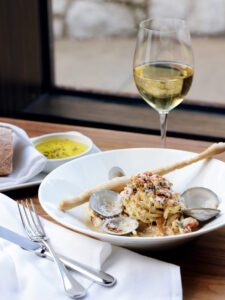 ECCO BUCKHEAD
Meals at Ecco in Buckhead have the elegance and spontaneity of a spin around the dance floor, thanks to the hyper-seasonal approach to the menu. The kitchen shines in creative interpretations of European cuisine with dishes such as Spanish octopus with Castelvetrano olives, grilled pork tenderloin with beet top risotto, and tortellini stuffed with butternut squash and mascarpone. Perennial favorites such as fried goat cheese with honey and cracked black pepper and the Allora flatbread (with its San Marzano tomato sauce, still bubbling mozzarella, hot sopressata and pepperoni) don't fail to impress. Paired with expert service, a nicely curated wine list and an atmosphere that's at once sleek and cozy, this Phipps Plazaadjacent eatery warrants a visit. Bottom line: If you find something you crave, visit soon to get it before it's gone.
Small plates: $9-$18
Flatbreads: $15-$21
Pasta and mains: $19-$36
Sides: $7-$12
Desserts: $6-$9
JALISCO
After nearly three decades, Jalisco remains a giddy, guilty pleasure trip through a tunnel of cheese. This Tex-Mex institution at Peachtree Battle is better than an El Paso taco kit, but not exactly a showcase of the sophisticated techniques and ingredients of the Mexican larder. Without apology, Jalisco is what it is, a place with consistently good, standardissue burritos, enchiladas, fajitas and even a Hamburguesa Mexicana. (It's topped with nacho cheese.) This is not a place where the kitchen thrives on change and creativity. For the most part, the menu is the same as it has been since Jalisco opened in 1978.
Lunch specials: $5-$9
Entrees: $9-$13
404.233.9244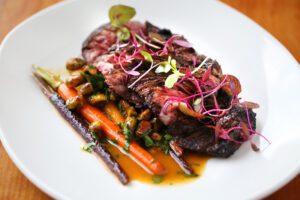 KR STEAKBAR
Atlanta chef Kevin Rathbun's only Buckhead restaurant feels custom-tailored for the community. A contemporary nocturnal cubbyhole where small plates rule, wine flows and the air bristles with excitement, the fashionable "steakbar" concept finds Rathbun and chef de cuisine Jessica Gamble fusing two venerable concepts: meat and Italian. Here, nearly everything speaks with a perky Mediterranean lilt: amari-kissed cocktails, steak doused with espresso sauce, heavenly olive-oil cake with almond brittle and citrus cream. Hidden touches, like the speakeasystyle bar behind the kitchen and a patio that feels like a sunken garden, make us want to continue to explore this romantic spot.
Antipasti: $6-$19
Pasta: $12-$16
Entrees: $18-$68
LITTLE ALLEY
A meal at Little Alley is an escape, an immersive experience no matter where you find yourself seated. Settle in and indulge in the daily rotating selection of ultra-fresh raw oysters served with a trio of house-made sauces and an appetizer of brûléed bone marrow that's so rich it could double as butter for grilled bread. The main event is an array of prime Angus cuts, both wet and dry-aged from 28 to 60 days, so guests can choose their steak's flavor intensity, cut and tenderness. If you're really going for broke, make it a surf-and-turf with the addition of a flash-fried Maine lobster tail with drawn butter. Whether you're out for a special occasion, a business meeting to close a big deal or a "just because" meal, this is a carnivore's paradise, with aged prime beef, ultra-fresh seafood and hearty sides served with gracious, professional service in a luxe atmosphere.
Starters: $16.95-$27.95
Steaks: $51.95- $139.95
Sides: $11-12
Desserts: $12-14
NEWK'S EATERY
This Mississippi-based chain has popped up in the Atlanta market, and though it looks like a fast-food joint, it tastes like homemade. Salads—from shrimp remoulade salad to a delicious steak-and-blue-cheese version to old-fashioned chicken salad—are a standout. At this casual, family-friendly, crowd-pleasing spot you can also get sandwiches, pizzas and mac and cheese but, refreshingly, no burgers. We are pretty crazy about the sausage and pepperoni pie, with its thin crust and warm and gooey toppings. And who can resist a crispy rice treat with chocolate and peanut butter? Not us.
Salads, sandwiches and pizzas: $7-$11
PIG-N-CHIK
Co-owner Jim Graddy tells us he learned the art of the pit on his granddaddy's pig farm in Manchester, Georgia. Graddy remembers cooking whole hogs all night long over hot coals, and when we tear into his pulled-pork sandwich—a delicious pile of pink, smoke tinged meat between two thick slabs of white bread—we believe him. Graddy has proudly transported his family's traditions to his casual Southern 'cue counter. Man, is the food good. The fresh-tasting coleslaw (with just a little mayo) and excellent new potato salad are just the things to cut the richness of the succulent pork. Some other tasty go-withs are fried okra, long-cooked collards, mac and cheese and Brunswick stew. We're sated. We're sauce-splashed. We need a moist towelette and a nap.
Entrees: $8-$24
R. THOMAS DELUXE GRILL
Open 24/7 and bedecked with '70s-style disco lighting, beaded curtains and groovy plastic walls, this Buckhead favorite feels like a throwback to the days when the health food craze was in its genesis. Whether you go for the sizzling bone-in hot wings or Dr. Joe's Mango Salad with a side of raw cashew "cheese," R. Thomas lives up to its promise to "treat carnivores and vegetarians with equal respect." More menu favorites include the quinoa-rich Thai Express bowl, the classic Thomas Burger with sprouts and guacamole, the curry coconut seafood linguine, Southwestern-style R.'s Quesadilla and an unforgettable peanut butter chocolate pie.
Breakfast: $9.75-$14.75
Appetizers: $4.50- $17.50
Sandwiches, salads and veggie mains: $5.99-$17.50
Entrees: $13.25-$20.75
Desserts: $6.50-$8.75
TAKA SUSHI AND PASSION
Chef Taka Moriuchi learned from perhaps the most famously finicky and cult-inspiring Japanese chef Atlanta has ever known: Sotohiro Kosugi, owner of Buckhead's legendary (but now shuttered) Soto Japanese Restaurant. Today, Moriuchi holds court at his own sushi bar, where his impeccably fresh fish and hot and cold appetizers compare to the best Japanese food in town. The only difference: His prices won't shipwreck your budget. Among our faves, the UPS roll is a delicious nod to the Atlanta-based Big Brown fleet, and the black cod and okra tempura are packages you'll be happy to see arrive at your table.
Appetizers: $6-$20
Nigiri: $2.50-$11
Sushi rolls: $4.50-$19.50
VARASANO'S PIZZERIA
For over a decade, highest accolades have been lavished upon Varasano's for its Neapolitan-style pizzas, and with good reason. Owner Jeff Varasano has made it his life's work to bring Atlantans pies on par with (or even better than) pizza in Italy. Classics such as margherita di bufala and Nana's showcase his mastery of the basics—slow-cooked San Marzano tomato sauce, imported cheeses, herbs and his incomparable crust. Varasano's also features a selection of antipasti (divine meatballs), simple salads and solid pastas of farfalle with shrimp in lemon cream sauce and penne alla vodka with chicken.
Antipasti: $5.95 – $14.95
Pastas: $16.95 – $18.95
Pizza: $15.95 – $20.95 ($1.50 – $5.00 for additional toppings)
Desserts: $3.95 – $8.95
ZAFRON
If you're like us, the minute you hear Persian foodie buzzwords such as mirza ghasemi, hummus and kabob, your mouth starts watering, and you've got one foot out the door. If you're smart, you'll head directly to Zafron in Sandy Springs. Once seated, a beaming server will bring a complimentary sabzi plate and pita from the wood-burning oven. That extra-mile hospitality spills over into all areas, especially the food: world-class lamb kabob, fire-roasted salmon and the "Zafron special" made with chile, mango and eggplant. Plenty of classic small plates and rice dishes are joined with a few East-meets- West treats such as spicy Zafron chicken wings and tiramisu.
Starters and salads: $5- $9
Wraps (lunch only): $12
Entrees: $12-$32 Sides and rice: $3-$7
Desserts: $5-$7
persianrestaurantsandysprings.com
Note: Prices and menu items may have changed since original publication.
BY: Wendell Brock, Rebecca Cha, Jennifer Bradley Franklin, Angela Hansberger, Hope S. Philbrick
PHOTOS: Sara Hanna
Angela Hansberger
Drinks columnist at Simply Buckhead. Food, spirits, and culture writer.