A sampling of great eats in and around Buckhead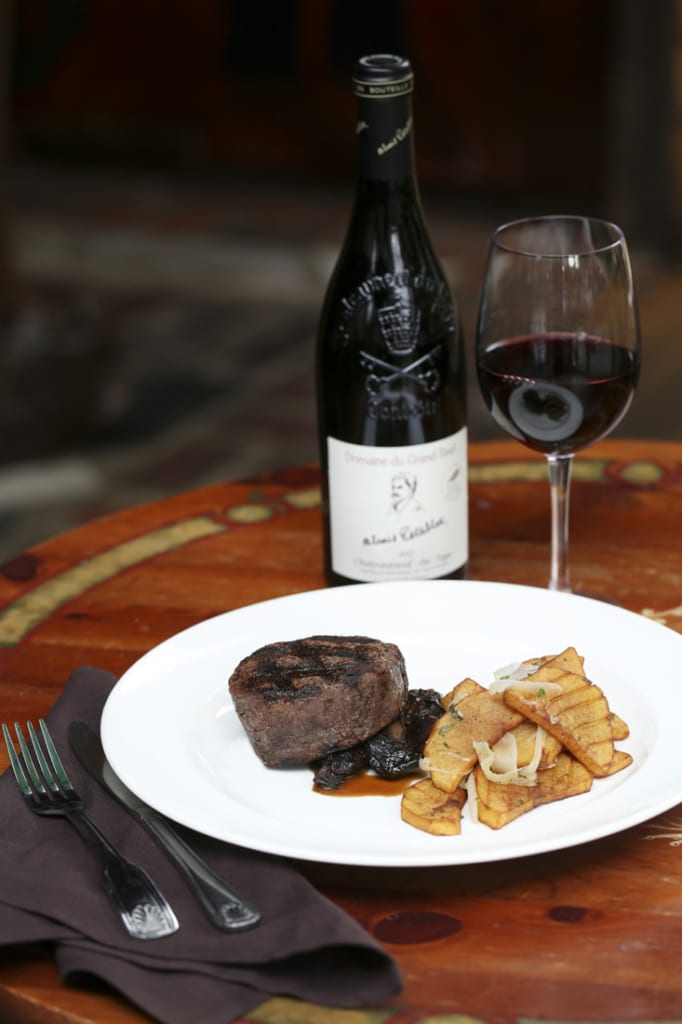 BY: Wendell Brock, Rebecca Cha and Angela Hansberger
PHOTOS: Sara Hanna
ANIS CAFÉ & BISTRO
Anis is everything you'd hope to find in a French bistro, without having to buy a plane ticket: traditional Provençal dishes, relaxed patio dining and often a small congregation of French speaking diners to help set the mood. Grilled North African-style Merguez sausage, coquilles St. Jacques or a bright, crisp salade d'Arnaud (named after the owner) are all winning starters. Entrées of truite meunière, poulet rôti and boeuf au poivre are sure to bring you back to that quaint Provençal village square. Best-in-class items are the croque monsieur, salade Niçoise, moules marinières and not-tobe- missed chocolate mousse. The time to visit is now, before Pharr Road real estate development triples the wait time for a table.
Lunch: $8-$19
Dinner: $8-$35
anisbistro.com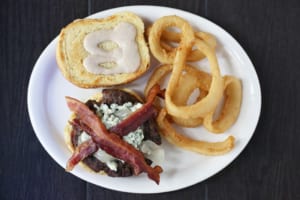 BUCKET SHOP CAFÉ
Atlanta's answer to TV's Cheers, this casual, family-owned spot across from Lenox Square is a game-day institution with seriously good pub grub, friendly prices and spirited, efficient service. Burgers, wings and sandwiches of all kinds dominate the menu. But one dish on the starting lineup deserves a special trophy: the chicken rolls. Perhaps they sound like a fusion experiment, but in fact, these crispy, deep-fried egg roll wrappers stuffed with chicken, cheese, sour cream, chives and Tex- Mex sauce (salsa mixed with ranch) are downright addictive. The Bucket Shop team gets extra points for its solid, ever-changing list of local craft brews.
Starters: $6-$13
Sandwiches and burgers: $9-$13
Entrées: $12-$18
bucketshopcafe.com
BUCKHEAD DINER
This indispensible, neon-splashed diner is a jewel in the crown of the Buckhead Life Restaurant Group, which includes the Greek temple-like Kyma next door and the Atlanta Fish Market down the street. For 30 years, fans have flocked here for the housemade chips with Maytag blue cheese, the "sweet heat" Thai-chile calamari, juicy burgers and the decadent white-chocolate banana cream pie—all classics. Simply by virtue of the way it lights up Piedmont Road, this diner has always been, and will always be, a star.
Appetizers: $6-$12
Sandwiches and burgers: $13-$16
Entrées: $17-$30
buckheadrestaurants.com/buckhead-diner
CABO CANTINA
Even if you aren't a sports fan, you'll welcome a visit to this Mexi-Latin sports bar on Pharr Road. The 35 varieties of 100 percent agave tequilas are just the start. Kick off with a five-star margarita that'll have you shouting "touchdown!" long before the national anthem begins. And just try to keep your eyes on the game when knockout dishes such as braised short rib empanadas, smoky-spicy chorizo or chipotle shrimp tacos and a side of tender yucca fries arrive at your table. Mains such as the adobo chicken and charred rib eye, or healthier fare like the citrusy, fresh ceviches, are big winners as well. Let's just hope your favorite team is, too.
Brunch: $10-$17
Starters and shared plates: $5-$12
Tacos and sides: $3-$4
Entrées: $12-$25
cabocantinaga.com
COPPER COVE INDIAN BISTRO
Anjali and Subrata Roy have won our hearts with this pan-Indian bistro, their third restaurant in the Atlanta area. Whether you visit for the bountiful lunch buffet or a more relaxed evening meal, you will leave sated and inspired by the Roys' formidable talent with the Indian spice palette. Proprietary blends transform standards such as Chicken 65, tikka masala and tandoori into something sublime. Just as commendable are the lamb rogan gosht, chicken shahi korma and shrimp bahadur. For afters, go for something sweet and creamy, such as kulfi (Indian ice cream), kheer (rice pudding) or ras malai (similar to cheesecake without the crust). Your dining adventure wouldn't be complete without trying the masala chai, consisting of milk, tea, ginger, black pepper and bay leaf.
Accompaniments, appetizers and soups: $2-$10
Chef's specials, tandoori and traditional dishes: $12-$22
coppercoveindianbistro.com
F&B
Like its predecessor, the much-loved former Brasserie le Coze, F&B delivers timeless Provençal fare in a classic brasserie atmosphere. The menu is bolstered by comfort dishes portioned with hunger in mind, but it's also fortified with lighter salads, sandwiches and soups. Classics such as steak frites and skate wing with a brown butter sauce are deeply satisfying in their rustic charm. Mussels come piled high in a white wine and shallot broth, along with crusty French bread for sopping. The drink menu is built on interesting French wines and remarkable cocktails such as the well-balanced, bourbon based Line of Destiny.
Appetizers: $6-$18
Entrées: $11-$42
Desserts: $6-$8
fandbatl.net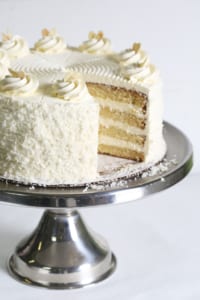 THE HUNGRY PEACH
Despite the hyper-elegant surrounding showrooms, The Hungry Peach, located inside the Atlanta Decorative Arts Center, serves up anyone's idea of a perfectly down-home lunch. Colossal salads and delectable renditions of classic sandwiches, such as the meltin- your-mouth corned beef Reuben, egg salad and smoked bacon-pepper jack wrap, are sure to please visitors and hungry professionals alike. Sides including the Cajun mac 'n' cheese and loaded potato salad will knock your designer socks off. Not to be missed are the freshly made sweets, such as the five-layer coconut cake and Callebaut chocolate brownie. Wash it all down with a bottomless mason jar of iced sweet tea.
Starters: $4-$9
Salads: $10-$12.50
Sandwiches: $8.50-$12.50
Desserts: $2.50-$6
thehungrypeach.com
OK CAFE
Just as we send diners to Bones for the definitive steakhouse experience, we suggest OK Cafe as a classic diner with a strong Southern twang. The offerings here are anchored in time and tradition: Root beer floats and cherry lemonades are called Black Cows and Pink Ladies. Meat-and-twos and veggie plates laden with silken collards and exquisite mac and cheese are meant to be washed down with sweet ice tea and sopped up with a perfect corn muffin. Fat slices of meatloaf encrusted with tomato sauce, roast turkey with cornbread dressing and gravy, chicken pot pie with an adorable little "OK" stamped onto its puff-pastry blanket—this stuff draws a crowd. If you don't want to play the waiting game, you'd better arrive before 11 a.m. or between the lunch and dinner rush. After a quarter-century, OK Cafe never goes out of style.
Appetizers: $4-$8
Burgers and sandwiches: $4-$13
Mains: $12-$16
okcafe.com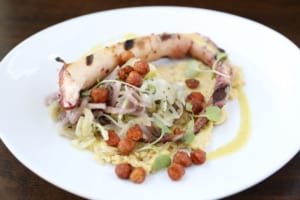 SALTYARD
Saltyard offers a menu of small plates with reverence for local farmers and the current growing season. Employing global imagination, it heightens these dishes with international seasonings and flavors to create worldly comfort food. With an ever-changing menu, Saltyard is never the same place twice. Rustic dishes such as crispy duck confit and super-tender grilled octopus are masterful in their simplicity and depth of flavor. Raw and cured items such as the deconstructed salmon pastrami, while lighter, offer an equal flavor punch. This is not the place to skip the dessert course. The same amount of effort goes into the decadent chocolate nemesis with Brandy cream as it does the entrées.
Tapas: $5-$16
Large plates: $18-$25
saltyardatlanta.com
STORICO FRESCO ALIMENTARI
Is a trip to Italy on your bucket list, but you can't get away? A meal at oh-so-authentic hot spot Storico Fresco may be just the ticket. A must here is the meat and cheese board, served with prosciutto, bresaola, culatello, fragrant cheeses and gooey honeycomb. Its refined, rustic and utterly classic pastas, including garganelli con funghi, tagliatelle alla Bolognese and ravioli spinaci, conjure up images of Tuscan vistas and Michelangelo statues. Seconds such as the pork shank for two and bone-in veal chop will sate your Italian cravings as well. End your repast with a glass of the world-class Miscela d'Oro espresso.
Appetizers: $12-$24
Salads and sandwiches: $10-$21
Pastas: $11-$23
Mains: $24-$30
Side dishes and desserts: $6-$7
storicofresco.com
TREEHOUSE
Occasionally, sitting at Treehouse feels more like a cookout. Neighbors and regulars have been coming here for the familiar comfort food and laid-back atmosphere for more than 20 years. Brunch is a big deal, with a large menu and generous portions of favorites such as the Georgia pecan waffle and Southern style eggs Benedict covered with sausage gravy. It's all about the patio here, and dogs are welcome guests. The chef works to enliven old favorites with as much attention to the all- American fried chicken sandwich as the New York strip au poivre. He also curates a mighty fine list of craft beers.
Brunch: $8-$10
Appetizers: $3-$13
Burgers and sandwiches: $7-$10
Large plates: $17-$22
treehouseatlanta.com
Angela Hansberger
Drinks columnist at Simply Buckhead. Food, spirits, and culture writer.