AS CANADA'S CONSUL GENERAL IN ATLANTA, LOUISE BLAIS IS IN CHARGE OF OUR NEIGHBOR TO THE NORTH'S INTERESTS IN GEORGIA AND BEYOND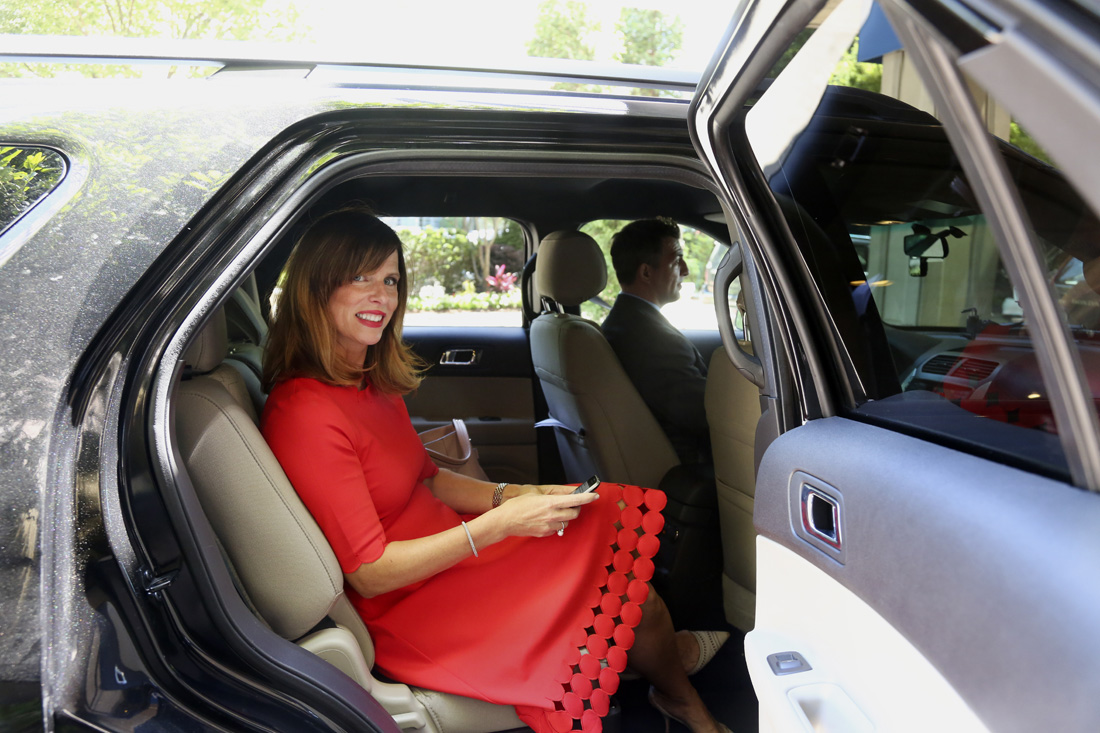 It's 11:50 a.m. on a Friday, and a couple dozen people are milling about a conference room at the Miller & Martin law firm on the 21st floor of Regions Plaza on West Peachtree. The individuals on hand for today's Global Atlanta Consular Conversations event are huddled in various groups, chattering about legislative bills, the export business and our new president. Some of them are speaking French to each another. One gentleman is overheard eagerly referring to himself as part of the "Louise fan club."
The Louise in question is Louise Blais, the consul general of Canada in the Southeast region, based here in Atlanta. As the event moderator introduces Blais to the crowd, he talks about how she is responsible for overseeing Canadian interests in Alabama, Georgia, Mississippi, North Carolina, South Carolina and Tennessee. As such, Blais' position requires her to know a little about a lot of different things beyond just politics, such as energy, construction, manufacturing, the economy, the environment and even the film industry. "People don't realize how integrated we are," notes Blais. "There are 250 Canadian companies that have a plant or an office in Georgia. Canadian business is responsible for as many as 360,000 jobs in Atlanta alone."
During her 20 years as a diplomat, Blais has held posts in D.C., Tokyo, Ottawa and Paris. Before taking the position here in 2014, Blais had never been to Atlanta. "It was all a big adventure," she says. But she adapted quickly, making a home in Buckhead for herself and her husband, Peter, a commercial photographer. (Her two sons are off attending college in Canada.) "Buckhead has such a great vibe," says Blais. "It has a relaxed feel to it. And it has everything I need."
On weekends, Blais plays on both ALTA and USTA tennis teams, takes a yoga or group meditation class at Infinity Yoga in Brookhaven and goes for walks around Lenox Park, the BeltLine and Stone Mountain. As a diplomat, her weekdays aren't quite so leisurely. Here's what a typical day in the life of a consul general is like.
5:30 a.m. Blais wakes up, has breakfast and spends the next hour or so reviewing the news and social media to see what's going on both locally and around the world. "Anything can have an effect on my day," she says.
8:15 a.m. After arriving at her Midtown office, Blais' first duty is always to check in with her executive assistant and go over what's on Blais' calendar that day, what she needs to work on and what decisions need to be made.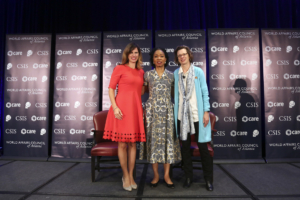 8:35 a.m. The next few hours are spent making phone calls to Washington, sitting in internal meetings with some of her 20-person staff and preparing for her talk at the Global Atlanta event. Speaking engagements are a familiar part of Blais' job as consul general and something she's quite comfortable with.
11:45 a.m. Blais' personal driver whisks her to Regions Plaza for her Global Atlanta Consular Conversations presentation. She has a driver mostly for security reasons, but also because it allows her to get work done while she's in the car.
12 p.m. In front of the packed conference room at the Consular Conversations event, Blais speaks about everything from NAFTA and Canada's Prime Minister Justin Trudeau to how the practice of diplomacy has changed over the last two decades. She also shares how she thinks being a woman actually has been an asset in her chosen field and talks about how one of the initiatives she's championing is female entrepreneurship. "My goal is to make women-owned and -led companies take greater advantage of international markets."
1 p.m. After the event is over, Blais hangs around for a few minutes, chatting with the various folks who want to say hello or have questions for her.
1:30 p.m. Back at her office, Blais spends the rest of the day answering emails, speaking with state legislators and other insiders, and meeting with representatives from a couple of Canadian companies that want to expand their businesses.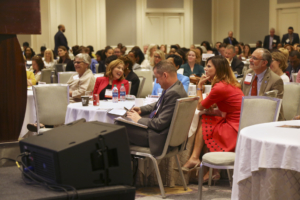 5:50 p.m. Blais typically has work related events she has to attend two or three nights a week, ranging from private dinners with dignitaries to various fundraisers and galas. But tonight, she heads straight home.
6:15 p.m. Before even changing out of her work clothes and heels, Blais is out in the yard checking on her plants. "Giving water to my plants— I derive a weird pleasure from it," she acknowledges. "I'm outside, I hear birds, I say hello to my neighbors." Blais takes her gardening fairly seriously. "It really affects me if something doesn't make it."
7:10 p.m. She and her husband pop open a bottle of wine and sit down to dinner. "I have my biggest meal at the end of the day," she says. "It's not unusual for my husband and me to be at the table for an hour and a half. I'm surprised we still have stuff to talk about." Of her drink of choice at dinner, Blais says with a grin, "It's my reward for a day well spent."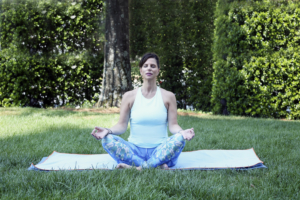 8:40 p.m. Before bed, she typically does a few minutes of meditation or reads for a while. The book currently on her nightstand is The Zero Stress Zone, written by a yogi friend of hers. "I'm not a fiction fan," she says, opting instead for biographies or books on topics such as yoga and spirituality, neuroscience and the brain. "Reading for me is less about escapism and more about learning." She's also still immersing herself in Southern culture, studying up on everything from country music to college football. But she hasn't forgotten where she comes from. "I miss hockey," she admits.
STORY: Jill Becker
PHOTOS: Sara Hanna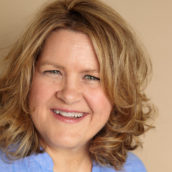 Jill Becker
Award-winning writer and editor who has penned stories for CNN, Woman's Day, Good Housekeeping, and dozens of other outlets.