A Buckhead townhome tells the life tale of its creative dweller.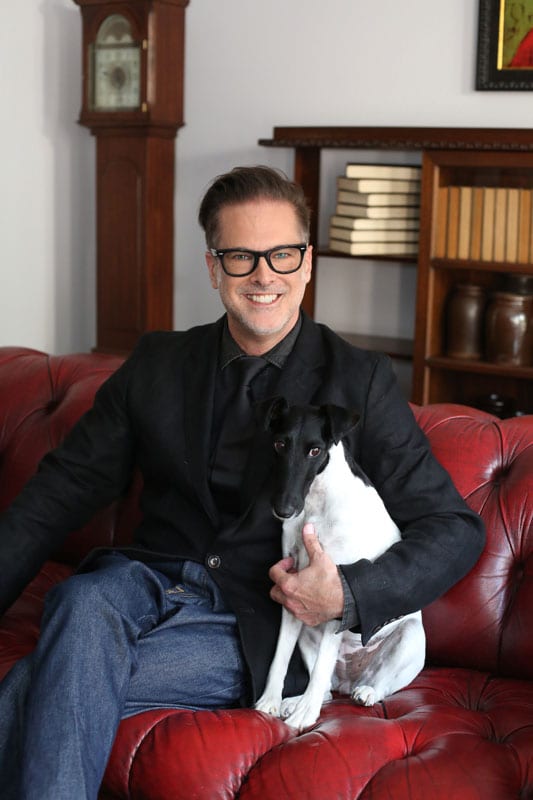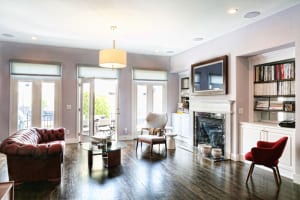 For Bryan Dow, everything communicates a story. The senior creative director at OshKosh and Atlanta newbie (nine months and counting) sees the world—from crafting brand campaigns to organizing artwork on his dining room walls—in vignettes.
Dow's unique eye on the world combined with a contagious, passionate energy for life and art transformed his newly leased (since January) modern Buckhead town home into a sophisticated, eclectic abode that is a walk through his personal journey.
"My life has come full circle. I love Atlanta!" says Dow of landing back in the South after following a career path that led him from Decatur, Alabama, where he grew up, to Los Angeles ("I moved to L.A. with $150 in my pocket"), Mineral Point, Wisconsin, and Columbus, Ohio. The creative, who has worked with brands such as Parisian, DSW (Designer Shoe Warehouse) and Lands' End, began his career as a dancer-turned-model until he realized his talents behind the camera lens and began styling celebrities and photo shoots, and later brand campaigns.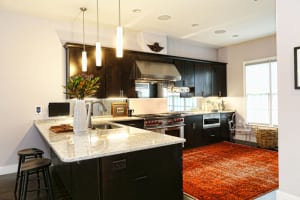 While searching for his new home, where he lives with his partner, Wayne, and Pearl, a 3-year-old smooth-haired fox terrier, Dow had a few priorities. These included finding an open space where he could entertain, a private guest room for his mother's visits and a kitchen with Wolf and Sub-Zero appliances. "Once you have high-end appliances, quite honestly, there's no going back. That was a big draw and also the space is really open for entertaining," Dow explains. He enjoys putting together intimate gatherings with a handful of friends, cooking and catching up on each others' lives.
"I spend the most time in the kitchen listening to music and cooking. Very slow cooked pork or chicken is a new discovery. Letting it cook for six hours and having the scents in the air is so delicious," he says, breathing in the air around him as if he currently has something in the oven (I'm hoping for an invite to a future dinner party).
Hands-on in everything he does, Dow decorated his new three-bedroom, three and a half bathroom, 3,000-plus-squarefoot domicile himself with three design rules: "Contrast, contradict and combine." He began in the living room with a 1960s red leather Chesterfield sofa from Sarah Cyrus Home in Atlanta's Westside Design District. "She is one of the first people I met when I moved to Atlanta. Sarah Cyrus and Westside Modern are really my go-to shops in the city," he says.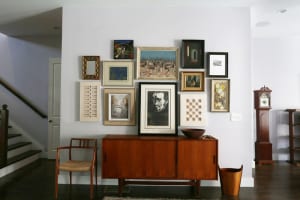 The living room also incorporates an Eero Saarinen armchair from Knoll, one of the first furniture items Dow ever purchased. "I bought it in the late '90s—I love the shape," he adds. The 1940s electric Hammond grandfather clock was actually a grandmother clock—his father's mother's. "This piece is very significant to me as my style changes and progresses; this grounds me in my family history," Dow says. Next to the clock is a midcentury bookshelf by Frank Lloyd Wright, who for one year in the 1950s designed a line for Henredon. "I'm a huge fan of his work, the purist nature of his style and the textiles he used," Dow says.
Above the bookshelf hangs an abstract painting of a man's face by Alabama artist Michael Banks. "This is the first piece of art that I ever bought—I was inspired by his minimalistic folk art on salvaged boards, by the textures and colors."
In the adjacent dining area that connects the living room to the kitchen, Dow incorporated a Danish modern console from Westside Modern, a shop specializing in midcentury furniture, as a springboard for his artsy vignette. "This space is slightly over-scaled so I was inspired to curate and collect an eclectic mix of art to frame the wall," he says.
The collection that hangs above the dining room console includes a mixture of landscapes, city scapes, still lifes, black and white photography and a gilt Italian mirror. As classical music—his favorite— plays on surround sound, he speaks fondly of each piece. Among them is a geometric city scape from 1958 that reminds Dow of his view from the Bowery Hotel in Manhattan, where he stays when he visits the city. Below it is a rare (one of five) Leonard Baskin woodblock print, a portrait bought from a dealer in Columbus, where Dow lived while working at DSW. Two Plexiglas works with layered paper geometric-shape cutouts by Nancy Miller in 1972, a decade Dow is particularly fond of, hang on either side of the wall. And at the top right sits a black-and-white nature print gifted by photographer Marili Forastieri 25 years ago, and is one of the first pieces of art Dow ever owned.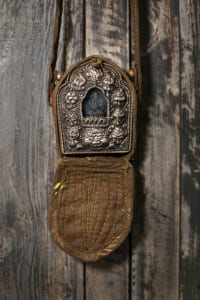 In keeping with his "less is more" mantra, the dining room table and Eames chairs are unfussy '60s Danish modern pieces from Westside Modern. The large rectangular Grosfeld House mirror in gold and silver, however, is a Scott Antique Markets find that had a previous life on a 1940s movie set. "I've always been a film enthusiast. Art films in particular have a beautiful stylistic vision. I see things as if through the lens of a camera capturing vignettes in a film," says Dow, who became a member of the Directors Guild of America for directing commercials.
"I was incredibly lucky because the home already came with some amazing features, like contemporary light fixtures, hardwood floors, designer wallpaper, an elevator— and I can control everything from my iPad," Dow says of the full home automation, which includes surround sound and dual layered shades in every room.
Within the elevator, which he typically only uses to haul items from the lower floor and garage to the main floor and upstairs bedrooms, hangs a photographic collage by Atlanta-based photographer Liz Von Hoene. "She is a mentor and we have been friends and collaborated on work together for over 20 years," Dow explains and tells a story of a memorable photo shoot they did together for Parisian with the 1960s and 1970s fashions from his mother's and grandmother's closets. "In this gift, she has taken pieces that she's cherished and built a collage of a woman. I love the butterfly and her eyes."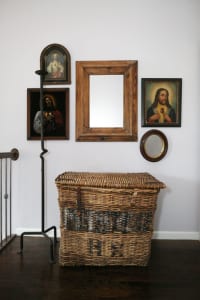 Upstairs in the third floor hallway is another eye-catching vignette—this one pays homage to religion with three framed representations of Jesus. The velvet one is from Dow's mother (she received it from an admirer of hers in the '70s); the tin is from a trip to Mexico; and the third is an early 19th century print from a thrift shop in Montgomery, Alabama. "They are art to me," he says.
Throughout the household, there are several other spiritual pieces, including a wooden angel from Mexico in the kitchen and a Tibetan prayer box that hangs from a wardrobe in a hallway. "The significance of these pieces, for me, is energy and evolution. It's more about what moves me and embracing all of the different religions around the world. And, of course, growing up in the South—in the '70s, in Alabama—religion was a factor in the household," Dow explains.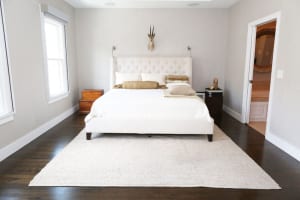 Within the minimalistic, neutral-toned master bedroom, the king-size linen, tufted bed takes center stage. It was a gift his interior decorator sister-in-law had hand made for him by Martha O'Hara Interiors in Minneapolis, Minnesota. Another piece close to his heart is the mahogany box on his bedside table, which he purchased during his teenage years in Alabama. "I fell in love with antiques at a very young age," he notes. "There's hardly anything new in my home. People decided to get rid of these pieces and I ended up with them. I love the eclectic mix."
While he's still on the hunt for a runner for the upstairs hallway and a large, very simple wool silk rug for the living room, Dow is settling in nicely to his Buckhead dwelling. "Overall, I feel like I'm at a good place with the house." Now about that dinner party …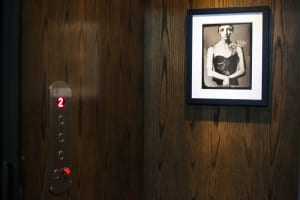 Dow's 5 Tips for Buying Used Furniture and Art
1. Know your space. Room sizes and dimensions.
2. Identify your lines. How will the pieces work with your interior space and style?
3. How does it feel? Comfort and function are key.
4. Do you love it? You want to feel like "OMG, it inspires me!"
5. Make a deal. Don't be afraid to negotiate.
STORY: Karina Antenucci
PHOTOS: Sara Hanna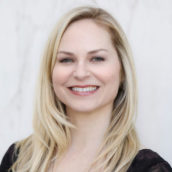 Karina Antenucci
Managing Editor and Wellness Columnist at Simply Buckhead. Blogger at Badass + Healthy.