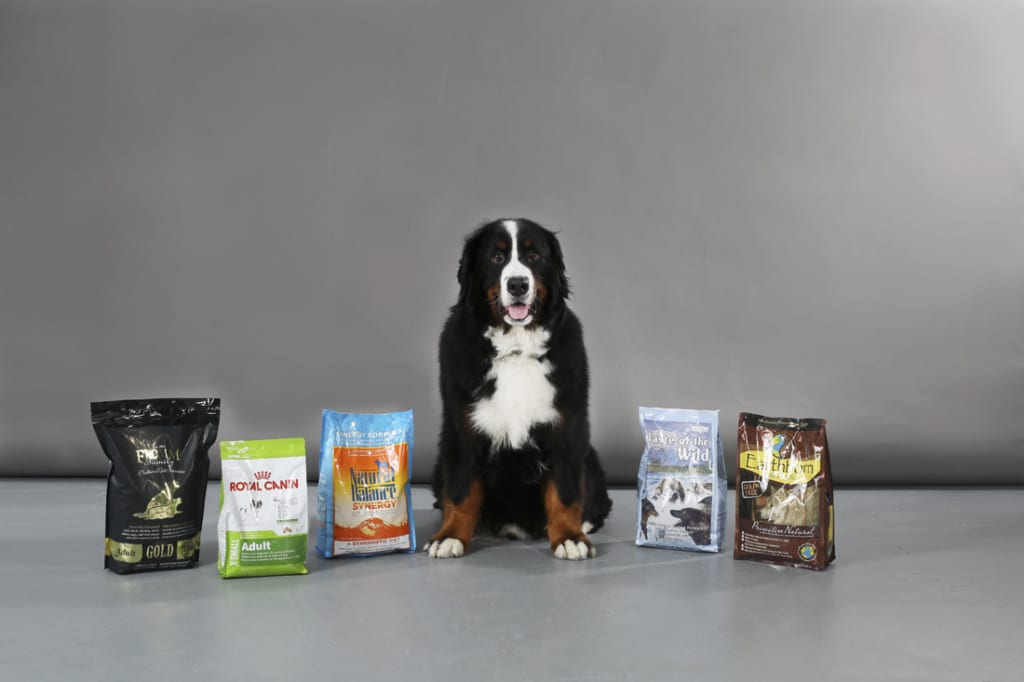 Dogs are like family, and we all want what's best for them, but choosing a dog food in today's extensive pet food marketplace can prove challenging. Consider your pet's age, health, activity level and your budget when looking for one that works. Keep in mind that no one food is best for every dog. Fortunately, many well-rounded brands offer a choice these days, and a little research can determine which one is best for your pooch.
1. Fromm Family Adult Gold Dry
(15-lb. bag, $23.53)
Founded in 1904, Fromm is still owned and operated by the same family in Wisconsin. The president and owner is a chemical engineer, and the company works closely with nutritionists, biochemists, vets and food production engineers to create the most balanced, holistic recipes for dogs. Given that Fromm uses only U.S. locally sourced ingredients such as meat, produce, eggs and real Wisconsin cheese, even the most distinguished pup palate will be pleased. Pet owners have reported improvement in their dogs' coats, digestive health and energy levels.
City Dog Market
4244 Peachtree Road N.E.
Atlanta 30319
404.816.8050
citydogmarket.com
2. Royal Canin Medium Adult
(17-lb. bag, $33.99)
Royal Canin was founded in France in 1968 by a veterinarian who wanted to produce a science-based pet food. The result yielded a formula with emphasis on the nutrients in the food rather than the ingredients. The company prides itself on offering dozens of nutritional formulas for specific breeds and sizes, from Chihuahua to cocker spaniel and from extra small to maxi. Royal Canin has a solid reputation and a reasonable price point, and it isn't marketed as a trendy brand.
Petsmart
3221 Peachtree Road
Atlanta 30305
404.266.0402
petsmart.com
3. Natural Balance Synergy
(5-lb. bag, $15.99)
Natural Balance was founded in 1989 by Dick Van Patten, an actor and animal welfare advocate who wanted to give dog owners a holistic alternative to the mainstream, low-quality dog food that was available at that time. The Synergy formula is a complete, balanced blend made with human-grade meats suitable for all breeds and ages, from puppies to adults. The company's "Buy With Confidence Program" offers consumers the option to receive laboratory test results of the very bag they purchase.
Pet Supermarket
2900 Peachtree Road N.W.
Atlanta 30305
404.841.5559
petsupermarket.com
4. Taste of the Wild Pacific Stream Canine Formula with Smoked Salmon
(5-lb. bag, $12.99)
Satisfy Fido's instinctual cravings with this Taste of the Wild formula that's based on your dog's ancestral diet. The selections are grain free and high protein at a price point that beats some of the more expensive competitors. The Pacific Stream line offers whole salmon, which has more moisture, and is mixed with prebiotics and probiotics such as chicory root, making it an excellent protein source. It's also highly digestible, and dogs can't absorb nutrients if they can't digest them. The added potato fiber and sweet potatoes make this a good choice for dogs with sensitive stomachs.
Red Bandana
216 Johnson Ferry Road
Atlanta 30328
404.705.8282
rbpetfood.com
5. Earthborn Holistic Primitive Natural
(28-lb. bag, $51.99)
Another top brand that targets a dog's natural, ancestral diet is Earthborn. It focuses on good nutrition that's based on science and promotes an earth-conscious, environmentally- friendly attitude. The Holistic Primitive blend offers high-quality, easily digestible ingredients that are grown or produced in the U.S. (except for the lamb meal that comes from Australia or New Zealand and flaxseed that comes from Canada). Targeted vitamins, minerals, antioxidants and fatty acids help strengthen your dog's skin barrier, support his immune system and keep him healthy and strong.
The Whole Dog Market
4600 Roswell Road
Sandy Springs 30342
404.705.8445
thewholedogmarket.com
STORY: Jessica Dauler
PHOTO: Sara Hanna