Tasty hot dogs with all the fixin's.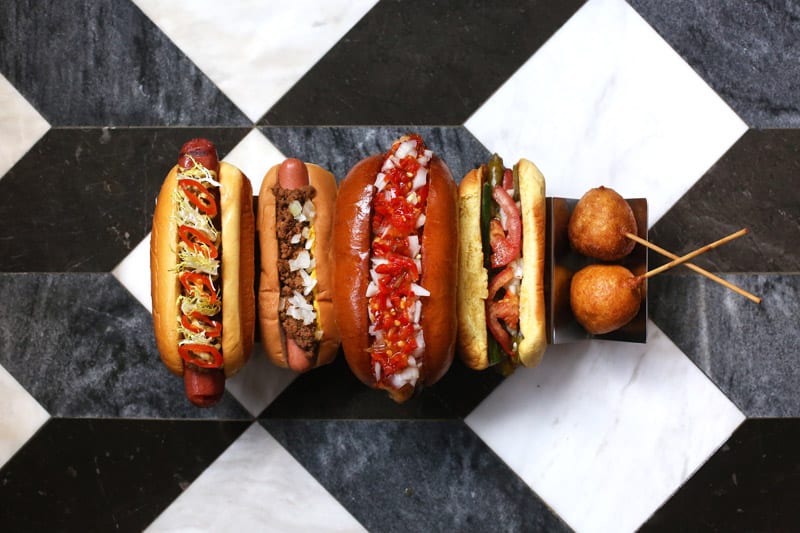 Few foods scream "summer!" like a juicy hot dog. Even though technically the season's last day is Sept. 22, Atlanta's balmy "dog days" stretch well into October. So go on—have a bite of one of our Buckhead favorites.
1. Buckhead Diner:
American Kobe Beef Hot Dog ($11.50)
The high-end dog in the bunch, this one is a work of art. A quarter pound of kobe beef, nestled in a buttery potato roll, becomes the foundation for tart green tomato chowchow, bright red cherry peppers and creamy mustard aioli, perfumed with robust dark beer. Served by smartly uniformed waiters in the classic diner's train car-style dining room, it's a classy, grown-up way to enjoy a childhood favorite.
3073 Piedmont Road N.E.
Atlanta 30305
404.262.3336
buckheadrestaurants.com/buckhead-diner
---
2. Zesto:
Chili Dog ($2.15)
This fast food outpost has been an Atlanta institution for years (the now-closed Ponce location opened in 1954), and their top-selling hot dog is about as classic and all-American as it gets. The all-beef hot dog on a white bun is topped with house made Coney Island style chili, fresh white onions and yellow mustard. It's gotta be good: They haven't altered this simple recipe for more than 20 years.
2469 Piedmont Road N.E.
Atlanta 30324
404.237.8689
zestoatlanta.com
---
3. Yeah! Burger:
Southern Dog ($6.99)
This Southern-style hot dog is big on sheer size and on bold flavors. The H&F Bread Co. bun holds a giant organic Blackwing beef hot dog, which is topped with housemade, creamy pimento cheese (made with Rumiano organic cheddar). It's finished with minced onions and hot Alabama relish for a kick that makes this masterpiece really sing.
1168 Howell Mill Road
Atlanta 30318
404.496.4393
yeahburger.com
---
4. Shake Shack:
Shack-Cago Dog ($4)
While this New York-based chain is best known for its burgers and milkshakes, Shake Shack began as a simple hot dog cart. Staying true to its roots, the kitchen turns out stellar dogs like this one, which is split, griddled and topped with relish, onion, cucumber, pickles, tomato and mustard, with an herbaceous hit from celery salt and a kick from bite-sized sport peppers. It's almost guilt-free: the potato roll is non-GMO and the dog itself is free of hormones and antibiotics.
3035 Peachtree Road N.E.
Atlanta 30305
470.809.9201
shakeshack.com
---
5. Smoke Belly:
Mini-Sausage Corn Dogs ($6.25)
Who says a hot dog has to be a main course? Start your meal—and maybe share with friends—this order of six corn dog bites. Andouille sausage (a double whammy of pork and beef) from local charcuterie Patak Meats is dipped in batter and fried until golden. The Cajun-style bites are served piping hot with sweet-tart Carolina gold mustard sauce.
128 E. Andrews Drive N.W.
Atlanta 30305
404.848.9100
smokebellybbq.com
STORY: Jennifer Bradley Franklin
PHOTO: Sara Hanna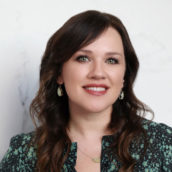 Jennifer Bradley Franklin
Senior Contributing Editor and Beauty Columnist at Simply Buckhead. Travel, Food and Design Writer and Author.