Treehouse enlivens with old favorites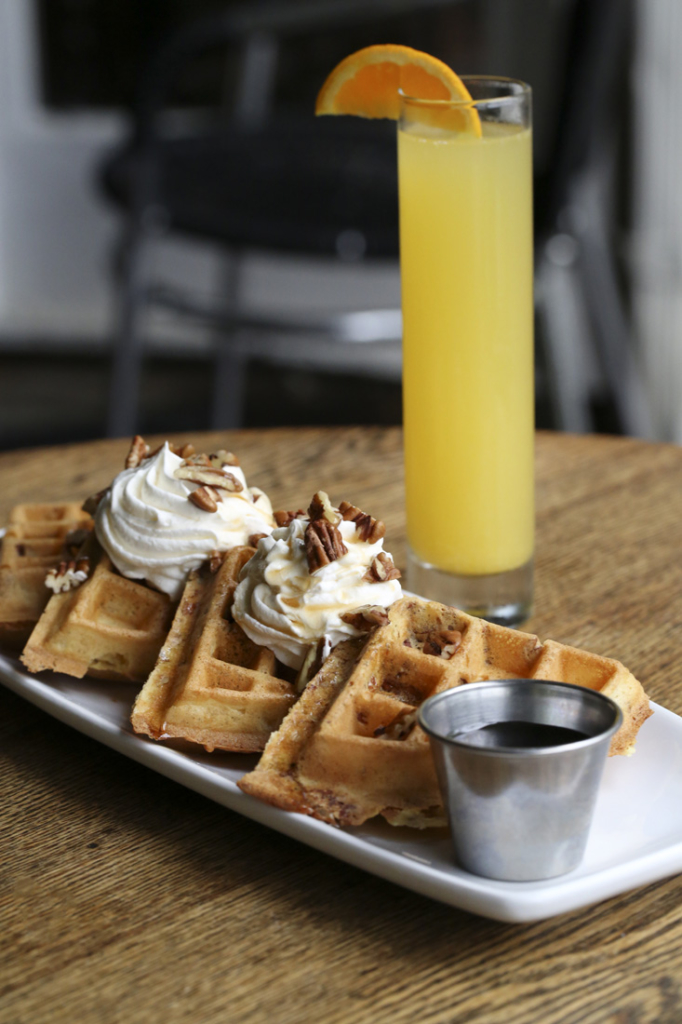 Walking into Treehouse is like entering a backyard get-together. If this is your neighborhood, it's comfortable straightaway, filled with neighbors and friends who visit regularly. If new to the party, the restaurant is welcoming and informal. A sign reads, "Seat yourself." Most folks congregate on the patio and sip cold beverages. The eating house serves plenty of old favorites. Order a burger and an Atlanta-made craft beer and escape from the bustle of the city.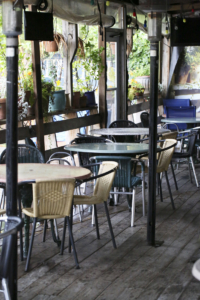 Treehouse is tucked away in the curve of King's Circle in Peachtree Hills. But don't take the moniker too literally. Open since June of 1986, the restaurant began in a little structure that formerly housed an arborist. Get it, "Treehouse"?
There are a few tables inside and some stools at the bar, but the real action is the patio. The entire concept aims to make you feel among the trees, and you do because of the tall Georgia pines looming above and the lush plants hanging in every nook and cranny. The patio is cozy but not cramped, with outdoor tables and comfy chairs. Chef Kyle Youmans calls it "Swiss Family Robinson-style."
Youmans came to Atlanta in 1996 to attend culinary school at The Art Institute of Atlanta and began cooking as Treehouse's sous chef. He eventually worked his way to executive chef. Some of his staff have been here 10 to 15 years as well. "It's always been pub-oriented. Back when I started, it was a watering hole. It just sort of evolved. We have been growing up with our customers. Now our regulars sit with high chairs on the patio." While some things have shifted—the downstairs dining area now houses cooking equipment—Youmans has had to do it gradually since regulars have strong feelings about changes. "We have a lot of new [menu items, cocktails and renovations] coming up, but everything that makes us what we are—our patio and our comfort food—is going to stick around. We'll never lose our character and identity; we're not trying to reinvent the wheel here."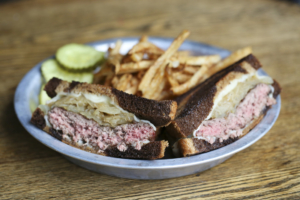 What keeps regulars coming back, besides the patio? Youmans says it's the comfort food: the basic burger, the jumbo wings tossed in buffalo or teriyaki, and brunch on a patio. You won't find experiments here. Instead, Treehouse perks up beloved American standards. The English burger is a half pound of Black Angus grilled to order with thick slices of sweet and slightly smoked bacon enrobed in melted cheddar cheese on a toasted English muffin. Not over complicated, but juicy and with a perfect ratio of bun to burger. It's rivaled by the patty melt with grilled onions and Swiss on buttery, toasted rye bread. It has crunchy edges and a juicy interior. Each comes with hand-cut fries that are long and thin, but still golden brown and crispy on the outside and tender inside.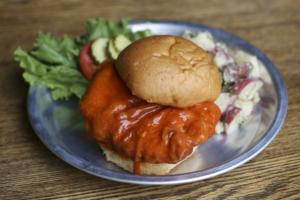 Chicken sandwiches stand out here, with almost 10 medleys to choose from. Buns are soft and lightly buttered and, like the burgers, come with fries. The All-American has the smoky-sweet bacon and cheese cheddar combo. The bigger-than-the-bun Buffalo comes batter-fried and bathed in a tangy and slightly hot sauce, but the breading kind of falls off this one. I liked the jerk chicken best. The super juicy bird is first marinated in allspice, cayenne, nutmeg, smoked paprika and black pepper, then grilled and covered in white American cheese.
If you visit for appetizers, the starter of lightly battered and flash-fried artichoke hearts is warm, crunchy and tart with a bright lemon aioli and drizzles of balsamic. Artichokes are also executed well in another app—a creamy and snappy dip served with toasted pita chips.
Youmans likes an entrée salad and makes all the dressings from scratch, except for the ranch ("Why mess with perfection?"). The Asian salmon salad is zingy with freshness, color and zest. The fish is grilled with a wasabi soy glaze and served atop mixed greens, cucumber and Mandarin-orange wedges, with a thick and punchy ginger dressing akin to the kind served at Japanese steak houses.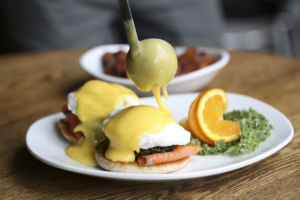 As for brunch, the earlier the better: A line forms when Treehouse opens at 11 a.m. Service suffers a little with a crowd, guests' dogs on the patio and coffee/mimosa refills, but it's really about sitting in the sunshine here.
The menu boasts an extensive list of egg dishes, and I enjoyed the Southern-style Benedict with two poached eggs atop buttery biscuits smothered in sausage gravy. The salmon Benedict with sautéed spinach suffered from timing: The thinly sliced fish cooked a bit under the hot eggs. A fluffy Belgian-style waffle stuffed with crushed Georgia pecans was crisp and didn't need syrup with the addition of whipped cream.
The beer list is extensive and well curated by Youmans. "I try to pull from local breweries. Our city is full of great beers." The wait staff is knowledgeable about flavor profiles. My server noted the hop-forward and citrus notes in a Three Taverns Night on Ponce—spot on for what I said I liked. There is no cocktail list, aside from brunch bloody marys and mimosas, but Youmans is working on "dabbling in craft cocktails with proper glassware."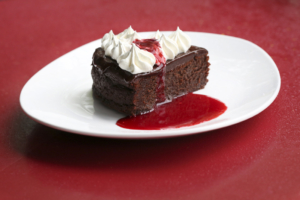 Wine and desserts fit the restaurant's casual nature and sense of familiarity. I loved the gluten-free chocolate torte, its dense and rich flavors of high-quality dark chocolate drizzled with a sweet and spicy raspberry-chipotle sauce. It paired well with the citrusy notes and natural acidity of a Groth sauvignon blanc.
Treehouse does exactly what it sets out to do. It's a casual, expansive patio with a kitchen offering affordable food and drink. Without fuss, chef Youmans makes dependably flavorful versions of American comfort food.
THE TREEHOUSE
7 Kings Circle
Atlanta 30305
404.266.2732
treehouseatlanta.com
Prices: Appetizers $3-$13. Desserts $5-$6.50. Egg Dishes $8-$12. Burgers and Sandwiches $6-$10. Entrées $17-$22. Brunch Cocktails $5-$8.50.
Recommended Dishes: Flash-fried artichokes, Asian salmon salad, patty melt, all-American chicken sandwich, gluten-free chocolate torte, pecan waffle.
Bottom Line: Casual American fare al fresco.
STORY: Angela Hansberger
PHOTOS: Sara Hanna
Angela Hansberger
Drinks columnist at Simply Buckhead. Food, spirits, and culture writer.