The Brookhaven eatery is an oasis of good taste and casual elegance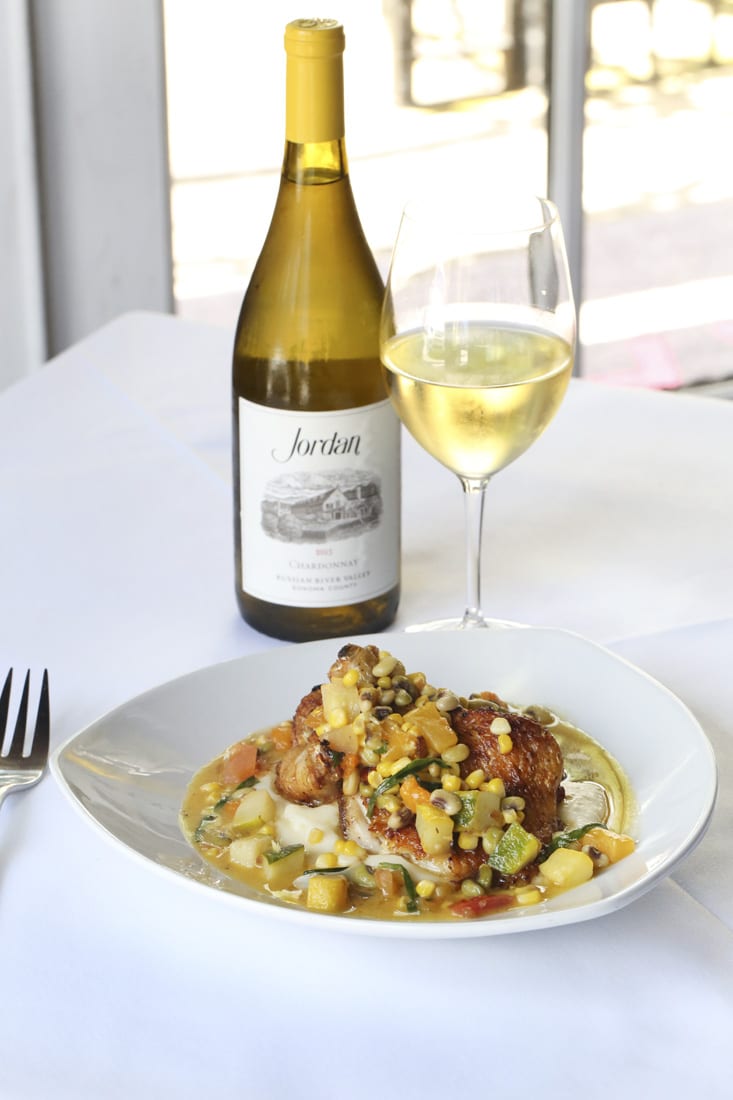 STORY: Rebecca Cha
PHOTOS: Sara Hanna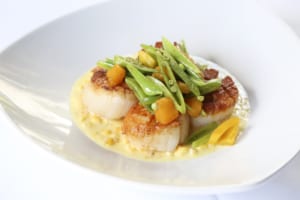 What comes to mind when you hear the word "haven"? It's an interesting concept, an almost preposterous notion in these chaotic times. I pondered its meaning one recent evening while dining alfresco at the popular Haven Restaurant and Bar in Brookhaven. Tucked behind an iron fence and fanciful, well tended greenery, patio diners sip bottles of wine (half price on Tuesdays!), their cheerful faces shaded under white canvas umbrellas and glowing string lights. Adding to the setting are crisp white tablecloths, spotless wineglasses and the all-too-rare green space just across the street.
The service at Haven is impeccable, another rarity in recent years. Seasoned, well-traveled personnel educate first-timers on what to try, what's fresh, who's manning the stoves that night and what their particular talents may be. Our veteran waiter, Gordon, grinned approvingly when we ordered small plates of Timmy's Wild Georgia Shrimp and crisp Gulf oysters. "Timmy" is Timmy Stubbs, who runs the Brunswick, Georgia-based Native Seafood, and he sure knows his shrimp. These were some of the cleanest, freshest crustaceans I've tasted in years. Accompanied by a sauté of thinly sliced sugar snap peas and garlic, a dash of arugula and chile, all simmering in a tomatoey tarragon cream sauce, it proved a masterful blend of Southern sensibility and nouvelle cuisine (yes, it's making a comeback).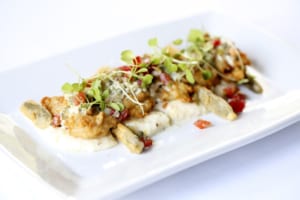 The buttermilk-soaked, crisp-fried oysters were bright and crunchy, as were the tangy fried cornichons. The oysters were served up on a bed of lemon-scented grits that reminded me a bit too much of sweet rice pudding. It might've been overkill on an otherwise perfect plate, but really, who's complaining?
We followed seafood with more seafood. After all, we were drinking a Roth Cabernet 2015—trust me, the old-school dictum of no red wine with fish is hogwash, folks— opting for the Georges Bank scallops from the Gulf of Maine. We were thrilled with the huge portion, consisting of four globes of crusty, seared perfection atop golden al dente creamed corn. Drawing fork and knife through this texturally complex, lusciously light surf and turf was a moment of pure gastronomic bliss.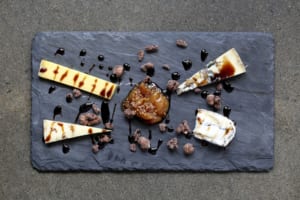 Our second visit could not have arrived soon enough. Inside, Haven's ambience shifts to hipster cool with a sky-high wine "library," open kitchen and elegant artwork. We began with the Southern cheese plate, boasting four varieties of cow and goat's milk we swore were from Spain, France and Italy, but which turned out to be from Georgia (Sweet Grass Dairy) and North Carolina (Goat Lady Dairy). Garnished with candied nuts and seasonal mostarda (in this case, blackberry and plum), it was a sweet and crunchy hit with both young and old.
The evening's main courses included entrées from D'Artagnan, the highbrow New York based purveyors of fine meats and charcuterie. A spice-roasted Green Circle Farms chicken filled our little corner of the dining room with the aroma of cumin and tarragon, and the crispy chicken skin was so delicious, it could've been a meal in itself.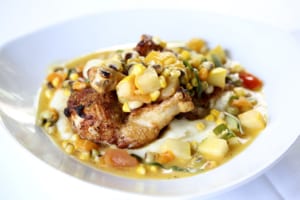 We were really looking forward to the grilled Rohan duck breast, having heard other foodies sing its praises. Alas, the sides of tender Hoppin' John and charred okra turned out to have more precise, layered flavors than the meat. Beautifully cooked, pink-fleshed and tender, some deep ducky flavor is the only thing it lacked.
Haven's dessert menu is modest and well-rounded, with something for everyone. We watched as the old-fashioned banana pudding passed us by and landed on some lucky couple's table, then the ultra-fragrant blueberry and lemon curd tart on another and carrot cake on the next. After a thumbs up from Gordon, and with a bit of cabernet sloshing around in our glasses, we decided on the warm chocolate brownie. When I hear the word "brownie," I immediately think back to those one-inch squares stacked on flimsy paper plates at a church picnic, but this one was a bread-plate-sized slab, rich with Cordillera chocolate and covered with whipped cream, a scoop of caramel ice cream and a toss of chocolate sprinkles. And it's impossible to forget the espresso sauce made with H.C. Valentine dark-roasted, 100 percent organic coffee.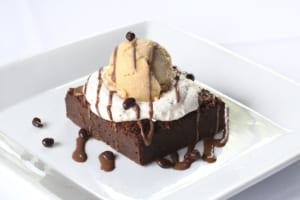 Beyond the restaurant's iron gates, the word "haven" evokes many things to many people. But here in the ATL, at least for me, it could easily boil down to this one little corner of heaven, where great food and great people come together to make diners feel safe, nurtured and satisfied.
HAVEN RESTAURANT AND BAR
1441 Dresden Drive N.E., Atlanta 30319
404.969.0700
havenrestaurant.com
Prices: Small plates and salads: $6-$15. Entrées: $18-$38. Steaks: $51 and up. Sides and desserts: $7.
Recommended dishes: Timmy's Wild Georgia Shrimp; crisp Gulf oysters; Southern cheese board; seared Georges Bank scallops; spice-roasted Green Circle chicken; warm chocolate brownie with espresso sauce, caramel ice cream and cocoa nibs.
Bottom line: An unrelenting commitment to excellence keeps customers loyal and comestibles top-of-the-line.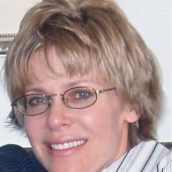 Rebecca Cha
Food, beauty and interiors writer at Simply Buckhead. Linguist, teacher, chef, parent.