Dave Lishness dishes on the business of events and the anticipated opening of Buckhead's Flourish.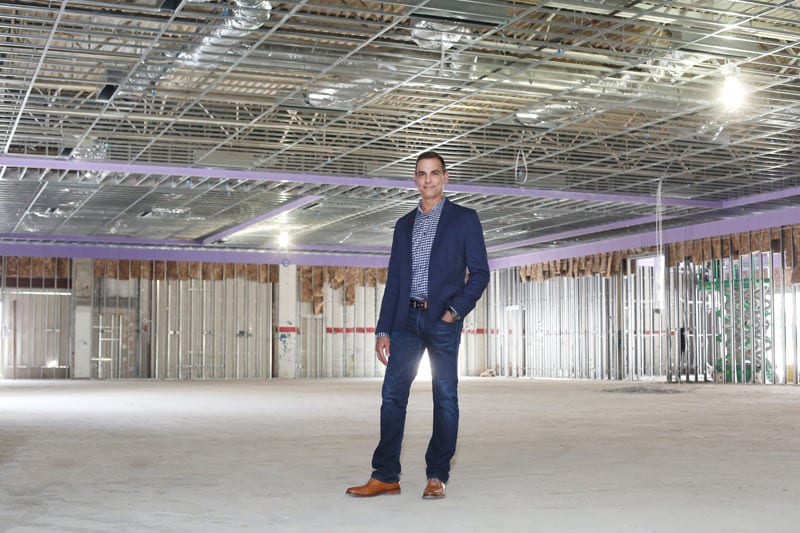 As the president of Atlanta's Legendary Events, David Lishness enjoys a life filled with creativity, philanthropy and diverse style, in his work, his clothing choices and his appetite.
Lishness was named president of the well known catering and special events company in 2010 and thrives on the joys of weaving his previous business experience into daily operations. "It turns out the combination was a great precursor to my current position," says Lishness, whose previous post was architectural sales manager for Miami-based stone importer Keys Granite. "We're in an industry where our biggest challenge is creating unique environments that deliver exactly what the client is looking for."
The newest feather in the Legendary Events cap is the much-anticipated Flourish, a more than 18,000-square-foot event venue opening in November across the street from Legendary's The Estate. Flourish is housed in a renovated former car dealership/antique showroom on Piedmont Road in the heart of Buckhead. Flourish's inaugural event is a spectacular fund raising gala, The Legendary Party, to benefit the Shepherd Center on Nov. 7. Learn more about Flourish and what makes Lishness' life legendary, here.
How did your previous experience lead you to the business of event planning?
Prior to Legendary Events I spent many years in product development as well as in design and architecture. Whether it's in the catering element, the room décor, the floral style, or all three, understanding the importance of how all these different yet complementary components come together to produce the desired atmosphere is crucial to an event's success.
Where in Atlanta do you live and what are some of your favorite local restaurants?
I recently sold my house in Ansley Park and I'm thinking about moving to the Morningside area. In the meantime I'm in Atlantic Station, which is really convenient for work. As far as restaurants go, I'm so glad MF Sushi reopened, and who can say no to the Hamachi Crudo at Cooks & Soldiers or the delicious Maple Leaf Farms duck at Bacchanalia?
What are the defining elements of your personal style?
I spend a lot of time in classic black during the week as this is the Legendary Events uniform. On the weekends you're most likely to find me in 7 For All Mankind jeans and maybe some Hugo Boss mixed with vintage finds from Little Five Points. I have an eclectic edge, which may come from being raised in New York; this also may explain my love of Saks Fifth Avenue.
Giving back to the community is important to you. Tell me about your philanthropic involvement.
I feel very lucky that being a part of Legendary Events has allowed me the chance to work with amazing organizations like Senior Citizen Services and the Atlanta Community Food Bank. I'm also very proud to be on the board of Leadership Atlanta. Working with your peers for the betterment of the Atlanta community at large is a really inspiring experience. Everyone is so excited about Legendary Events' newest endeavor, Flourish.
What are your favorite things about the new event space and what can we expect with the interiors/architecture, menu options and other services?
Everyone at the company is buzzing about this right now! We know that Flourish will be unlike any other venue available in Atlanta. We don't want to give away every surprise, but we're designing the décor to have a beautifully modern and chic feel. We're trying to adapt the traditional in a way people wouldn't expect so clients should also anticipate a hint of the avant-garde. As with our venue The Estate, Legendary Events will be the exclusive catering, décor and floral provider, so people that book their corporate event, wedding or private party at Flourish will continue to receive the same attention to detail and exceptional quality of service that we've worked so hard to become known for.
FLOURISH
3143 Maple Drive
Atlanta 30305
404.869.8858
flourishatlanta.com
STORY: Laura Carson Miller
PHOTOS: Sara Hanna
SimplyBuckhead
Simply Buckhead is an upscale lifestyle magazine focused on the best and brightest individuals, businesses and events in Buckhead, Brookhaven, Sandy Springs, Dunwoody and Chamblee. With a commitment to journalistic excellence, the magazine serves as the authority on who to know, what to do and where to go in the community, and its surroundings.