Kaleidoscope Bistro & Pub is colorful and ever-evolving, as the name implies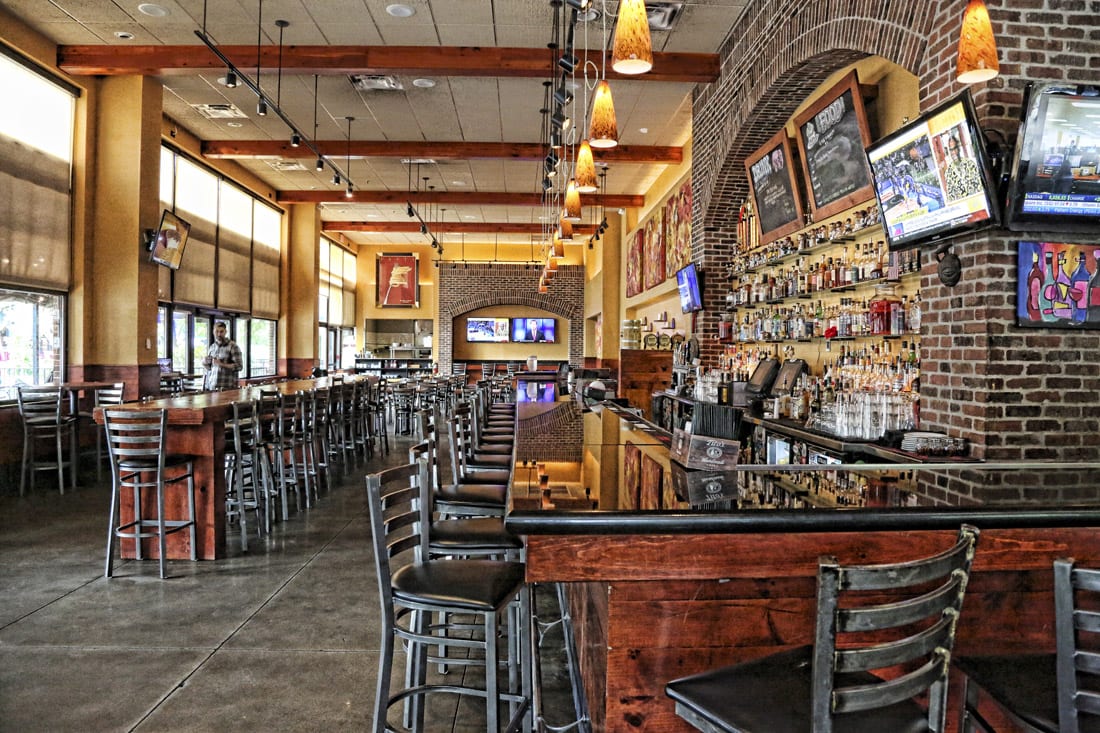 STORY: Rebecca Cha
PHOTOS: Sara Hanna
While hanging near the bar on my inaugural visit to Kaleidoscope Bistro & Pub, I examined the room with its vaguely industrial energy, soaring ceiling and expressionistic oil canvases (a permanent collection by artist Tyler Blum). The walls are amber-hued to match the owners' favorite beer color, and with the gaggle of regulars at the bar laughing it up, it felt a bit like the bar from Cheers. There was a peculiar chill in the air, but nothing that couldn't be assuaged with one of Kaleidoscope's specialty cocktails.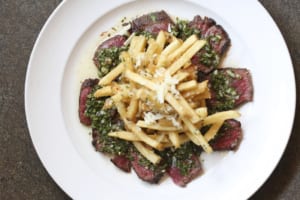 I chose the Desperado. Made with Lunazul Añejo tequila, 18.21 Bitters coffee vanilla cacao syrup and fresh lime, it tasted like a cocoa margarita—refreshing but extremely alcoholic. (I diluted it with extra ice and lime.) My friend chose a Saison Dupont, a classic Belgian farmhouse beer that was deliciously crisp and complex, with just a hint of fruit.
Kaleidoscope's menu features items hailing from, well, everywhere—Asia, Italy, the Middle East, Canada. But being that it was Monday evening, we took advantage of the fact it was half-priced burger night. We made quick work of the "award-winning" Kaleidoscope Burger, served up juicy and perfectly pink with housemade pimento cheese, vinegary bread and butter pickles, and a side of addictive, skin-on French fries.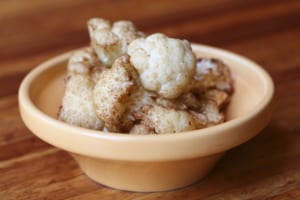 Our exceedingly professional waitress suggested we also try the steak frites, and it was exceptional, consisting of sliced rare hanger steak, a mass of garlic parmesan fries and a bright-green, garlic-heavy chimichurri. The young'uns at our table had sides of pimento mac 'n' cheese (corkscrew pasta, homemade pimento cheese and toasted breadcrumbs) and roasted cauliflower delicately seasoned with garlic and a touch of lime. We left happy, bellies full. It was an auspicious beginning.
Whether Mercury was in retrograde or the oppressive humidity that day had tweaked everyone's nerves, my second visit had some hiccups. For one, the barkeep seemed indifferent to my presence, perhaps unhappy with my iced tea order. And the Thai chicken lettuce wraps—which, when done correctly, are a symphony of heat, cool and crisp—were a dreary plating of sad butter lettuce leaves and soggy minced chicken.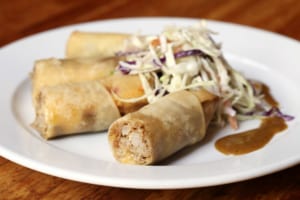 The only thing that saved it from flat lining altogether was the refreshing chile-lime dressing. The smoked pork and pimento spring rolls fared much better. With each bite into the crunchy golden shell, I got a hit of tender smoked meat and spicy molten cheese, made even tastier when dipped in the Aleppo pepper and mustard sauce.
There was much to enjoy on our third visit. We sat on the patio, the early evening air sweet and balmy, and it looked as if every neighborhood family and their dog had come to dine. (Dog lovers rejoice. Your canine companions can lounge on the patio to their hearts' content here.) A good poutine was on our brains, and Kaleidoscope's version of this Canadian treat didn't disappoint. The crunchy French fries (yes, more fries!) smothered with mild gravy and mellow mozzarella were a home run. Toss in some smoked pork, chopped bacon and green onions as the cooks do here, and you've crossed over into gastro-bliss territory.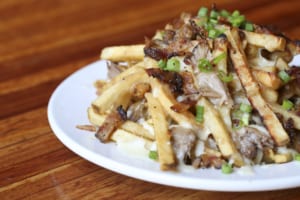 Licking our gravy-laden fingers, we decided that a salad would make the perfect second course. Large enough for two, the Fried Chicken Club Salad was lightly dressed with buttermilk dressing and came tossed with sundried tomatoes, fresh avocado, a smattering of bacon and crisp, golden chunks of bird.
As the sun disappeared behind the neighboring apartment complex, it became difficult to see our food, so we decided the next dish had to engage a few other senses—hence, the Korean BBQ Rice Bowl. (Even if we couldn't see the kimchi, we'd certainly smell it.) Here, the good—the sweet pork tenderloin, sunny-side-up egg and spicy kimchi—was all very good. And the bad was really more a question of why. Like, why include overcooked Brussels sprouts and cauliflower that smelled of too much fish sauce?
On this last visit, too, our waiter was less than attentive. In between his infrequent stops, four different attendants serviced our table. I get it; it's a busy place, as are most eating establishments on a Friday night, but this is hospitality 101.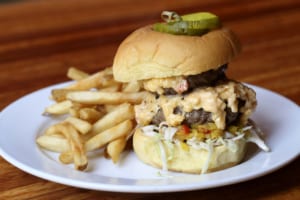 Kaleidoscope is one of Brookhaven's most popular watering holes, so the powers that be are obviously doing something right. It's sexy and fun and couldn't be in a better location. Nevertheless, there are moments when Kaleidoscope could be dismissed as a hubristic "concept" venture as opposed to a personal, soulful investment of committed teammates. When the latter kicks in for good, I have no doubt that this happy gathering place will evolve into a neighborhood institution for all the right reasons.
KALEIDOSCOPE BISTRO & PUB
1410 Dresden Drive, Atlanta 30319
404.474.9600
k-pub.com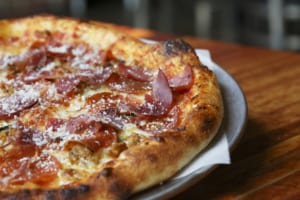 Prices: Appetizers: $5-$12. Salads, pizzas and burgers: $7-$14. Mains: $13-$19.
Recommended dishes: The Kaleidoscope Burger, steak frites, smoked pork and pimento spring rolls, poutine, roasted cauliflower, signature pizzas.
Bottom line: Fun, family-friendly place with a sports bar vibe, international fare and eclectic beers and cocktails.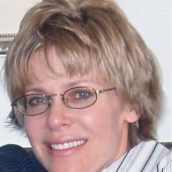 Rebecca Cha
Food, beauty and interiors writer at Simply Buckhead. Linguist, teacher, chef, parent.