Round Hill resort's history, beauty and romance make magic in Jamaica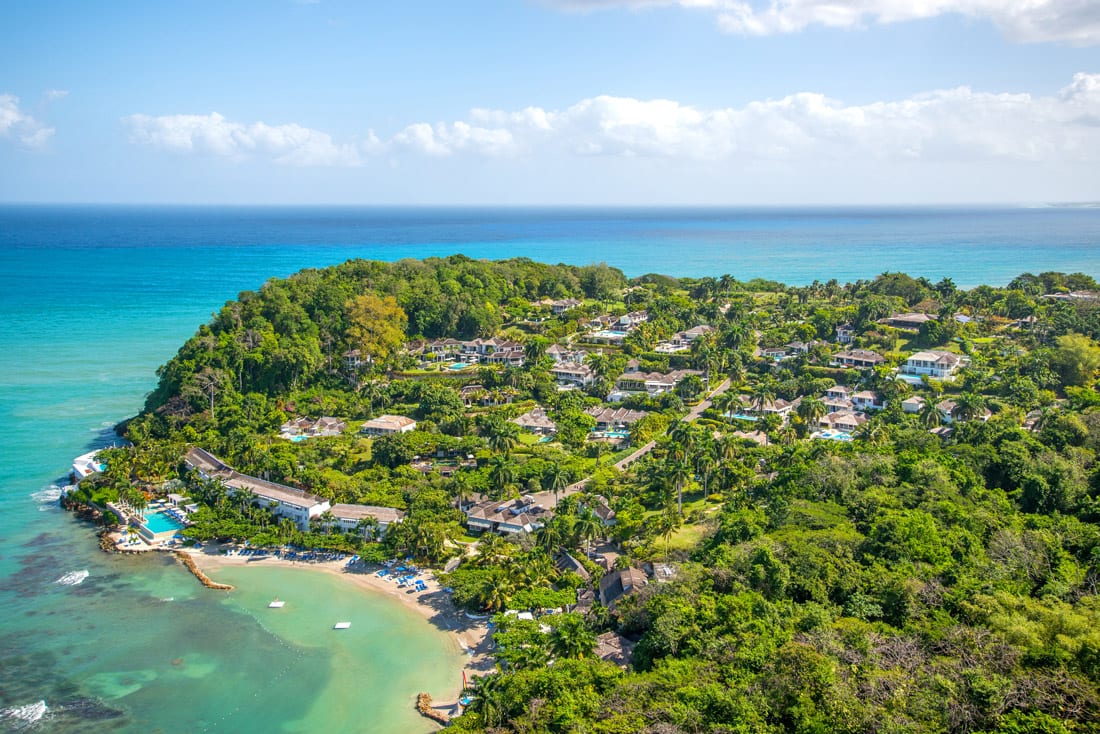 STORY: Jennifer Bradley Franklin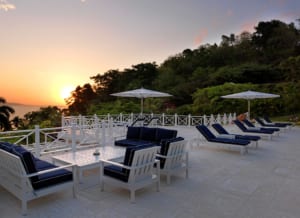 "Don't worry about a thing, 'cause every little thing gonna be alright," sang Bob Marley, his melodic voice and Jamaican accent softly pouring from another guest's portable speaker on Round Hill Hotel and Villas' sugar-sand beach. I couldn't help but consider the irony. A few months earlier, a friend from Atlanta planned her destination wedding at a well-known resort in the British Virgin Islands. Then Hurricane Irma swept through and ravaged the Caribbean that first week of September 2017, reducing the once-spectacular resort to a pile of rubble. For my friend, it felt like nothing about the situation would be all right, not just for her dashed wedding dreams, but for the millions impacted by the disaster.
I was delighted, then, when she chose Round Hill in Montego Bay, Jamaica—an easy two-hour-and- 45-minute flight from Atlanta—in its place. The resort has a storied history of hosting couples, including famous ones, since it was founded in 1953. John F. and Jacqueline Kennedy, Michelle Williams and Heath Ledger, and even Prince Harry and Meghan Markle have retreated to its lush 110 acres. The 36 hotel rooms, decked out in floor-to-ceiling Ralph Lauren (fitting, since he owns not one, but two, of the resort's private villas), all have ocean views and easy access to the infinity pool and beach.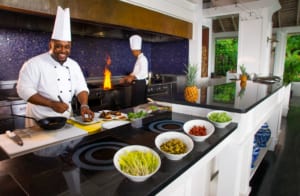 My husband and I opted for one of the 27 private villas, complete with a four-poster, plantation-style bed; an outdoor living and dining room; and our own swimming pool and hot tub. We arrived a couple of days early to explore the resort and unwind before the busy holiday season. Though rain threatened our first night, the billowing clouds set the stage for the dramatic yellow, orange and hot-pink sunset seen from our hilltop pool deck. We spent our days floating in the gentle waves, reading books on plush beach chairs under palapas and enjoying a delicious breeze perfumed with hibiscus, plumeria and bougainvillea.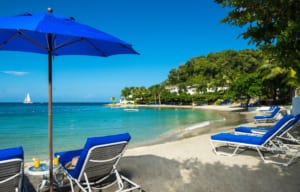 While the food can feel like an afterthought at some Caribbean resorts, it's a major focus at Round Hill. The team of chefs draws inspiration from the organic garden that grows everything from herbs and vegetables to fruit, all of which appear in the restaurants' hyper-seasonal plates. One day, I splurged and asked our housekeeper (yes, every villa comes with a dedicated team just for you) to prepare breakfast overlooking our private pool. She whipped up a pot of rich Blue Mountain coffee, banana pancakes, eggs, bacon, toast with housemade jam and sliced pineapple and mango. Lingering over such a simple, delicious meal, with nowhere to be and no deadlines to meet, felt like the very definition of luxury.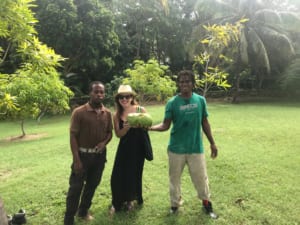 On the morning before the wedding ceremony, I borrowed a paddleboard and set out to explore the reefs that ring the property. As I departed from the dock, I spotted colorful fish below the glassy surface, content in their underwater habitat. It was hard to believe that the same Caribbean had been churned to a frenzy just a few short months before. Later that day, I watched the happy couple say their vows overlooking that same water, followed by a decadent three course meal and dancing the night away. It was then I realized that Mr. Marley was right all along. At Round Hill, every little thing—from the warm service to the history-filled villas to the crystalline water—was even better than all right. It was magical.
ROUND HILL HOTEL AND VILLAS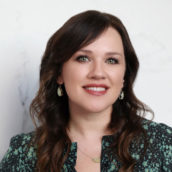 Jennifer Bradley Franklin
Senior Contributing Editor and Beauty Columnist at Simply Buckhead. Travel, Food and Design Writer and Author.