During the holidays, playing host or hostess can become overwhelming amidst a long list of seasonal obligations. So why not let someone else do the work this year? Eliminate the stress of meal planning and prep with catered solutions from one of these local purveyors.
STORY: Jessica Dauler
PHOTOS: Sara Hanna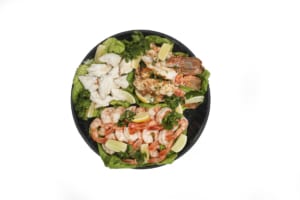 1. Pano's Food Shop: Crab Cocktail, Shrimp Cocktail and African Lobster Tails
($19 per person)
A Buckhead institution marked by the iconic three story copper fish sculpture out front, Atlanta Fish Market is known for some of the best seafood dishes in the city. Insiders are hip to Pano's Food Shop, the in-house fish counter and catering department, for picking up sophisticated provisions for any occasion. Skip the tired holiday lineup this season and treat your guests to an exotic shellfish platter with a variety of dipping sauces.
265 Pharr Road N.E.
Atlanta 30305
404.240.6656
buckheadrestaurants.com
---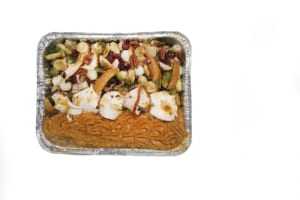 2. Christophe's: Turkey Breast
($8.50 per person)
What started as a brick and mortar grab-and-go has turned into a chef-driven, online catering company for goodies delivered to people's doorsteps in Buckhead and beyond. If a traditional menu is paramount at your gathering, opt for the roasted turkey breast with pumpkin mash, onion, Brussels sprouts, dried cranberries, pecan and orange sauce. Menus can be catered to meet specific needs and are delivered ready to heat and serve, as if you spent the entire day in the kitchen. No prep, no mess.
---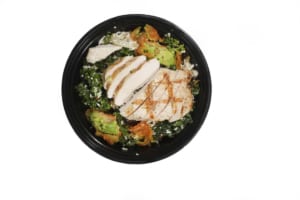 3. Crafthall Kitchen: Harvest Bowl
($9.95 per person)
Great holiday gatherings start with good food, and Crafthall Kitchen proves there's a difference between simple and easy. Comprised of multiple specialized brands and food genres, the choices are as endless as they are fresh. Order appetizers, mains and sides for pickup or delivery. With the Harvest Bowl, your guests will enjoy a healthy feast of roasted chicken, green lentils, kale, roasted carrots, beets, Brussels sprouts and onion with pumpkin seeds and harissa dressing served in a convenient disposable bowl.
1165 Perimeter Center West
Atlanta 30346
770.559.3915
crafthallkitchen.com
---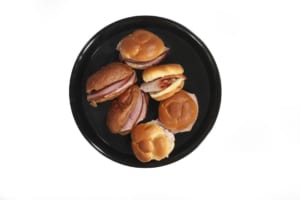 4. The Honey Baked Ham Co.: Signature Meat Platter
($8.29 per person)
Known for its flavorful hand-glazed hams and turkey breasts, Honey Baked provides everything you need to make holiday entertaining as easy as pie. The Signature Meat Platter features your choice of meats, cheeses, lettuce, tomatoes, condiments and assorted breads for a savory sandwich spread. Side dishes, dessert and plates are included.
2909 Buford Highway N.E.
Atlanta 30329
404.633.8562
myhoneybakedstore.com
---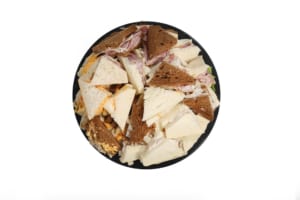 5. Henri's Bakery & Cafe: Tea Sandwiches
($9.99 per person)
The folks at Henri's know a thing or two about catering. Founded by French-born chef Henri Fiscus in 1929, Henri's has long been a fixture in the Atlanta community. Its bakery and deli selections range from traditional Southern fare to American and European favorites. The chefs still use original recipes for their tea sandwiches, a platter of which is fit for a crowd and includes pimento cheese, ham and Swiss, and shaved turkey served on house-baked bread.
6289 Roswell Road N.E.
Sandy Springs 30328
404.256.7934
henrisbakery.com