At her shop, Batter Cookie Dough Counter in Ponce City Market, Julie Abes sells T-shirts with the words "80% Health Goddess, 20% Cookie Dough" emblazoned across the front.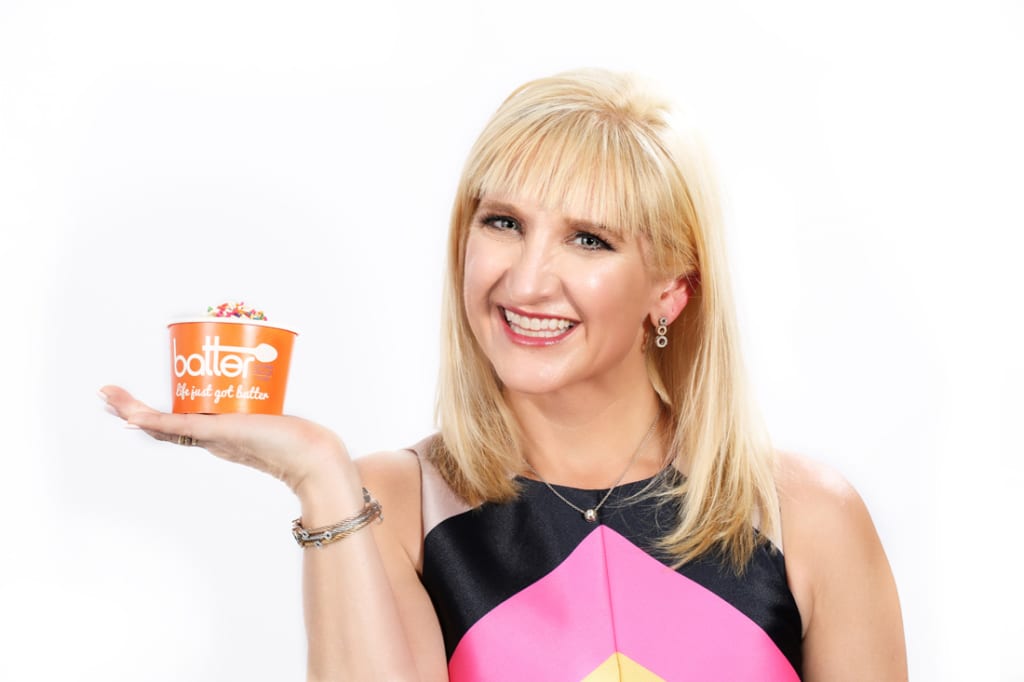 STORY: Jill Becker
PHOTO: Sara Hanna
"That could be my personal motto," says the 48-year-old Sandy Springs resident, who opened her dessert shop selling scoops of cookie dough six months ago. Designed to be eaten raw, just as you did as a kid whenever your mom whipped up a batch of homemade cookies, Batter's scoops come in 12 flavors and can be topped with everything from sprinkles to M&M's to crushed pretzels. And the uncooked dough is totally safe to eat because it's eggless and made with heat-treated flour, so there are none of those nasty bacteria concerns you've heard about in the news lately.
How did the idea for Batter Cookie Dough come about?
A year ago, I took my daughter to a cookie dough place called Dō in New York City, because she wanted to check it out. There was a line all the way down the street; it was a two-hour wait. I saw that it was clearly going to be a new craze. I came home and told my husband, David, I wanted one in Atlanta, and I wanted to be the first to market. I opened Batter Cookie Dough six months later. I'd been doing the same thing for 25 years [Abes was a full-time speech pathologist] and had been thinking about something different, and the opportunity presented itself.
Your husband is COO of Buckhead Life Restaurant Group. Did he offer any help or tips?
Yes. He's been in the restaurant business in Atlanta for 30 years and has all the contacts. He knew exactly what we'd need. Your kids were almost all grown and out of the house when you started Batter Cookie Dough.
Did you ever think about just kicking back at that point?
No, I have a lot of energy. I can't relax. The concept seems to be a hit so far. We serve up to 900 people a day. In total, we sell around 10,000 scoops a month. We're also doing a popup counter at Avalon in Alpharetta through October.
What's the most popular flavor?
Chocolate chip. Lots of people call it the "regular" flavor. It's like the Kleenex of cookie dough.
What's your favorite flavor?
Cookies and cream. Or peanut butter.
What's a flavor of dough you're dying to make?
We want to do a kitchen sink cookie dough, with all of the toppings already mixed in it.
If you could eat only one thing for the rest of your life, what would it be?
Sushi.
What's a food you detest?
Red meat. I haven't eaten meat in 30-plus years. I also hate olives and raw tomatoes.
What are your go-to restaurants in Buckhead?
Tuk Tuk Thai, Umi and Cape Dutch.
Name your favorite kitchen tool.
The hand mixer I got as a shower gift when I got married almost 25 years ago.
I'm currently reading …
We Were the Lucky Ones.
I'm currently binge watching …
Younger.
Every day I …
Work out. I wake up and put on exercise clothes. I have to sweat every day.
I unwind with …
A good glass of Prosecco. I like the bubbles.
People would be surprised to know that I …
Would have been an actress if I could have. But my parents discouraged it. In fact, I'd love to take an improv class sometime.
It's on my bucket list. I crave …
More time with my friends and family. There's never enough.
A pet peeve of mine is …
People who wear makeup and perfume to the gym. And people who don't smile.
My hobby is …
I love to craft things. I keep a stash of ribbons, stickers, all that sort of stuff. Give me a hot glue gun, and …
BATTER COOKIE DOUGH COUNTER
battercookiedough.com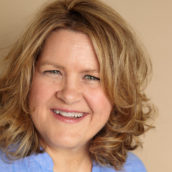 Jill Becker
Award-winning writer and editor who has penned stories for CNN, Woman's Day, Good Housekeeping, and dozens of other outlets.