Hot handbag designer Alexandria Alli reveals what's in her own bag…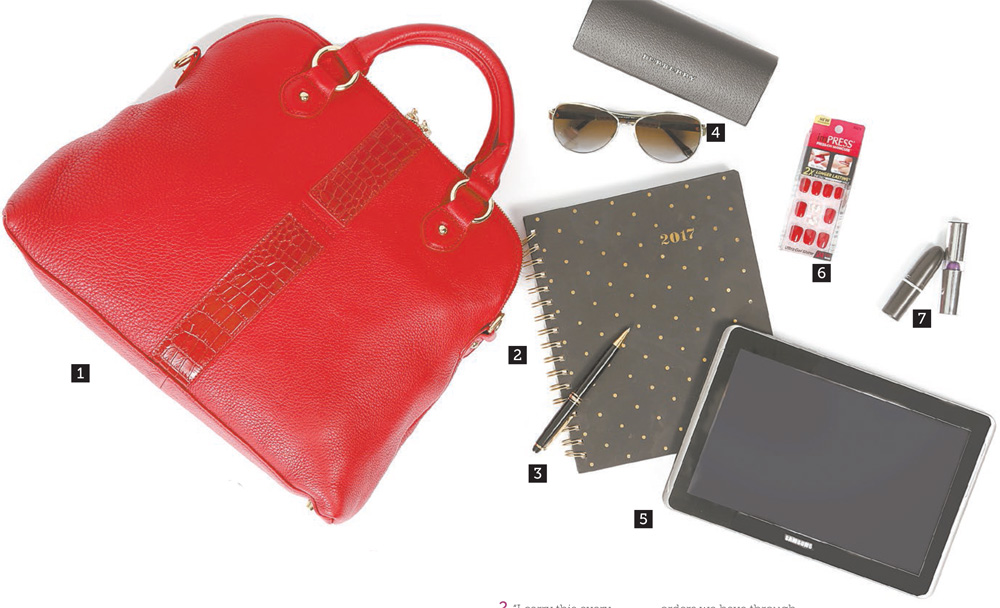 Alexandria Alli is steadily growing her luxury handbag empire. Celebrities such as TV personality Nene Leakes and singer Christina Milian have been seen rocking the Buckhead resident's label, F&W Style.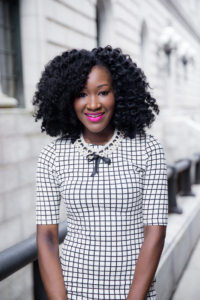 Originally from Nigeria, the former model has called Atlanta home since the age of 13. Alli exhibited an early knack for fashion when was she worked in her mother's Nigerian design studio. When she earned an MBA from the University of West Georgia, her husband gave her the initial push to start her own business after seeing some of her handbag sketches. In 2009, Alli took his advice and launched F&W Style, a luxury leather handbag line that she personally designs. With prices ranging from $145 to $325, F&W's bright styles can be found locally at The Ritz-Carlton, Buckhead gift shop.
"My handbag inspiration really comes from women around me," Alli says. "I add a lot of color into our collection, including the hot pink lining that's in all of our handbags."
Here, Alli dishes on the essentials she carries daily in her own purse:
1 "I've been carrying our red Chloe bag a lot. It's made with pebble grain leather and our signature croc-embossed leather. I chose this bag because it's soft, but it also has some structure to it. I can take it from a business meeting to lunch with my friends or a play date with my kids. I can wear it throughout the day, and it still feels polished and put together."
Chloe Tote Handbag, $325, The Ritz-Carlton, Buckhead
The Ritz-Carlton, Buckhead
3434 Peachtree Road
Atlanta 30326
404.237.2700
ritzcarlton.com
2 "I carry this everywhere. Every morning, I list all the things that I need to do that day, and I always refer back to it because life happens. It helps me to know what I'm supposed to be doing."
Sugar Paper 2017 Monthly/Weekly Planner, $15, Target
Target
Lenox Marketplace
3535 Peachtree Road
Atlanta 30326
404.237.9494
target.com
3 "To go with my planner is a pen that my dad gave me when I graduated from college a long time ago. It's kind of my lucky pen that I carry to all of our meetings with buyers."
Meisterstuck LeGrand Black Ballpoint Pen, $465, Montblanc
Montblanc
3393 Peachtree Road N.E.
Atlanta 30326
404.231.4810
montblanc.com
4 "This is a pair that I carry when I'm not wearing a lot of makeup. It makes you look polished even though you're not."
Burberry Aviator Sunglasses, $240, Nordstrom
Nordstrom Phipps Plaza
3500 Peachtree Road N.E.
Atlanta 30326
404.442.3000
shop.nordstrom.com
5 "I have everything on here. I use it for my sketching, and I put my notes on it. I use it for my emails or for line sheets to see what orders we have through on our website. I can do all of that through here."
Samsung Galaxy Tab 2, $599, Best Buy
6 "I'm always on the go, and I cook a lot. Even at the studio, I'm always packing stuff or sending stuff to editors. I don't always have the time to get my nails done, and these Impress nails are a lifesaver. If I'm on the way to a party, I can put these on, and they'll stay on for a week. They're really great."
Impress Press-On Manicure, $6, Walgreens
Walgreens
2893 Peachtree Road N.E.
Atlanta 30305
404.841.5605
walgreens.com
7 "I like bright-colored lipsticks. I use an Atlanta- based cosmetic brand called Revel. I went to a show one time and found this brand, and I really like the lipsticks. I'm also using Ruby Woo by Mac. It's one of those things that, when you put on a red lipstick, it just makes your day better. I'm a big believer in that. It's a classic yet modern color."
Siren Lipstick, $16, Revel by Julian Lark Mac Ruby Woo Lipstick, $17, MAC Cosmetics
Mac Cosmetics
Lenox Square
3393 Peachtree Road N.E.
Atlanta 30326
404.231.2800
maccosmetics.com
Revel by Julian Lark
3688 Clearview Avenue
Suite 200
Atlanta 30340
revelbyjl.com
STORY: Ashley Barnett
PHOTO: Sara Hanna