Savoring small plates and big flavors at Eclipse di Luna
It's been several years since I've reflected on the days I worked the line in a restaurant, but it came to mind the other night while eating at Eclipse di Luna. The trigger was the bits of mise en place (French for "everything in its place")—so fresh and ubiquitous it was on each and every plate and I couldn't help but consider the enormous amount of work involved. It's just one of the many things that inspires at this festive Buckhead joint at the end of posh Miami Circle.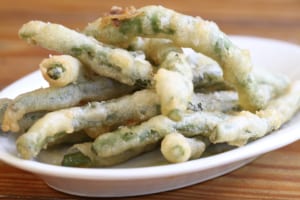 On this particular evening, the house was packed and loud. But the noise soon became inconsequential; everyone was too jubilant to mind. In fact, the moment you cross the Eclipse threshold, it feels as though you've been transported to a street party in Madrid. (There's live music and dancing nightly.) Half the fun is perusing the list of ridiculously affordable tapas. The other half is the fact that the food on those little plates is so surprisingly good. But first, the libations. Mine was a Spanish mule, made with Don Q Añejo rum, ginger beer and fresh lime juice. Talk about a blissful marriage, especially as a companion to the tapas. We began our repast with ceviche de ahi atun—more of a fusion dish than authentic tapa that came lightly dressed with a ponzu, soy and sesame sauce; pinches of habanero and cilantro for kick; and crunchy corn nuts. A raw tuna appetizer is nothing new, but what impressed were the cold, paper-thin slices of jalapeño and crunchy radish. Add the salty malanga chips, and you can see what I mean by impressive mise en place.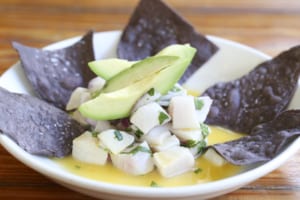 The youngest at our table insisted that pasta be present at this grown-up party. And guess what? The macarones con tomate seco y queso was muy bueno! Yes, it was "mac and cheese," but the al dente orecchiette came in the ultimate cheesy sauce (manchego, fontina and goat) with bits of smoky sun-dried tomatoes and green peas. We adults abandoned any sense of prejudice after the first bite.
Next up was something I've often made myself: gambas al ajillo. Unfortunately, their version lacked deep garlic flavor, and the protein was lukewarm and a smidge overcooked. It probably wasn't a great idea to order two dishes I've made dozens of times, but eyeing the pimientos rellenos con queso de cabra on my neighbor's table was too tempting. The dish was a bit tepid, but the coating stayed miraculously crisp throughout the meal. The petite piquillo peppers were sweet and perfectly roasted, and the honeyed goat cheese was a cool, creamy complement.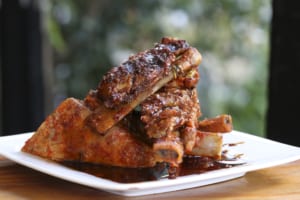 The table favorite was the not-too-distant BBQ cousin costillas españolas—piquant, balsamic-sauced spare ribs priced at just $6.95. Solid and delicious the first night, the ribs mellowed in both acid and sweetness by next day's leftovers. (In other words, don't be afraid to take home a tapas doggie bag.)
My second visit was at 2 p.m. on a Wednesday—the perfect time, I reasoned, to find out if the kitchen was up to snuff. What I wanted was a salad. The ensalada de manzana offered plenty of components to judge if the kitchen was paying attention during this siesta hour. It was a good choice, with crisp Granny Smith slices, ruby radicchio, peppery arugula and all the other little doodads that make a salad lunch-worthy. I took a gamble on the follow-up: vieras asadas cocidas. Consisting of pan-roasted scallops with chorizo, Peppadew peppers and charred corn, it was another great example of first-rate mise en place, but the scallops weren't as fresh as they should have been.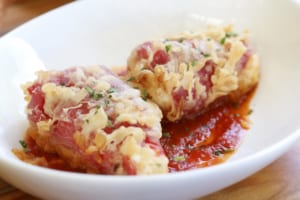 The last meal commenced with a Bacardi mojito. Muddling, shaking and tumbling more than 200 of these drinks on any given night, it's no wonder the bartenders are such pros. My foodie friends bristled at the idea of ordering fried calamari, but I pleaded with them, "Hey, we're on Miami Circle, at the most downto- earth place on the block. And what's more down-to-earth than calamares fritos?" The paprika-dusted calamari weren't overly chewy and had just enough heat to make things interesting. A tip: Put the pico de gallo in a side dish to avoid water logging the calamari. The plates of ejotes crujientes (tempurastyle green beans) and pan Catalán (toasted ciabatta bread) were probably superfluous since we ordered paella del día, but as the latter took 30 minutes to prepare, we figured a few extra nibbles wouldn't hurt. The green beans were a hit—crisply fried and dusted with snowflake-like sea salt crystals. We could've skipped the ciabatta with tomato purée, although it wasn't entirely without some old school cafeteria-esque charm. The paella del día arrived steaming hot with saffron infused Calasparra rice and brimming with mussels, shrimp, chicken and chorizo cooked in homemade seafood stock. It was fresh, authentic and inspiring. The illusion of transatlantic transport was complete.
ECLIPSE DI LUNA
764 Miami Circle N.E., Atlanta 30324
404.846.0449
eclipsediluna.net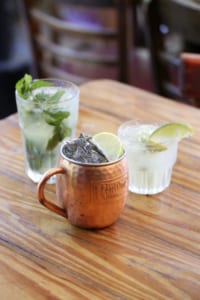 Prices: Tapas: $2.95-$14.95 (most in the $5-$8 range). Large plates (for two or more): $20-$24.
Recommended dishes: Ceviche de ahi atun, pimientos rellenos con queso de cabra, costillas españolas, manzána, calamares fritas, ejotes crujientes and paella del dia.
Cocktails: Bacardi mojito, caipirinha and Spanish mule.
Bottom line: Stick with the basics—a great cocktail and a few favorite tapas—and you won't be disappointed.
STORY: Rebecca Cha
PHOTOS: Sara Hanna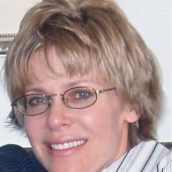 Rebecca Cha
Food, beauty and interiors writer at Simply Buckhead. Linguist, teacher, chef, parent.