A sampling of great eats in and around Buckhead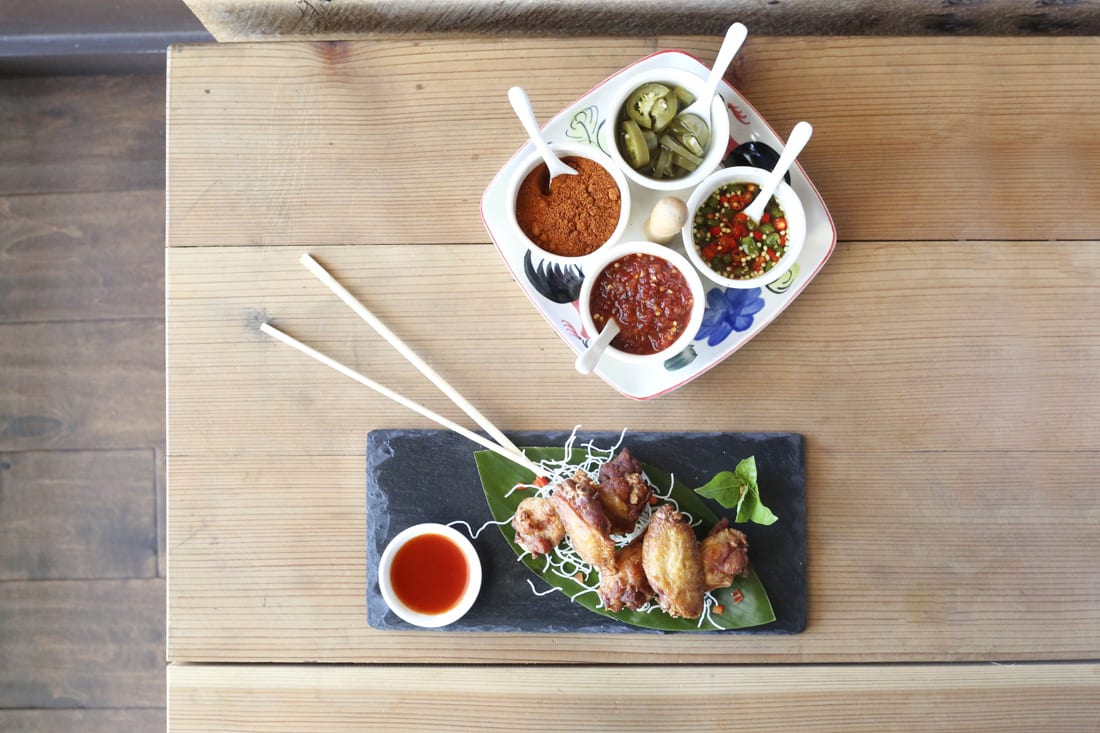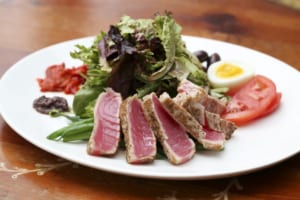 ANIS CAFÉ & BISTRO
Anis is everything you'd hope to find in a French bistro, without having to buy a plane ticket to France: traditional Provençal dishes, relaxed patio dining and often a small congregation of French-speaking diners to help set the mood. Grilled North African-style Merguez sausage, coquilles St. Jacques or a bright, crisp salade d'Arnaud (named after the owner) are all winning starters. Entrées of truite meunière, poulet rôti and boeuf au poivre are sure to bring you back to that quaint Provençal village square. Best-in-class items are the croque monsieur, salade Niçoise, moules marinières and not-to-be-missed chocolate mousse. The time to visit is now, before Pharr Road real estate development triples the wait time for a table.
Lunch entrées: $8-$19
Dinner entrées: $8-$35
anisbistro.com
BABYLON CAFÉ
When Iraqi native Saad Marwad and his wife, Kelly Rafia, opened Babylon Café in 2014, the city's foodie community started to buzz about the couple's fresh, flavorful repertoire of Middle Eastern classics, from falafel and hummus to kebabs and baklava. While the starters are quite good—try the fattoush salad, the lentil soup and the eggplant badenjan— the earthy, long-simmered stews are unlike anything else in town. We like the herb-based qurma sabzi with super-tender lamb shank and the bamia (okra and tomatoes) with oxtail. Don't leave without a sip of the anise-flavored aperitif called arak and a bite of kanafeh, a sweet made of shredded phyllo, housemade sweet cheese, rose- and orange-water syrup and pistachios.
Appetizers and sides: $2-$7
Entrées: $12-$20
babyloncafeatl.com
BANGKOK STATION
Of all the restaurant staffs in Buckhead, these folks may be our favorite. Polite and accommodating to a fault, they make it nearly impossible not to enjoy its exotic comfort food. Whether you eat in the cavernous dining room or out on the sexy, music-infused patio, starters such as peek gai tod, thoong thong and Crying Tiger will crush any doubt you may have about whether there's good Thai food down South. For more substantial but no less authentic fare, dig in to the massaman and panang curries, Drunken Man noodles or our favorite Thai chicken dish, gai yang som tum. Save room for homemade coconut cake; it's as sweet and genuine as the staff's warm invitation to return again soon.
Starters, soups and salads: $7-$23
Curries, sautés and noodle and rice dishes: $14-$23
Main entrées: $19-$32
Desserts: $5-$9
bangkokstationthaifood.com
CAFÉ LAPIN
Like a Parisian patisserie with a bit more legroom, Café Lapin is a lovely place to savor handmade baked goods or spoon to the bottom of a definitive, cheese-encrusted crock of French onion soup. A small business surviving largely on word of mouth, Café Lapin is a casual, moderately priced restaurant where lunch is never an afterthought. You may get a serious cheeseburger and fries or an elegant slice of asparagus tart. Quiches are standard-setting—the crust is arguably the best in town—and selections vary daily, from Lorraine to mushroom and onion to ham and asparagus. Café Lapin is such a delightful addition to the city … only problem is, it might be habit-forming.
Lunch entrées: $7-$12
Dinner entrées: $10-$22
cafelelapin.com
DAVIO'S NORTHERN ITALIAN STEAKHOUSE
With its handmade pasta, terrific steaks and foundation of classic Italian dishes, the Atlanta outpost of Massachusetts-based chef-preneur Steve DiFillippo sets a higher-thanusual standard for a mall restaurant. Fine-food lovers flock to Phipps Plaza for Davio's delicious fried calamari, tagliatelle Bolognese, and warm spinach salad like ravenous shoppers on the hunt for Louis Vuitton bags, Tiffany silver and Dior gowns. And they can do no better than the buttery medallion of impeccably grilled top sirloin, slathered with Gorgonzola and paired with wilted spinach and sea-salt-andtruffle- oil fries. No wonder the Davio's menu is as tantalizing as the shoe department at Nordstrom.
Appetizers and salads: $9-$16
Pastas, entrées and steaks: $18-$48
davios.com/atl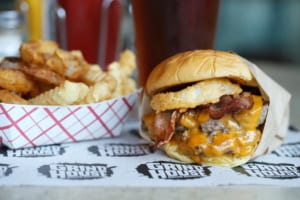 GRINDHOUSE KILLER BURGERS
The Piedmont Avenue location of burger-preneur Alex Brounstein's success story is where you go for a superbly flavorful, juice-dripping, napkin-soaking beef patty with all the trimmings. Though you can customize your sandwich, consider the signature "Cowboy" treatment: cheddar, bacon, barbecue sauce and a beer-battered onion ring—for a slim $7.99. To gild the lily, add an order of Frings (that's fries and rings), and ask for a side of the chipotle ranch dipping sauce. Here you can quaff a draft brew, slurp down a boozy shake, like the banana-flavored Puddin' Out, or sip a "Snooty" cocktail such as the mezcal-based El Guapo.
Starters and sides: $2.50-$5.50
Burgers: $4.50-$7.99
grindhouseburgers.com
KYMA
The name means "wave," and that's exactly what executive chef Pano I. Karatassos has been doing at his family's stellar Greek seafood restaurant since 2002. From marides (tiny, "French fry"-size white fish) to Greek specimens grilled whole (try the barbounia or bronzino), Kyma excels at delivering the kind of simple, unadorned flavors you'll encounter on a patio by the Aegean. Order a glass of Greek wine (there are many options) and a few classic meze for sharing (we like the dolmades, spanakopita, cuttlefish stuffed with lamb stew and the fetazucchini fritters), and your meal will go just swimmingly.
Meze: $8-$14
Mains: $26-$46 (whole fish $30 or $36 per pound)
buckheadrestaurants.com/kyma
OK CAFÉ
Just as we send diners to Bone's for the definitive steakhouse experience, we suggest OK Café as a classic diner with a strong Southern twang. The offerings here are anchored in time and tradition: Root beer floats and cherry lemonades are called Black Cows and Pink Ladies. Meat-and-twos and veggie plates laden with silken collards and exquisite mac and cheese are meant to be washed down with sweet ice tea and sopped up with a perfect corn muffin. Fat slices of meatloaf encrusted with tomato sauce, roast turkey with cornbread dressing and gravy, chicken pot pie with an adorable little "OK" stamped onto its puff-pastry blanket—this stuff draws a crowd. If you don't want to play the waiting game, you'd better arrive before 11 a.m. or between the lunch and dinner rush. After a quarter-century, OK Café never goes out of style.
Appetizers: $4-$8
Burgers and sandwiches: $4-$13
Mains: $12-$16
okcafe.com
STARFISH
Starfish—which can look just a little lost on the block that houses Restaurant Eugene and Holeman and Finch—is exactly the kind of sushi joint we have been trolling for. In a city where Japanese cuisine can be hit-or-miss and sometimes not the freshest, chef-owner Seung K. "Sam" Park's reticent little pearl is a superior catch—cute and compact as a bento box but with just a hint of luxury. At dinner, we were delighted to see how the kitchen plays around with untraditional ingredients like truffle oil and balsamic vinegar, slicing fish as thin as carpaccio and arranging it in dazzling presentations. When our flounder sashimi arrived, the server told us to place a dab of the ponzu jelly spiked with cilantro, jalapeño and lime on a strip of the fish and roll it up. Exquisite. Starfish isn't the kind of place that announces itself with screaming klieg lights or red carpets. But in this culture of excess, sometimes being a little bit under-the-radar can be very seductive.
Lunch entrées: $7-$16
Dinner entrées: $12-$30
starfishatlanta.com
THE SOUTHERN GENTLEMAN
Both Southern food newbies and aficionados will take to this sexy gastropub, as smooth and easy as the finish of one of its primo bourbons. (If you're old school, go for the gloriously icy Resurgens mint julep; if not, there's no shortage of cocktail possibilities.) When your whistle's wet, dig in to favorite starters of spicy charred okra and PEI mussels in a whiskey cream sauce. Both will leave you smitten. Classics such as the shrimp boil, Springer Mountain half fried chicken and shrimp and grits with New Orleans barbecue sauce are all mouthwatering. And it wouldn't be Southern if there weren't sweets to make your toes curl in delight. Leave room for a nibble or two of brown butter cake or the favorite at our table— almond nougat semifreddo.
Small plates: $6-$12
Salads and sandwiches: $6-$13
Large plates (including brunch entrées): $13-$28
thesoutherngentlemanatl.com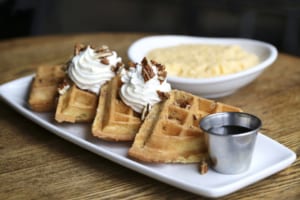 TREEHOUSE
Occasionally, sitting at Treehouse feels more like a cookout. Neighbors and regulars have been coming here for the familiar comfort food and laid-back atmosphere for more than 20 years. Brunch is a big deal, with a large menu and generous portions of favorites such as the Georgia pecan waffle and Southern style eggs Benedict covered with sausage gravy. It's all about the patio here, and dogs are welcome guests. The chef works to enliven old favorites with as much attention to the all- American fried chicken sandwich as the New York strip au poivre. He also curates a mighty fine list of craft beers.
Brunch: $8-$10
Appetizers: $3-$13
Burgers and sandwiches: $7-$10
Large plates: $17-$22
treehouseatlanta.com
BY: Wendell Brock, Rebecca Cha and Angela Hansberger
PHOTOS: Sara Hanna
Angela Hansberger
Drinks columnist at Simply Buckhead. Food, spirits, and culture writer.