HOW THE MAN KNOWN AS BATON BOB BRINGS SMILES TO THE FACES OF BUCKHEAD RESIDENTS
If you live or work in Buckhead or Midtown, you've no doubt seen him. Granted, it's hard to miss a 5-foot-11-inch, 200-pound man jubilantly prancing down the street blaring a whistle and twirling a baton while wearing a tutu, wedding dress or other flamboyant outfit. Bob Jamerson, known around town as Baton Bob, is a street performer who has become a bit of a local celebrity over the years. Ask anyone who drives up and down Peachtree, Pharr or other major streets where he performs each day, and they'll surely be able to recount a Baton Bob sighting. He's so iconic that a local company called 404 Proud recently emblazoned his image on a limited edition T-shirt.
The ironic thing is that someone who exudes so much joy was born from tragedy. In the '90s, Jamerson was working as a flight attendant out of St. Louis but was furloughed a month after the planes hit the Twin Towers on 9/11. Feeling lost, Jamerson saw a therapist, who suggested that when he got depressed, he should do something that would make him feel good. So Jamerson went into his closet, pulled out his baton from his high school days as a drum major, and went to an area park "to twirl my spirit out of its depression." The costuming came a few months later, but Jamerson knew almost instantly that he was on to something. "I didn't care if people laughed with me or at me," he recalls. "The point was they were laughing. When I saw people's reactions, I saw potential."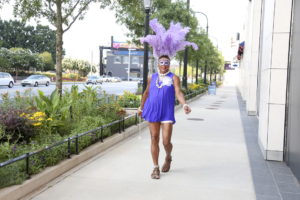 Now some 15 years later, and since relocating to Atlanta in 2005 and Buckhead in 2014, he has turned his Baton Bob character into a budding cottage industry. People hire him to lead parades and spice up everything from birthday parties to corporate events. He's also branching out into the wedding industry with the recent launch of Out of the Box Weddings with Baton Bob. Not only will he plan your nuptials, he'll officiate them, too. "People fly to Vegas to get Elvis to marry them," he surmises, "so why can't they fly to Atlanta and have Baton Bob marry them?"
What's a typical day in the life like for the man dubbed "Atlanta's best street performer"? Read on and find out.
7:30 a.m. Jamerson heads out to his morning AA meeting. "Last December I decided to take alcohol out of my life," he readily admits. "But instead of making it drudgery, I choose to look at the benefits I get."
9:30 a.m. He picks the cross streets where he's going to perform that day and posts them on his Facebook page so his fans know where he'll be. "I've focused on Buckhead the last two years," he says, "although I go to Midtown on Food Truck Fridays, and I've been adding in some downtown performances once a week." Jamerson specifically moved to Buckhead, he says, to add the Baton Bob flavor to the neighborhood. "It was in conjunction with all the new Rodeo Drive-style stores and restaurants that were opening," he notes, adding how the "old, stodgy" Buckhead is being bulldozed over in favor of a younger, hipper Buckhead that embraces his character with open arms.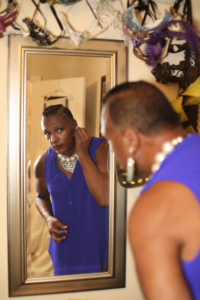 11 a.m. The transformation into Baton Bob begins. The entire third bedroom of his apartment is filled with racks of costumes and all of the baubles and beads, masks and headdresses he's amassed from thrift stores and other sources over the years. "Costumes make you feel a certain way. My favorite thing to wear is a bridal gown."
12 p.m. Baton Bob hits the streets. "I march the whole way," he says, referring to the miles-long route he picks each day. Along the way, he'll stop for a water break at the InterContinental or W hotel or one of his other favorite rest stops.
2 p.m. Once back home, Jamerson typically spends the next few hours checking e-mails and handling other business.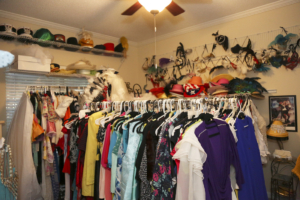 4:30 p.m. Today Jamerson has a side gig, so he heads downtown to the offices of Phase 3 Marketing, whose execs have hired him to perform at a monthly staff party. Wearing an embroidered corset, pink and white tutu, feathered mask, heavy black boots, stacks of pearls and red lipstick, Baton Bob is whisked up the elevator to the waiting guests who begin whooping and cheering as soon as they see him. After picking a song to play on his boom box, he grabs his baton and begins his elaborate twirling routine. Afterward, he mingles with the crowd and poses for countless photos, and at least three people tell him how it always makes them smile whenever they happen upon him performing as they're winding their way through traffic.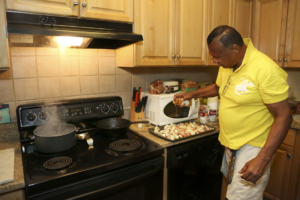 6:15 p.m. It's time to start thinking about dinner. "I love to cook," Jamerson says. His husband, Gary, a former chef who now works at a machine shop in Decatur, loves to man the grill. Jamerson admits he has to watch what he eats, though, in order to fit into the corsets and other figure-hugging outfits he wears.
8 p.m. Once or twice a week, Jamerson heads, in full Baton Bob regalia, for a cup of tea at one of his favorite area hangouts: Gypsy Kitchen, the Southern Gentleman or the lounge at the St. Regis. But most days end with Jamerson's taking a warm soak in the tub. All that marching obviously keeps him fit, but at 64, it's not as easy as it used to be. Of course, he's not about to let a few aches and pains deter him from doing what he loves. "What I do isn't a job, it's a blessing."
STORY: Jill Becker
PHOTOS: Sara Hanna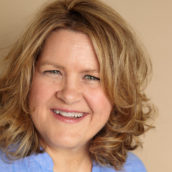 Jill Becker
Award-winning writer and editor who has penned stories for CNN, Woman's Day, Good Housekeeping, and dozens of other outlets.