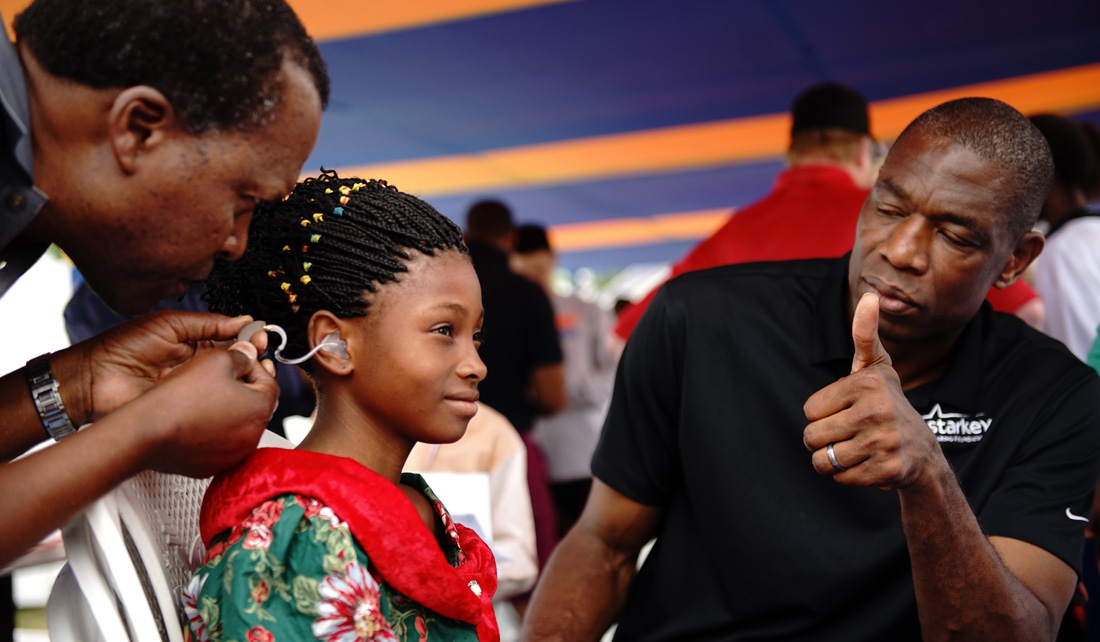 From all-star athlete to all-star philanthropist.
Giving back is part of Dikembe Mutombo's DNA. At 7 feet, 2 inches tall, the NBA legend towers over a crowd and speaks with a deep voice that seems to rumble from the bottom of his size 22 shoes. The Buckhead resident also boasts a list of honors longer than his famous 7-foot, 6-inch wingspan.
As a player, he was named to the All-Star team eight times and was the four-time Defensive Player of the Year. Today, he uses his celebrity and earnings from years on the court to make a difference in the lives of others in his native country, the Democratic Republic of the Congo. On Sept. 17, The Dikembe Mutombo Foundation (DMF), which he founded in 1997, is hosting the Caring for Congo gala at the St. Regis Atlanta. It's the organization's largest annual fundraiser, raising much needed aid for Mutombo's beloved birthplace.
Born in the Congo's capital, Kinshasa, the seventh of Samuel and Biamba Marie Mutombo's 10 children, he came to the United States in 1987 to attend Georgetown University on an academic scholarship. His passion was to earn a medical degree and return to the Congo where healthcare was rare to non-existent.
During his sophomore year at Georgetown, Mutombo joined the basketball team and made history. Realizing that the money he could earn as a professional player would make a far bigger impact than one doctor for a population of nearly 77 million, he changed his major to linguistics (he speaks nine languages) and diplomacy. Both have served him well in his pre-and post -years with the NBA, where he competed for 18 seasons on six teams, including the Atlanta Hawks.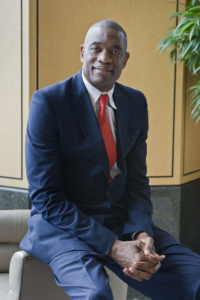 Giving back has been his trademark since he entered the NBA in 1991 and became a spokesperson for CARE. In 2009, he was appointed to the newly created position of Global Ambassador and works with NBA Cares to bring attention to important social issues.
On July 28, Mutombo received the 2016 MedShare Humanitarian Award from the organization that works to strengthen global healthcare systems. But the achievement that brings him the greatest joy is building Kinshasha's first hospital in 40 years. Completed in 2007, it's named after his mother, who died of a massive stroke at 64.
"My mother was such a special lady that every first daughter born to family members is named Biamba," Mutombo says. "At a family reunion in Atlanta, if someone called the name, 'Biamba,' responses came from all over the room."
DMF and the hospital have made significant contributions in the Congo. To increase the longevity of the population and stem the tide of childhood deaths, the organization is distributing insecticide treated mosquito nets, immunizing children, donating tons of clothing and shoes to orphanages and schools and digging water wells to bring clean water to remote villages. Mutombo spent most of July in the Congo with partner organizations such as the Starkey Hearing Foundation that fitted 3,000 patients with new hearing aids, and female surgeons from the Women Orthopaedist Global Outreach organization that performed 70 knee replacements. He also recruited the Cervical Cancer Prevention Program in Zambia to conduct the Congo's first cervical cancer screening program. Thanks to Mutombo, the nonprofit Restoring Vision also donated thousands of reading and sunglasses to those in need.
The athlete-turned-philanthropist's fame has opened many doors: meetings with sitting presidents at the White House; speaking to Congress; serving on the board of directors of the Centers for Disease Control and Prevention (CDC); and recruiting skilled medical professionals to perform pro-bono surgeries and teach up-to-date skills to the staff at the Biamba Marie Mutombo Hospital and Research Center.
"A hospital is no longer a place to go to die," Mutombo says. "It's become a place to recover and live."
For more information on DMF or its largest annual fundraiser, the Caring for Congo gala at the St. Regis Atlanta on Sept. 17, visit dmf.org.
A COUNTRY IN NEED
The average life expectancy in the Congo is 47 for men, 51 for women.
Out of every 1,000 deliveries, 13 women die in childbirth.
Half of the kids under the age of 7 die each year from preventable diseases.
Nearly half the children are not in school because those 5 to 14 are often forced to work in copper and diamond mines.
Less than half the population has access to clean drinking water or electricity.
Each year, nearly 180,000 children under age 5 die of malaria, the country's No. 1 killer.
Source: The Dikembe Mutombo Foundation
STORY: Mickey Goodman
Mickey Goodman
Award-winning Ghostwriter, Journalist, Content Creator.