WINTER COCKTAILS THAT WARM FROM WITHIN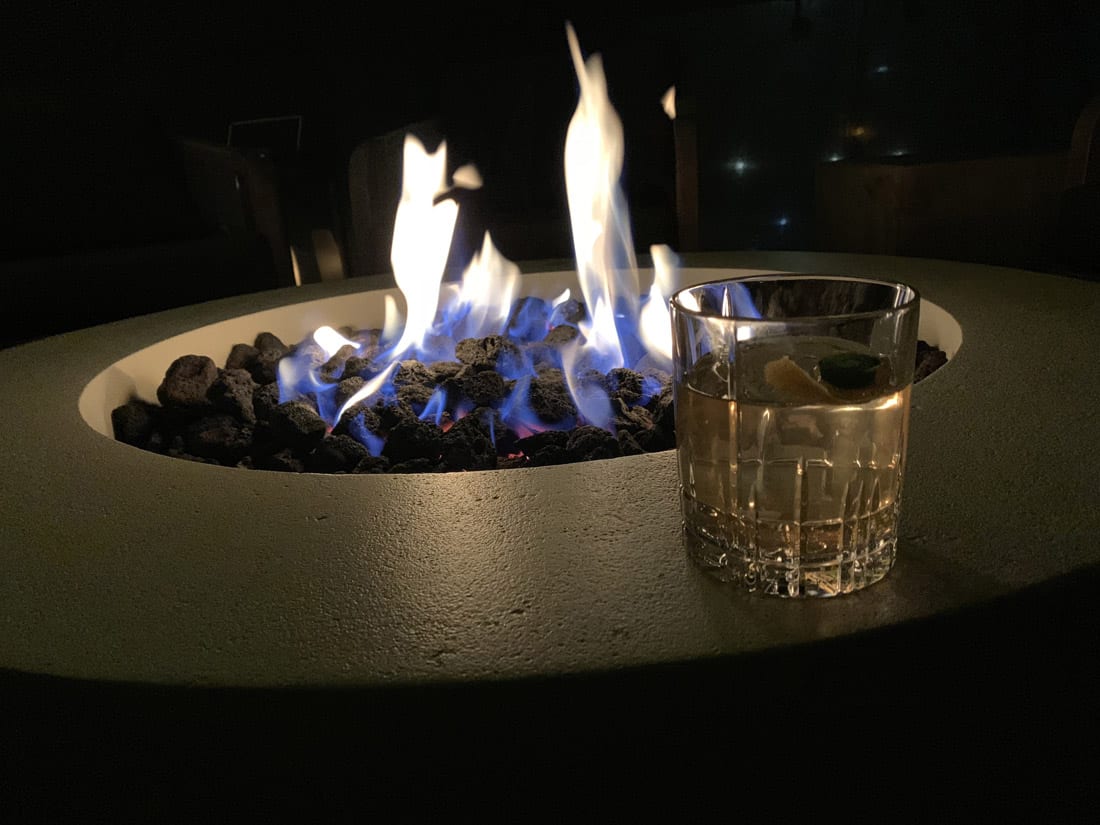 STORY: Angela Hansberger
As the seasons change, so does our quest for pleasing cocktails. During summer, we gravitate towards bright, refreshing and even frozen libations. But when leaves fall and winnowing winds come, we yearn for drinks that add warmth much like that of a cozy sweater.
A hot toddy is a delightful way to ward off the chill, but a cocktail doesn't need to be heated to have the same effect. Rather, you can introduce the smoky, earthy aromas of a campfire or turn up the heat with spice and other fiery ingredients.
This is the time of year bartenders change up ingredients to balance and round out a cocktail for a full-body experience to warm guests up from the inside. At the lavish bar at Arnette's Chop Shop, for instance, the perfect complement to having drinks next to the fire pits out on the open-air terrace is the Smoke in the Valley, a mezcal and rye concoction tempered with bitters and Lazzaroni Amaretto, an Italian liqueur boasting the zing of brown spices, roasted almonds and pink peppercorns. A single jalapeño slice floats in the boozy mix of slight earthy smoke and baking spices that still satisfies whiskey purists with its strong character.
"I always try to make sure none of our cocktails are two-dimensional," says Colton Wright, who oversees the beverage program at The Iberian Pig in Buckhead.
To ensure the flavor profile spans several categories while also conjuring the season, he created the vodkabased drink Amigo, the Devil. "Amigo definitely hits the fruit note with passion fruit and lime, vegetal with the incorporation of jalapeño and Peychaud's (bitters) for baking spice," he says. "I try to make sure the flavors are there but blended and intertwined enough to make you stop and think about what you're tasting." He serves the cocktail in a capped glass bottle for a fun twist.
A traditional, complexly flavored Mexican molé is just the bubbling sauce winter calls for. You can get a similarly flavored cocktail called the Cocoa Molé at Southbound. "We chose to focus on a few of the base flavors of chocolate and chiles," says beverage director Jeff Banks. He chose Tempus Fugit Crème de Cacao as a chocolate component and Ancho Reyes chile liqueur for the heat. "We also added subtle smoke with Pelotón de la Muerte mescal," says Banks. "The last thing we add is lemon juice, which livens up the drink and ties it together."
DETAILS:
Arnette's Chop Shop
2700 Apple Valley Rd. N.E.
Brookhaven 30319
404.969.0701
arnetteschopshop.com
The Iberian Pig
3150 Roswell Rd. N.W.
Atlanta 30305
404.994.4990
theiberianpigatl.com
Southbound
5394 Peachtree Rd.
Chamblee 30341
678.580.5579
southboundatl.com
Angela Hansberger
Drinks columnist at Simply Buckhead. Food, spirits, and culture writer.