An entrepreneur transforms a cramped cottage into a charming family home.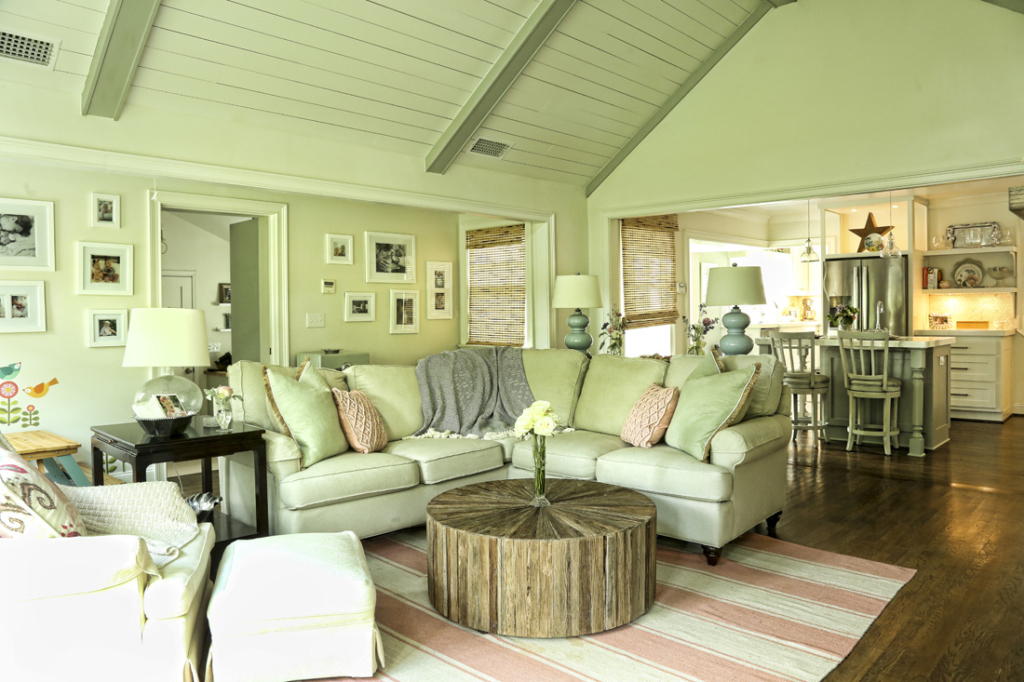 Atlanta native Brooke Henze infuses her giving heart and creative mind into everything she does. A former sustainability consultant, she is the founder of Swell Forever, an online business that designs "ever after" heirloom gifts and creates personalized fabric message tags for its American-made "Forever Blankets." The brand is also used as a platform to increase awareness for foster care and raise funds for families who wish to adopt.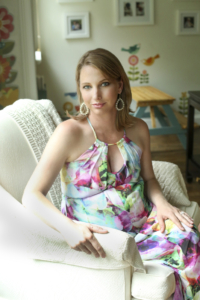 "I always knew I would start something from scratch and always wanted to have a very strong philanthropic component to what I did," says Henze, who graduated from the University of Georgia and earned an MBA from Duke University.
The busy mom of two girls—2-year-old Isla Lane and just-born Evey Lyn—is also an avid home renovator who chronicles her design work on Instagram. Over the past four years, she and her husband spearheaded three major renovations—all without an official contractor—to salvage a once dilapidated 1940s ranch in Sandy Springs. When they purchased the 1,200-square-foot home in May 2012, the three-bedroom, one bathroom bungalow was uninhabitable, but the price tag and proximity to family convinced Henze to take a leap of faith. In fact, her mom talked her into buying it.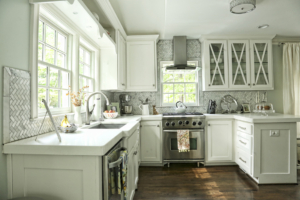 "It had no kitchen. It was stripped to the floor and studs. It didn't have a bath; it had been ripped out. And the windows were open for months before we bought the house," Brooke says. "I agreed to buy it, and my husband was like, 'OK, as long as we can flip it or move when we want to.' He'd never been in the house before."
The first renovation aimed to make the home livable, replacing all the old utility systems, gutting the interior and adding a master bedroom. The second renovation, started in August 2013 while Brooke was pregnant, removed one of the two front bedrooms to expand the kitchen and added a living room with a vaulted ceiling and a screened porch. They also attached the once detached garage to create an office, laundry and storage space. The third facelift occurred in the summer of 2015. This time, Henze finished out the small upstairs with an additional bedroom, full bath and play loft. She also converted the formal living room into a bedroom, expanding the home's footprint to four bedrooms and three full baths, and added a new screened porch since the old one had to be enclosed to connect their master bedroom to the rest of the house. The old screened-in porch was then transformed into a "reading nook" with a see-through fireplace looking into the living room.
"That was the hardest renovation by far," Henze says. "It's painful to have an old home. You get charm, but you also get a lot of pieces."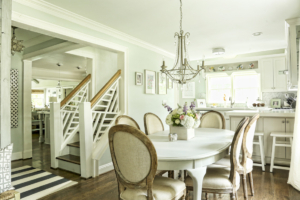 Step inside Henze's more than 3,000- square-foot abode today, and you'll arrive in an open interior that is pretty, classy and simply fun. The foyer, with walls of grayish, whitewashed wood, leads into a chandelierlit dining room and kitchen that feature an Arabescato Carrara herringbone pattern marble backsplash and pure white LG quartz countertops. There's also a professional grade KitchenAid range Henze purchased for "peanuts" off Craigslist. Around the corner is the kitchen island topped with Calacatta Gold Carrara marble—Henze's "splurge."
Further exploration reveals rooms adorned in refinished thrift-store, estate-sale and clearance-rack finds mixed with HomeGoods decorations as well as whimsical DIY creations. For less than $200, Henze crafted a beaded chandelier by hand for the living room, where Swell Forever blankets are ready to be cuddled with on the sofa. Behind the main seating area, you'll find Isla's kitchenette set (from Pottery Barn but bought second hand from a friend and painted) and kid-sized Target picnic table. The fun continues on the other side of the see-through fireplace, where the former screened porch is a sitting area outfitted with hammock chairs, a kids' craft table and large French windows overlooking the spacious backyard and newly added screened porch—the perfect place for a weekend barbecue, something the Henzes are always happy to host.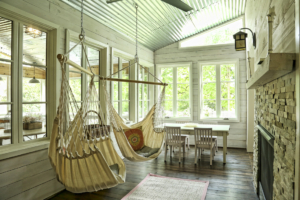 "I feel if you have something beautiful to share, you should share it," says Henze, who recently hosted her parents' 40th wedding anniversary celebration and has held countless baby showers in the house. "For me it's not just, 'I want this pretty home to stare at by myself.' It's more that I want to have a space I can share with others, and that's why I'm such a big fan of entertaining."
When the party is over, Henze will be found in the master bedroom, soaking in the window-side claw-footed tub she bought from a tub refinisher and that coincidently features feet embossed with Bs. From this relaxing spot, there is a view of the Ballard Designs Orb Chandelier (bought on clearance), Ballard Outlet whitewash headboard and pops of color from Bari J. floral prints, Anthropologie shams featuring Charleston-based artist Lulie Wallace's blooms and decorative pillows from Target and Etsy. Although you'd think this space would be Henze's favorite, that honor deservedly belongs to Isla's nursery, a girly room with Anthropologie's Watercolor Flora Wallpaper, a refinished antique bed and heirloom wicker rocking chair.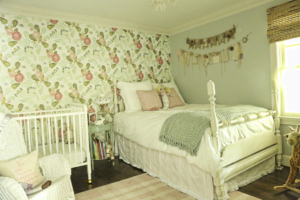 "My favorite room has always been my daughter's nursery," Henze says. "I had three miscarriages before her, so by the time I did have her, I was like, 'Oh my gosh, I'm having a baby; this is real.'"
Henze has worked hard to make her vision of a family and career a reality, creating a dream come true as a mother and entrepreneur in a home she truly loves.
"Anyone can create a pretty home, but the story behind it will be a part of the home for a long time," Henze says. "All our friends have seen our home through the different stages. I've been pregnant during renovations, and I've had a baby during renovations." In other words, it's all been a labor of love.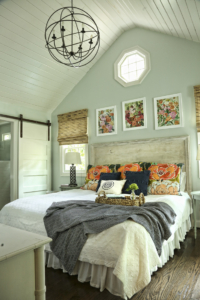 Top 5 places to find deals while decorating your home:
1. Kudzu on Roswell Road: "I always wanted a Moravian star light in my home as a nod to my North Carolina roots and found a unique one at this location. I also found my outdoor dining room table and vintage decor."
2. Ballard Design Outlet in Buckhead and Roswell: "I found a lot of my furniture, rugs, lighting, etc., by regularly visiting and grabbing items as soon as they hit the floor— back before kids, of course!"
3. Estate Sales: "I use Estatesales.net to see what's going on in Sandy Springs, Buckhead and Brookhaven and bought my daughter's vintage bed and curio cabinet, as well as random chairs, at these events."
4. Brush Strokes in Roswell: "I found my Annie Sloan chalk paints here for my kids table redo, and the staff is amazing."
5. HomeGoods off Abernathy and Mt. Vernon: "What have I not found here?"
STORY: Giannina Smith Bedford
PHOTOS: Sara Hanna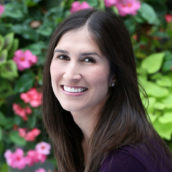 Giannina Bedford
Giannina S. Bedford is multi-faceted writer and editor. Her work covers design, travel, food and business. She's penned Simply Buckhead's home feature since inception and held a variety of editorial roles at the magazine. Her freelance work has appeared in Condé Nast Traveler, USA Today, Virtuoso Life, Hemispheres and TravelandLeisure.com. She also contributes regularly Atlanta Business Chronicle. Fluent in Spanish, Giannina was born in Miami and grew up in Brazil, Chile, Hawaii and Australia. She currently lives in Dunwoody with her two kids and husband.