The Buckhead home of former Atlanta Mayor Andrew Young's son, Bo, and his wife, Angelica, is a treasure trove of family memories old and new.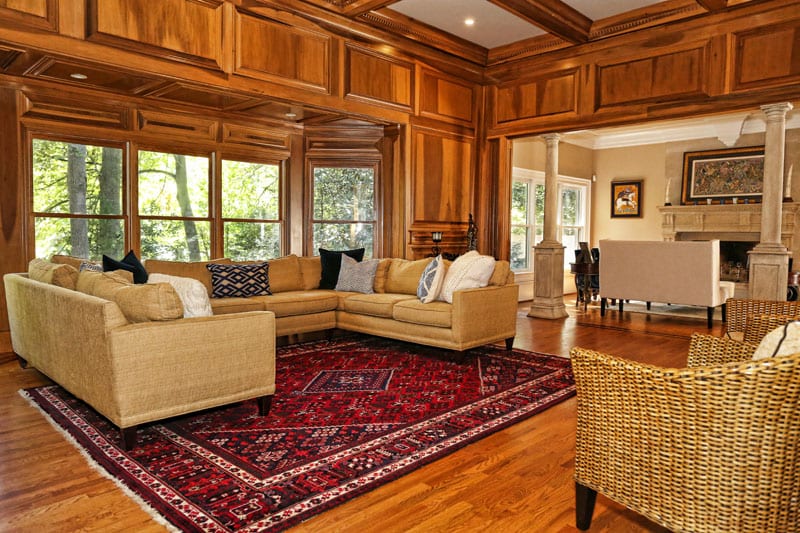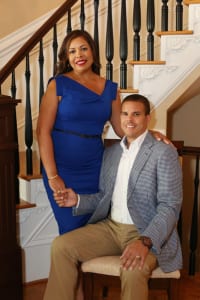 Bo and Angelica Young haven't lived in their Buckhead home for very long; the couple moved into the house a year ago for its proximity to the Atlanta International School, which their 5-year-old daughter and 3-year-old son attend. But already it's filled with more priceless family heirlooms and precious keepsakes than many homes will hold in a lifetime.
Bo, a self-proclaimed serial entrepreneur and a restaurateur who owns the Louisiana-inspired Bo's Kitchen in New York City, is the son of civil rights activist and politician Andrew Young and the late Jean Childs Young. Many of the items displayed throughout the home are precious mementos from his parents' high-profile careers— his father as a United Nations ambassador and Atlanta mayor, and his mother as an educator, children's rights advocate and First Lady of Atlanta.
The collection reads like a Smithsonian exhibit. In Bo's office, an oversized, signed black-and-white photograph of late family friend and tennis star Arthur Ashe mid-serve hangs in its frame to one side of a carved wood desk. To the other side hangs a large, black-and-white photo of Andrew Young alongside Martin Luther King, Jr. in Selma, Alabama.
Arranged on a wall adjacent to Young's desk are more breathtaking photographs, including one featuring a very young Bo perched playfully in the arms of then-President Jimmy Carter. At the time, the elder Young was serving as U.N. ambassador.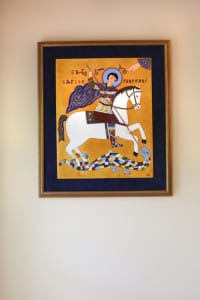 Another frame contains an 1800s black and white photograph of Frank Young, a Louisiana accountant and Bo's great-great grandfather. "And my grandfather was a dentist, and that's his World War I draft card," Bo says, picking up another polished frame from the credenza on which it had been sitting. "It's a copy that we got from the Southeastern Regional Archives."
And the keepsakes just keep on coming: smooth, carved-wood sculptures gifted from a former African ambassador; a portrait of Jean Childs Young painted by the late Korean artist Ho Enn Chung; a portrait in a sitting area of the couple's daughter, Abigail, painted by the same artist; a huge gold-tone mask that once hung in the family's Waldorf Astoria apartment in New York; and a framed arrangement of semi-precious stones depicting Saint George's slaying of the dragon, a piece gifted to Bo's parents in the 1970s by a Russian ambassador.
But for all that's been passed down from and collected by Bo's parents, he and Angelica, a native of Venezuela who dedicates her time to the Latin American Association on Buford Highway and the Young Family YMCA in Southwest Atlanta, have very much made this home their own.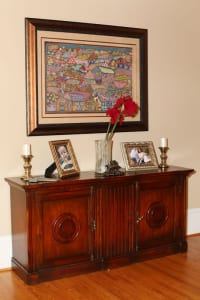 In a large front living area featuring high, beamed ceilings and a traditional Persian rug, Angelica points out African carvings the couple brought back from their honeymoon in Tanzania and Zanzibar seven years ago. "We collected a few pieces there and brought them home, so that's why we wanted to always carry that [theme] throughout the house," she says. More African art includes three stunningly beautiful and oversized works by the Nigerian Chief Toba that the couple has collected in recent years.
Angelica says that, while the home's exterior needed a thorough paint job when they moved in, the couple found the interior in need of little work and, as a result, have only made minor updates to create the showplace that it is. For the formal dining room, just outside of which is a display nook filled with colorful figurines and pieces from her native Venezuela, Angelica chose a cream, two-tone geometric wallpaper from Wallpaper Plus on Roswell Road. "I like to do some things myself, but not this," she says of installing the wallpaper, noting the crown molding's intricate, battlement-style shape.
"And I love the lighting in here," she says, while she herself bathed in bright light pouring in through the dining room's large, uncovered windows. "I'm still debating whether I want to add window treatments or not. I love how much sunlight we get, and I like to see all the trees outside."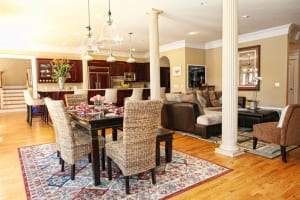 Rounding a corner into the home's family room, Angelica points out yet another pair of framed art works—abstract arrangements of weathered copper strips—that adorn either side of the fireplace and flat-screen TV. This time, she is the artist. "I do paint, and this year for our seventh anniversary—number seven is copper—I made these pieces for Bo. I cut and treated the copper with a patina to give it an antique look. I used a little torch to get it cured. It was fun," she says, admitting that she was surprised when her husband decided to hang the pieces where everyone could see.
The Youngs look forward to many more years and memories in their Buckhead home. "We entertain here a lot," says Bo of the 6-bedroom, 10-bathroom house, which includes a wine cellar, movie theater and swimming pool. "It's still a work in progress. SIMPLY STYLISH HOME Our next big project will be the backyard."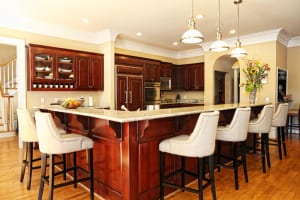 Angelica seconds her husband's sentiments, adding, "The family room and kitchen are where we spend most of our time together, but the pool and backyard will be where we spend the second most amount of time. It'll be great for entertaining and hosting and cooking out."
Before long, the couple's list of to-dos grows longer: building a retaining wall, which will eventually make way for a gazebo; spiffing up the greenhouse; and preparing the back yard for the planting and growing of fruits, vegetables and herbs, says Angelica, a self-proclaimed avid cook. There's even talk of making way for a compost pile. Whatever's next, the Youngs are clearly in it together. "Whatever I think of, Bo will help me," Angelica says. "We make a good team."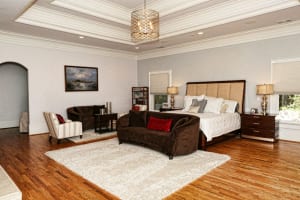 For this tight-knit family surrounded by a lifetime of precious memories, when it comes to making new ones in their beautiful Buckhead home, they are just beginning.
HARMONY AT HOME
How to combine beloved heirlooms and contemporary décor.
When it comes to decorating, trends and tastes evolve, but precious family keepsakes never lose their meaning. So how best to incorporate artwork and objets d'art from bygone eras with more recently acquired accents? It's all about balance, says Angelica. "In our effort to create a harmonious blend of family portraits and heirlooms and new art and décor, we started with our most sentimental pieces first," she says. "Once we chose the placement of those things that mean the most to us, we then tried to complement them with supportive pieces from our travels or local finds."
STORY: Lindsay Lambert Day
PHOTOS: Sara Hanna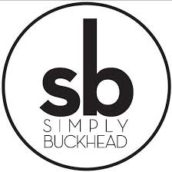 SimplyBuckhead
Simply Buckhead is an upscale lifestyle magazine focused on the best and brightest individuals, businesses and events in Buckhead, Brookhaven, Sandy Springs, Dunwoody and Chamblee. With a commitment to journalistic excellence, the magazine serves as the authority on who to know, what to do and where to go in the community, and its surroundings.