Steve Steinman's work permeates our public spaces and a new show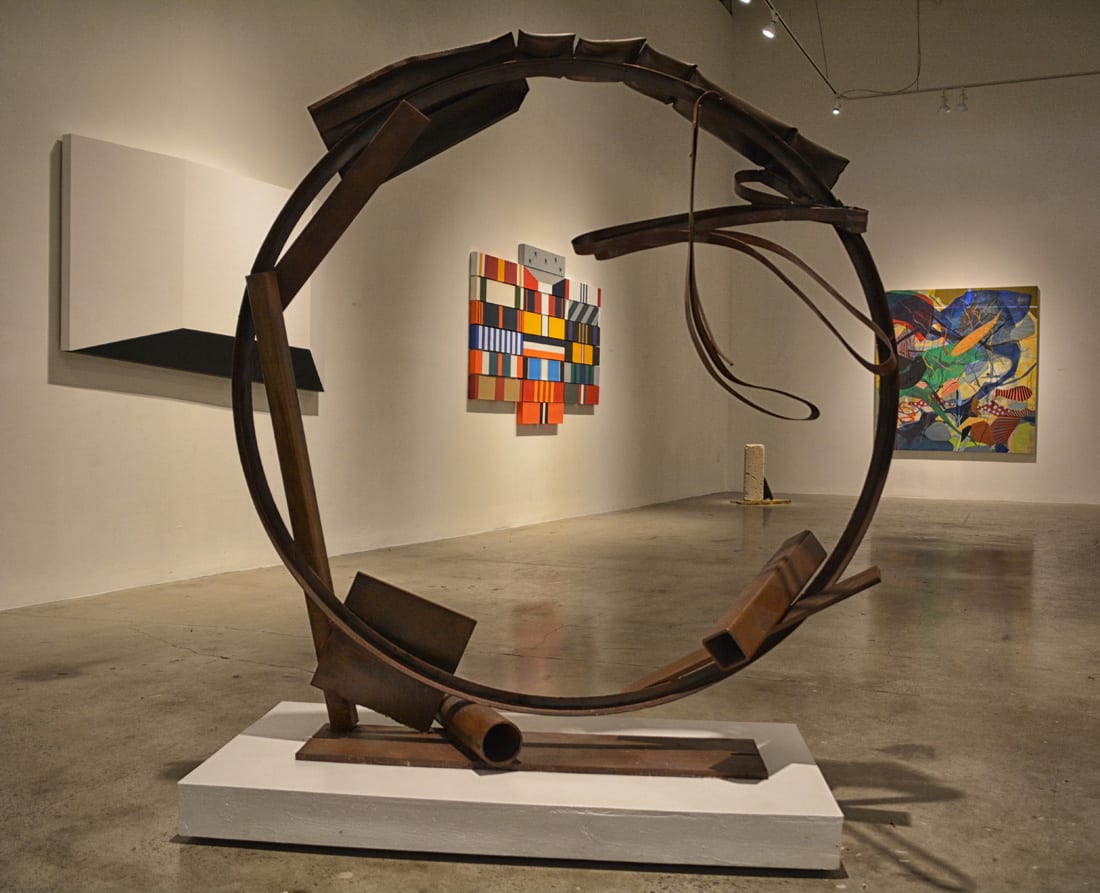 Next time you find yourself rushing to the Buckhead MARTA station only to find you've just missed your train, instead of pacing the platform in frustration, let your gaze wander across the rails and take in the colored panels lining the outer walls. Inhale deeply and thank Steve Steinman for providing a moment of artistic calm.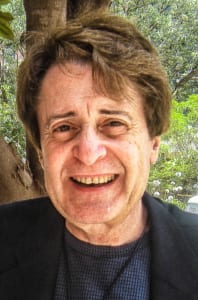 Just before the 1996 Olympics here in Atlanta, Steinman was tapped to provide an element of style to the new station. The sculptor from Sandy Springs met the peculiar challenge of putting art in a train station. "It had to be something that could be protected from the trains and also be graffiti proof," Steinman recalls. "So I came up with a series of repeating wall panels of different sizes throughout the station, and they're all strategically placed so no one can draw on them."
Steinman has also left his mark in Woodruff Park downtown, where his 8-foot stainless-steel monolith is adorned with cast bronze shapes of an adult hand holding a child's hand. The piece was commissioned during the dark days of the Atlanta child murders in the late 1970s as a way to honor and raise the spirits of the city's police force. Steinman also created pieces that sit in Northside and St. Joseph's hospitals.
For years, Steinman managed dual careers, one as a working sculptor and the other as an educator. He followed up a master's of fine art from New York's Pratt Institute with a Ph.D. in education from Capella University in Minnesota and immediately went into the classroom/studio.
"I wound up teaching at Pratt, and though I loved living in New York, I realized it wasn't necessarily helping me to grow as an artist," he says. Through a grad school friend, he had the chance to show some of his work in Atlanta, and the city's growing art scene convinced him to move here in 1979. But he still kept his hand in the classroom, teaching at American Intercontinental University in Sandy Springs until he retired as dean of design three years ago.
Along the way, Steinman was an active board member of the Atlanta Contemporary Art Center, and 26 years ago, he set up a 10,000-squarefoot studio just east of Buckhead on Zonolite Road. "One of my ambitions was to have my own space, so I finally bought a warehouse," he says. The expansive space provides the elbowroom Steinman needs to produce his pieces, which range in size from small enough to decorate a tabletop to more than 10 feet tall. And all of his works now share a common theme. "I'm very focused, and have been for some time, on the importance of recycling, so my work is made of discarded materials—steel, metal in various shapes, mechanical parts," he says. "We became a great country because we became an industrial powerhouse, and our country was shaped by that, but we've also become a disposable country. These pieces define that and act as a metaphor for coming full circle to look at what we're doing."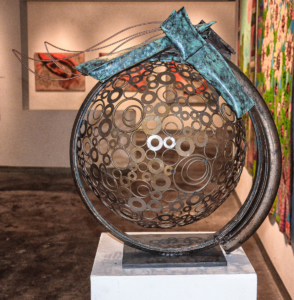 Steinman prowls the city's scrapyards and empty lots to find materials, and occasionally friends or fans will bring him a piece they've uncovered, hoping it will show up in his abstract works. From Nov. 16 to Jan. 19, the public will find his creations in a new exhibit at Gallery 72 downtown. Art devotees are also invited to make an appointment to drop by his studio. And if you've got some recyclable stuff, feel free to bring it along.
Gallery 72
72 Marietta St N.W.
Atlanta 30303
404.546.3220
ocaatlanta.com
Steve Steinman Fine Art
1178 Zonolite Place N.E.
Atlanta 30306
404.808.3343
stevesteinmanfineart.com
STORY: H.M. Cauley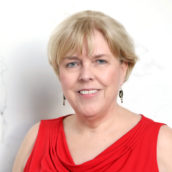 H.M Cauley
Atlanta-based writer and editor contributing to a number of local and state-wide publications. Instructor in Georgia State's Communication department and Emory's Continuing Education division.