The Southern Gentleman delivers on gentility and gourmet eats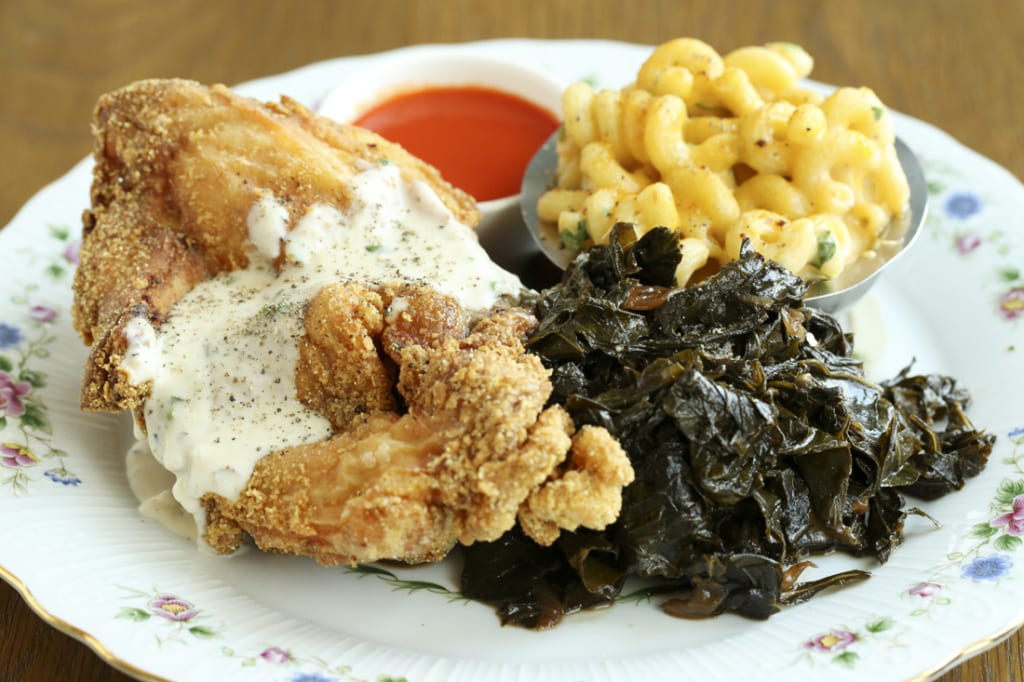 Knowing that The Southern Gentleman (TSG) lives up to its name is about the greatest comfort one can hope for in these times of political divisiveness, doublespeak and distressing headlines. TSG is not fake news. It is the real deal, boasting terrific, fairly priced food and informed, engaged staffers.
My companion and I arrived on a gloomy afternoon with moods to match. But five minutes into our visit, the sun came out, the soundtrack was playing Al Green and Norah Jones, and we knew we were heading into a perfect Monday night.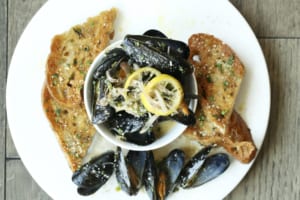 Perusing the menu, we sipped a supple, caramelly 2015 Russian River Valley Raeburn Chardonnay and a fruity, elegant 2014 Alcance Gran Reserva Carmenère. Amongst a bevy of classic Southern staples—think ingredients like buttermilk, bacon, okra, pimento and ham—we waffled over which small plates to choose, finally committing to the green tomato and buttermilk tart and charred okra.
The okra, fried up crisp in a searing hot skillet with 15 different spices, gave off a distinctive garlic-ginger fragrance. Sure, maybe it was stolen from an Indian food playbook, but it was still a touchdown. Less so was the green tomato tart. Something about the curdy, tofu like custard and buttermilk-soaked, under-ripe fruit couldn't hold our interest. Thankfully, it came with a crisp, palate-cleansing arugula and pickled onion salad—just the thing we needed before tackling the "large plates."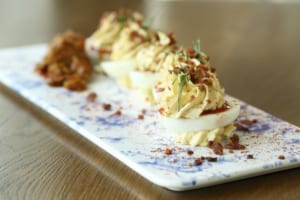 My dining companion, a Southern food expert and certified penny pincher, gushed over the gargantuan portions of shrimp and grits, as well as the fried Springer Mountain half chicken. The former, made with gulf shrimp and coated with "New Orleans BBQ Sauce" (buzzing with hints of salty anchovies, capers and cornichons), was creole heaven, the ingredients more articulated and refined than the old-school version. And even though I'm a fried chicken novice, one bite of the tea-brined and buttermilk-soaked bird, and I knew it was a winner, both moist and tender inside and crusty-crisp outside.
So if everything was so yummy, how did we manage dessert? It's called leaning back, way back, into our seats. Not even our Spanx could keep us away from the almond nougat semifreddo, a kind of grown-up Klondike bar. The chocolate-coated vanilla mousse came in a smoked cherry sauce, tickling our taste buds with just the right amount of sweet and tart, and a hint of salt. The Southern Gentleman celebrates Southern spirits, so it seemed fitting that our next visit started with a little Elijah Craig and Resurgens whiskeys—the former full of spicy heat, the latter offering mellow warmth. And what a spectacular mint julep the Resurgens made. Who knew this crushed ice and muddled mint concoction would make such a natural companion for our shrimp boil and PEI mussels. The shellfish came in an addictive Four Roses whiskey cream sauce with a side of homemade benne seed toast. Short of being dumped across the table, TSG's upscale version of a shrimp boil offered everything you'd hope for—andouille, potatoes, creole-spiced shrimp, all cooked off in a rich, seafood-based stock.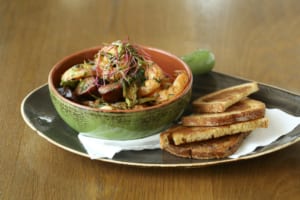 And don't overlook the exceptional steak-blend burger, constructed masterfully with a buttery-good Holeman and Finch bun, Sweet Grass Dairy cheese and condiments of bacon bourbon jam and grainy mustard aioli. Less impressive was the bland "Country Captain Style" East Coast tilefish, although the side of grits—cooked up with tricolor curry pastes, sweet potato and banana—lifted the dish with a bold, nutty sweetness.
Favorites like the pimento cheese omelet and shrimp and grits lend a Southern twang to a music-filled Sunday brunch. The 7-year-old at our table couldn't help but order the "pan purdue" style French toast. Would her young palate appreciate the homemade huckleberry compote and tangy crème fraîche toppings? Not so much ("Too sour, Mommy!"), but the toast itself—thick-cut with a pan-fried crunch—was worth every carby calorie.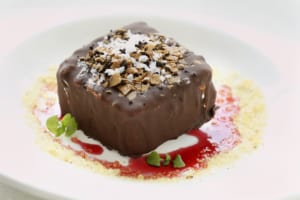 Though I love comfort food as much as anyone, on this visit I was sold on the improbable: a Hangtown fry omelet. It's been years since I've eaten a huge, brunchy egg dish, especially one with oysters—in summer. Despite our server's enthusiastic pitch, this would be what I call one of my going on faith moves. The mental image of what I'd ordered wasn't pretty: messy, indistinguishable bits and sauces with something egg-like buried underneath. What arrived instead was a perfectly reasonable portion of farm-fresh eggs, potato hash, pickled fennel and carrots, and the crunchy fried oysters with just a touch of creole mustard aioli.
It's not often that I'm so impressed with a restaurant, especially one with such big ambitions. But the folks at The Southern Gentleman not only made me fall in love all over again with Southerners, but even more to the point, with Southern cuisine.
3035 Peachtree Road N.E.,
Atlanta 30305
404.939.9845
thesoutherngentlemanatl.com
Prices: Small plates: $6-$12. Salads and sandwiches: $6-$13. Large plates (including brunch entrées): $13-$28. Sweets: $5-$8.
Recommended dishes: Charred okra, PEI mussels in whiskey cream sauce, shrimp boil, Springer Mountain fried chicken, TSG burger, shrimp and grits, Hangtown fry omelet (Sunday brunch).
Bottom line: Reasonably priced, upscale Southern eats and drinks, and a staff that will lift the gloomiest of moods.
STORY: Rebecca Cha
PHOTOS: Sara Hanna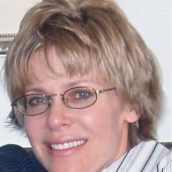 Rebecca Cha
Food, beauty and interiors writer at Simply Buckhead. Linguist, teacher, chef, parent.