BUCKHEAD'S STYLISH COCKTAIL HAUNTS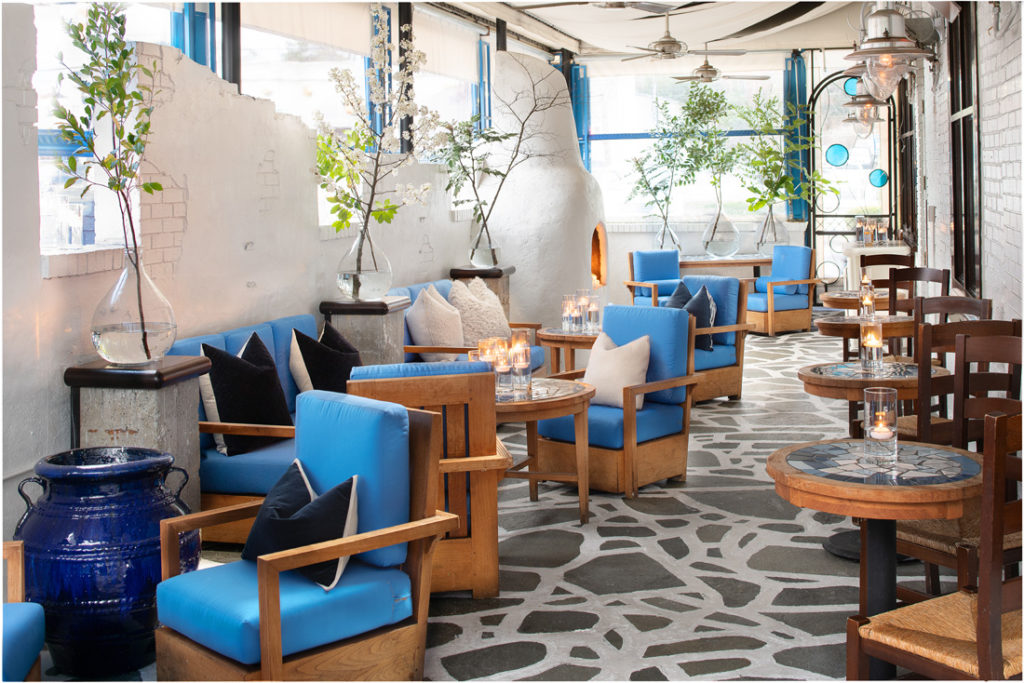 There is a time and a place for drinks in a pub or on a great patio, but some evenings call for an upgrade. Next time you're in the mood for a posh spot, an extravagant cocktail or a place to don a stylish outfit, we have a few ideas. Whether you're craving something stirred, shaken or bubbly, these swanky environs match their elegant drinks.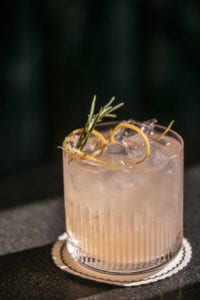 Mr. B. Bar is as sleek and stylish as the boutique hotel that houses it. Burges and Freny Jokhi, owners of the globally inspired Burgess Hotel, named the bar for Freny's father, Keki Bunshah, who led the first Indian expedition to Mount Everest. His vivid photographs of expeditions adorn the walls along with climbing gear and a grand fireplace. Settle into leather seats for an elegant Himalayan lounge vibe fit for the jet set.
The bar program follows the exploration theme with a dash of bitters here and a splash of infused syrup there. For the discerning drinker, opt for the refreshing El Buho. Based on a Paloma formula, it forgoes the typically used grapefruit soda. "We opt instead for fresh grapefruit juice, cinnamon and crisp club soda," says the drink's creator, Alex McNeely. "The spice plays up the oak aging of the Pueblo Viejo Reposado Tequila, bridging flavors and lending depth."
With its oh-so-reliable charm, drinking at Aria feels downright dapper. It's the sort of place where you are made to feel comfortable in casual clothes or dressed to the nines. Take a golden age of cocktails approach and dress up. Slip into a leather banquette next to pewter walls embellished with mirrors and flanked by floor to ceiling canary yellow draperies. Dine on white tablecloths under a massive art installation or in the cozy bar area.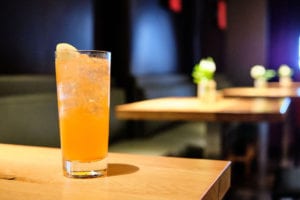 In addition to designer digs and experienced staff, the best accessory here is the drink program helmed by GM and wine director Andrés Loaiza. He and mixologist Stefano Gandossi created the Suit & Tie cocktail. The name came from "the lovely idea of dressing up and going out again for a wonderful meal," says Loaiza. "The combination of gin, vermouth and soda is a classic, so we decided to make this recipe a bit more complex by using a bianco vermouth and replacing soda with [Fever-Tree] Mediterranean tonic." This mixture, along with muddled strawberries, is light and fresh, with delicious berry notes and herbal aromas.
Gussy up and head to Kyma for drinks that whisk you away to the Greek Isles. White walls, curvy architecture, marble columns, deep blue ceilings and fresh fish on an ice display epitomize the effortless cool of breezy waterfront restaurants. The focus on Aegean and Mediterranean seafood can transport guests on a virtual vacation during dinner or drinks.
Besides a variety of ouzo selections, one cocktail at Kyma helps with the first class whisking away to Greece. Gaia's Embrace, made with Italicus liqueur, gin, lemon-basil syrup, Earl Grey bitters and fresh lemon and basil, may help complete your immersive experience. Named for the Greek goddess of the earth, the base flavor of Italicus is ancient, dating back to a 15th century recipe. It is aromatic and lightly citrusy with honey sweetness and light spice from botanicals including bergamot, lavender, rose petals, chamomile, gentian and lemon balm. The bottle itself is elegant and lovely in glass the shade of Aegean waters. Sipping it here lends an air of exclusivity.
DETAILS:
Aria
490 East Paces Ferry
Road N.E.
Atlanta 30305
404.233.7673
aria-atl.com
Kyma
3085 Piedmont Road N.E.
Atlanta 30305
404.262.0702
buckheadrestaurants.com
Mr. B. Bar
3600 Piedmont Road N.E.
Atlanta 30305
404.869.1100
theburgesshotel.com
Angela Hansberger
Drinks columnist at Simply Buckhead. Food, spirits, and culture writer.