FIA Restaurant at the Burgess Hotel is a global wonder!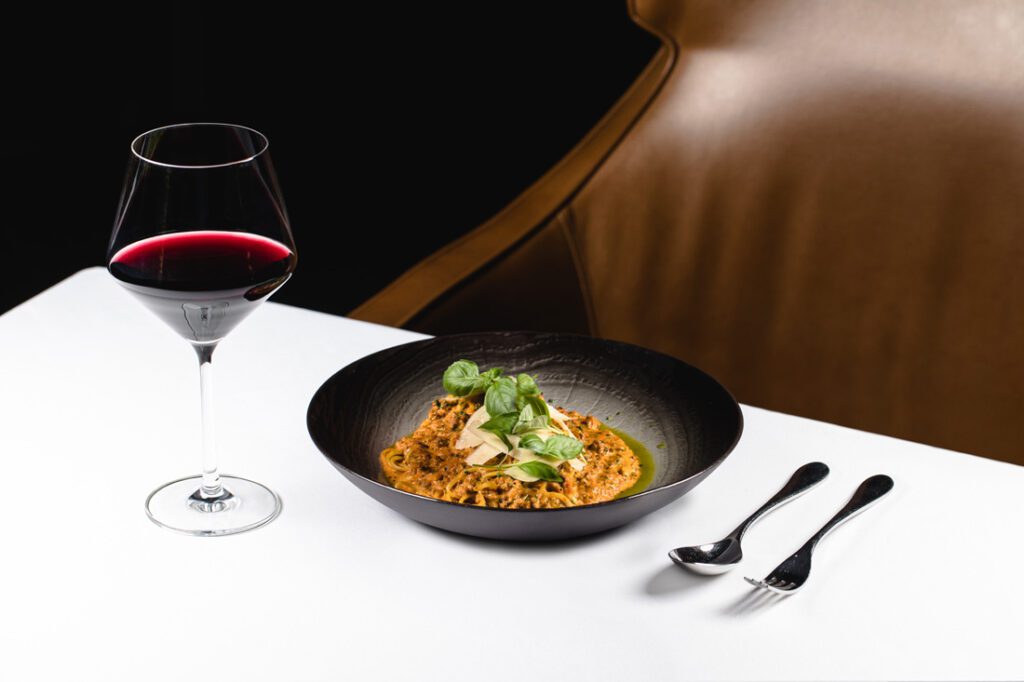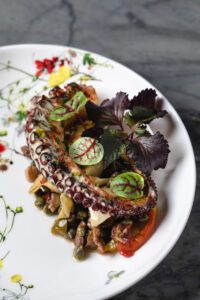 Many of the best meals are an escape, a getaway. While it's not always easy to hop on a plane, fortunately for Atlanta residents, it's simple enough to find bites that both awaken our wanderlust and satisfy our desire for something beyond the ordinary. I found such a spot at Fia, the restaurant tucked inside The Burgess Hotel. The boxy building's exterior still bears shades of its former incarnation as a Wingate by Wyndham hotel, but the similarities end there. The 102-room property underwent a three-year, $15 million renovation, opening three and a half years ago. Now, the hotel is festooned with exuberant color, vibrant art and antiques and decor items that feel collected from the world over.
I visited on two separate occasions: once when hotel owner and Executive Chef Burges Jokhi was in the kitchen and another when he and his wife and co-owner, Freny, were on one of their far-flung trips. I'm happy to report that the quality of the fare was consistently elevated, regardless of whether or not the boss was in residence. The couple grew up in Hong Kong, and both have Indian heritage.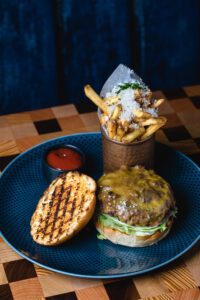 I dare you not to get swept up in this family's lore. Mr. B Bar, the 60-seat bar and lounge that feels like a library complete with a carved French fireplace and stocked bookshelves, is named in honor of Freny's late father, Keki Bunshah. Mr. B, as he was affectionately known, put together the first Indian expedition to Mount Everest, and arresting photographs of that and other climbing pursuits line the walls.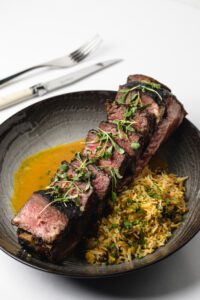 Plan to grab a seat, either before or after your meal, and indulge in a cocktail. The 29-K, named for Everest's soaring 29,029 feet above sea level, is made with smoky mezcal, roasted jalapeño, lime juice and a Tajin rim and evokes a bit of adventure. Similarly, the coconut-pecan old fashioned marries Southern sensibilities with something more alluring, thanks to coconut-washed bourbon.
Next, settle into a table at the adjacent Fia, the main event. The open kitchen, with its prominently featured hearth, offers a clue that wood-fired dishes will feature prominently in any meal here.
A glance at the menu will tell you that, while you'll likely be able to pick out influences—Greek, Indian, Thai, Italian—you can't put this menu in a box. It makes it so much fun to order what you like and explore.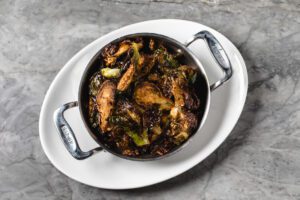 The global starters are made for sharing. Charred octopus comes tender-crisp, straight from the open flame, and served with tart olives, capers, marinated artichokes, roasted red peppers, lemon and extra virgin olive oil. Shrimp saganaki, served still bubbling in an All-Clad pan, gets a spicy kick with diavolo- style tomato sauce, mellowed out a bit with Pernod and creamy feta cheese.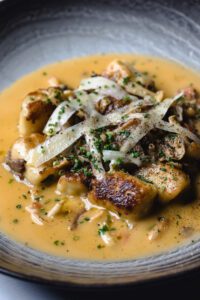 For me, the star starter was the potato gnocchi, pan-seared so it's pillowy on the inside and caramelized on the outside, swimming in beurre monté, a silky butter sauce, and white truffle, fresh thyme and Parmesan. In truth, I liked it so much, I ordered it on both my visits. It might be easy to overlook the grilled ciabatta bread, rubbed with tomato and drizzled with herbaceous chimichurri, but don't do it. You need the bread to mop all of the flawless sauces from the aforementioned appetizers.
While the menu isn't huge, it packs an impressive amount of variety into one page. The whole grilled branzino, or European sea bass, comes with pristine grill marks and is served with a charred lemon and crisp fennel-citrus salad. I recommend adding a side of crispy Brussels sprouts, dressed with sweet pear gastrique. The bone-in short rib is a riot of flavors served over a spiced lentil sauce and basmati rice studded with almonds and raisins.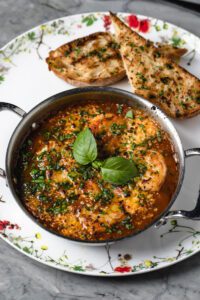 The pork sausage spaghetti is a bit of a surprise. I was expecting something more traditionally Italian, but this creamy version with Calabrian chili kept me guessing about its origins. When in doubt, the classic Mr. B Burger doesn't disappoint as a go-to comfort dish, albeit an upscale one. A Wagyu beef patty is dressed with bacon jam, melted Tillamook cheddar cheese, pickled red onions, lettuce and tomato, and served with fries.
It's tempting to over-indulge in the global flavors of the savory courses and forgo dessert, but don't miss the goat cheese and local honey panna cotta. It's unassuming in its description but spectacular in execution, served with a delicate strawberry and black pepper compote. It's an apt metaphor for the entire experience of dining at Fia: Venture in and you'll find something to surprise and delight you.
Fia Restaurant
404.869.1100
fiaatlanta.com
@fia_atlanta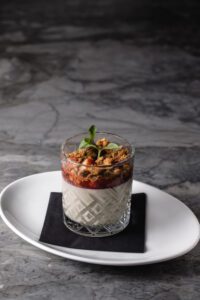 Prices: appetizers, soups and salads: $8-$19; entrees: $24-$38; from the grill: $28-$98; sharable sides: $13; desserts: $12-$15.
Recommended: Charred octopus, shrimp saganaki, pan-seared gnocchi, grilled ciabatta, grilled branzino, bone-in beef short rib, Mr. B Burger, goat cheese panna cotta.
Bottom line: A meal at Fia is like an around-the-world getaway, with global flavors from Europe, Asia, South America and near home.
PHOTOS: Erik Meadows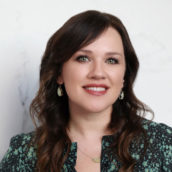 Jennifer Bradley Franklin
Senior Contributing Editor and Beauty Columnist at Simply Buckhead. Travel, Food and Design Writer and Author.