Story: Joanne Hayes
I wanted my man cave to remind me that I left the house to go watch the game.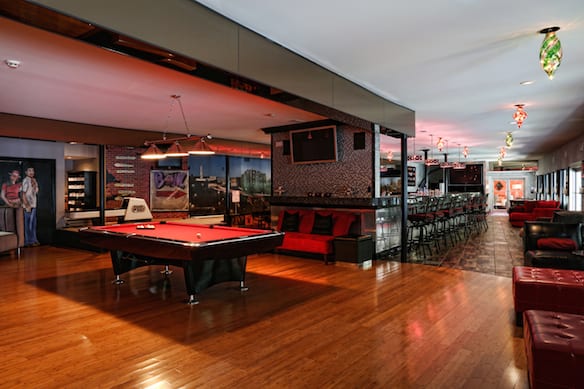 Radio personality, TV sports analyst and 15-season NFL veteran Wayne Gandy had a vested interest in the design of his man cave. In fact, his personal stamp is on every aspect of his four-story home, designed in 2003 on 4 acres in Buckhead. Using local artists, craftsmen and ADAC merchants, he carefully created his refuge without the help of an interior designer, his own hands doing much of the work.
The man cave, which Gandy has redesigned three times since the home was built, is on the ground level. He loves to keep things fresh and updated, calling it a "work in progress." He admits to being a perfectionist, a trait honed in his professional sports career.
This room was created with amenities fitting his lifestyle, not for "resale value," as real estate agents often suggest. He loves to entertain, hosting friends to watch games, play charades, or celebrate with a party that might include a comedian or band, carefully including only guests who want to participate in the festivities (no couch potatoes welcome).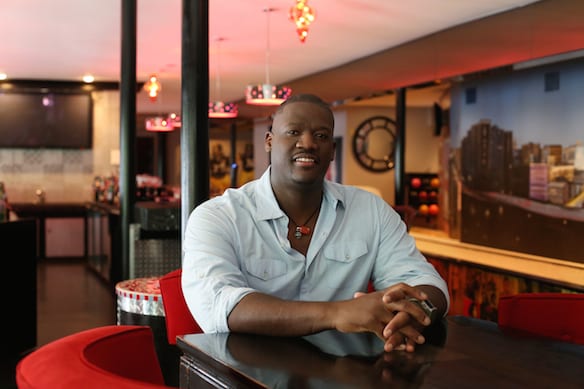 The large bar in the center is his favorite spot, set up to accommodate any request. While it may feel like being in a club, his evening parties set a distinctly personal mood. With multiple TVs, a jukebox and a top-of-the line surround- sound system, the acoustics are superb in the main room and in the man cave's home theater.
"I wanted my man cave to remind me that I left the house to go watch the game, or just be a hang out for me and my friends in a private space," Gandy says.
One of the most noticed amenities is the bowling lane, its floor trim lined with vintage album covers that Gandy found in places like Goodwill and Tower Records. The wall lining the lane is a custom mural of a cityscape, including his very own "Gandy Towers. It's one of several murals painted by a friend of Gandy's contractor.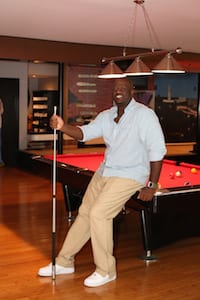 Another mural that catches the eye is of Gandy with friends Takeo Spikes and Jerome Bettis in uniform, replicating a Gameday Magazine cover that featured them together during their NFL days.
His daughter's fifth-grade class at Sarah Smith Elementary produced his favorite piece of art. Twenty-four kids created masks rep- resenting how they saw themselves and the masks were mounted on a black canvas. The colorful 5-by-5-foot final piece was auctioned at a school fundraiser and Gandy made sure it ended up in his cave. He beams with pride when he talks about it. Mounted on the wall at the bottom of the staircase entrance, the artwork commands the attention of guests as soon as they enter the room.