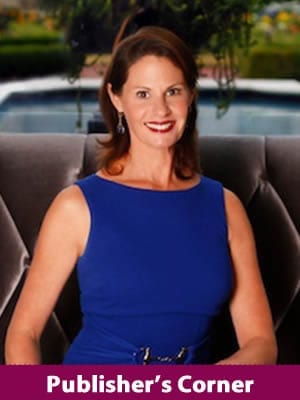 February is turning out to be an exciting time for us; lots of anticipation for our upcoming March-April Music Mania issue, and a celebration held last week to mark our 5-year milestone, which was also a fundraiser for our charity partner, CURE Childhood Cancer. We have always felt strongly about children's needs, and are proud to also support Share Our Strength year-round.
But as we are making our mark in Buckhead with these two causes, there are other charitable efforts for families and children that we keep our eyes on, and one woman in particular has touched me with her tireless efforts.
Stacey Weiss, Founder & Chairman of Bert's Big Adventure, exemplifies the passion that goes on behind the scenes to make memories that last a lifetime.
The inception of Bert's Big Adventure was in 2002, and the first Disney trip was 2003; this year's trip is the third week of February, with the send-off on the 19th, and will see 12 families (14 Bert's Big Adventure kids), head down to Disney for a weeklong celebration, on a plane donated annually by Express Jet, with 65 seats filled. Bert's Big Adventure has definitely outgrown this plane, and has a goal of hosting 20 families in the future.
Bert's Big Adventure hosts no private events of their own, and relies on the generosity of listener donations, as well as corporate donations and events hosted by the likes of Jersey Mike's and Moe's Southwest Grille. This April, Bert's Big Adventure will be the beneficiary of the annually-held Atlanta Steeplechase event.
What the public doesn't know is that after the trip, Stacey begins the arduous process of putting together the "yearbook" of the trip, showcasing every child and family, and the process that happens before the trip even happens. This is the cherished keepsake, and as a publisher, I completely appreciate the large volume of work that goes into producing this for the families.
The inaugural issue was 2009, and started as a group of letters to be published. They were written by the parents, to be read to their children, on-air on Mondays on The Bert Show. These letters became so important, and meaningful, that simply reciting them didn't have nearly the impact that was intended, and a medium was needed to publish them.
Through some friends, Stacey was introduced to a talented design team, who helped her develop the concept. The printing process is donated (which any of us in the publishing world can attest is the most expensive part of the process), and the production team includes 2 writers who volunteer their time, and 4 photographers plus 2 videographers who accompany Bert's Big Adventure on the trip.
Stacey started out just like me, in newspaper advertising sales, first for several years in Dallas, then as regional advertising director for a direct mail piece in Washington, D.C. for a few years before moving to Atlanta. Like me, she paid attention, learning from those she worked for, observing the editorial and creative process. She chooses all of the photos, and helps the design team make the subtle tweaks that help her continue to improve the layout every year.
The impact this glossy 8.5" X 11" magazine has on the families, and the visibility for Bert's Big Adventure to have a showpiece that helps them continue to grow and help more families, is evident. This magazine isn't sold anywhere, nor does it have subscribers, but anyone who has seen it can't help but be touched by the depth of its meaning.
I certainly was moved, and when I first saw the magazine last fall, at a fundraiser for Bert's Big Adventure at Buttermilk Kitchen, knew there had to be a story behind this beautiful piece. Stacey—thank you for sharing the story with me. We respect and admire how you touch so many, year after year.
Cheers!
We value your feedback any time. Email, Tweet, or Facebook us—we respond to all, and don't be surprised if your comments end up in our Letters section next time.
Joanne Hayes, Publisher | Founder